Reviews of
F21 Varta Start-Stop Plus AGM Car Battery 12V 80Ah (580901080)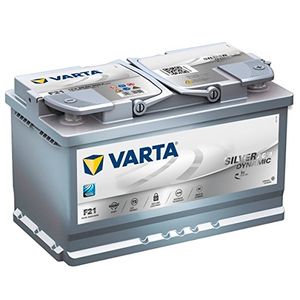 F21 Varta Start-Stop Plus AGM Car Battery 12V 80Ah (580901080)
Our Price: £149.95 inc VAT

(4.9 / 5.0) Average Rating:
Total Reviews:109
Customer Reviews
Very good battery and service quick delivery.
5
BA - West Yorkshire, United Kingdom -

Fitted To: Land Rover Discovery Sport 2.0 Litre Diesel 2015
I cannot speak too highly of the service and pre-purchased advice I received from Tayna. As for the the Varta battery :- we wanted to replicate the manufacturer's battery as close as possible, and Varta being the original supplier, then this battery was the obvious choice. It certainly has not disappointed on receipt, and tongue in cheek, the only 'criticism' is it's blinking heavy! - which to me is a good sign. It's reinstated the stop/start ,so all is well again. Thank you Tayna.
5
GJ - Bridgend, United Kingdom -

Fitted To: Range Rover Evoque 2.2 Diesel 2016
Tayna's service was exemplary, battery arriving next day as advertised, well packed and carefully handled by the delivery driver. Fitted later that day with assistance for lifting and positioning the battery. The car's electrical performance improving dramatically from that with the OEM battery (also Varta) that is almost five years old. The start/stop function now operates at almost every stop except when th A/C is engaged.
5
EG - England, United Kingdom -

Fitted To: Land Rover Freelander 2 SE Tec 2179 Diesel 2014
This battery is slightly bigger than the recommended AGM for my car but I took a bit of a chance that it would fit (the footprint is the same as the EFT battery I took off but this battery is 19mm taller). It did fit perfectly and as soon as it was fitted the Stop-Start function started working again. Very happy with this battery, hopefully it will last more than the 4 years of its predecessor! p.s. If you are going to fit your own battery, do your research!! Search online for fitting videos and also how to tell your car's computer that there's been a new battery fitted.
5
KH - Lancs, United Kingdom -

Fitted To: Ford Mondeo 2 litre Diesel 2015
Tanya are an excellent company they are reasonably priced and there service and delivery is above par they supplied a very good battery which fitted my car exactly.
5
BJ - Falkirk, United Kingdom -

Fitted To: Jeep Cherokee 2.2ltr Diesel 2016
Excellent service, arrived next day ready to go. Fitted and on the road in no time. Can't comment on the quality of product after only 1 week but if Merc fit these they can't be bad. Excellent price too way cheaper than other on line options.
5
PW - Lincoln, United Kingdom -

Fitted To: Mercedes C220 cdi 2100 Diesel 2014
Next Day Delivery with time slot, Instantly after fitting my stop/stat is working again. Cheapest I could find via the web and auction site
5
Rr - Littlehampton, United Kingdom -

Fitted To: Astra Sri 2.0 Diesel 2013
Excellent battery. Arrived very quickly and charged. Easy swap over.
5
MR - Nottinghamshire, United Kingdom -

Fitted To: Alfa Romeo Giulietta 2.0 Diesel 2011
Fab battery, Delivery service second to none.
5
SS - Cardiff, United Kingdom -

Fitted To: Jeep Cherekee 2.2 Diesel 2016
Clear specification on the site matched requirement exactly, including stop-start function, which had rarely worked for years even after fully recharging the old battery, also a Varta but at least 8 years old. "Eco" system returned immediately after installation. Dispatch and tracking information plentiful and very useful. Also recommendation of garage to fit the battery (AutoPics, Rustington) - excellent & polite service. Thanks Tayna for your organisation.
5
BF - Benowa, Australia -

Fitted To: LandRover Freelander 2.4 Diesel AD09 NUE
Battery was exactly what was required and even the stop start has begun working again.
5
NS - Worksop, United Kingdom -

Fitted To: Land Rover Freelander 2 2.2 Diesel 2011
High quality battery, arrived well packaged and fully charged. Vehicle now running smoothly once again. Battery was a perfect fit.
5
AH - Bath, United Kingdom -

Fitted To: Mercedes-Benz C180K (S204) 1.8L Petrol 09
Tanya provided a next day delivery service so very pleased about that and their pricing was very competitive. The Varta battery is now fitted and performing perfectly. Thank you for providing a brilliant service
5
MF - Leicester, United Kingdom -

Fitted To: Mercedes E Class estate 3.5 Diesel 12
Very fast delivery and fully charged and ready to go. I fitted it the same day and every thing is as it should be.
5
AH - Stafford, United Kingdom -

Received these two batteries very well packaged. Upon opening, I checked both batteries for charge and found them to be fully charged. Very prompt and well delivered service. Would highly recommend
5
MA - Horsham, United Kingdom -

Fitted To: Volkswagen California Diesel
Just bought a Mercedes C180 CGI fitted with its original Varta battery. The original battery had a stamp on the neg terminal of 24/10 so I reckoned it was time to replace it. The service from Tayna was 1st class with a next day delivery from date of order. Although my car does not support stop/start the battery fitted was the stop/start type so the F21 was a direct replacement. Interestingly virtually every battery supplier, including Tayna, matches a different type of battery to my registration so make sure that you order the correct replacement.
5
SA - Church Stretton, United Kingdom -

Fitted To: Mercedes C Class 1800cc Petrol KR10 YEJ
Excellent Battery and speedy delivery!
5
JO - Gloucestershire, United Kingdom -

Fitted To: Mercedes Benz CLS 350 Diesel 2011
Returning customer, always use Tayna for my battery needs - 3 caravan leisure batteries and two car batteries. This Varta replaces the original start/stop Varta in my Mercedes which is over 8 years old so I am expecting the same longevity.
5
PH - Newton Abbot, United Kingdom -

Fitted To: Mercedes E250 2104 Diesel 2011
Fitted to a merc e350 arrived quickly fully charged. Does what it says on the tin, lets see how it performs long term.
5
JB - Bedford, United Kingdom -

Fitted To: Mercedes E350 3.0 litre Diesel 2009
Despite everyone's web site saying that the only battery for my mercedes was an AGM019 I knew that it would not fit . The Varta is a direct replacement for the orriginal Mercedes battery. It arrived within 24 hrs and was expertly packed. Overall a very good service.
5
bc - Staffordshire, United Kingdom -

Fitted To: Mercedes CLS250 cod. Msg spords 2.3 L Diesel 2014