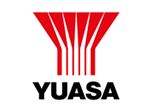 ---
Country
Japan
Country of Manufacture
Varies; includes UK
---
Yuasa are an international battery manufacturer, producing valve regulated lead-acid (VRLA) batteries, also known as absorbed glass matt (AGM). Yuasa also manufacture and distribute automotive batteries, motorcycle batteries and industrial batteries.
Originating from Japan, Yuasa batteries are now distributed all over the world. In the US the company is known as GS Yuasa, while in Europe and the UK the company is simply Yuasa.
Yuasa batteries have always been at the forefront of battery development and were the first company to construct an AGM battery for use in powersports vehicles like motorbikes, jet skis and ATVs.
---
Yuasa Car Batteries
Yuasa manufacture a wide range of car batteries as part of their automotive battery range. The battery range covers conventional open vented lead-acid car batteries, sealed maintenance free batteries and AGM car batteries. In 2013, Halfords decided to drop the Bosch car battery brand in favour of Yuasa's YBX car battery range.
We currently stock the fastest moving part numbers in the Yuasa Professional range.
---
Yuasa have a great reputation for their motorcycle batteries. They are the world's leading brand, chosen by most motorcycle manufacturers at production. The Yuasa bike battery range is extensive, with a battery suitable for almost all motorbikes, jetskis and ATVs. To make the range a little easier to understand, Yuasa have broken the batteries down to three distinct ranges as below. There are also a range of Yuasa 6V Motorcycle Batteries.
Yuasa YuMicron Motorcycle Batteries
YuMicron batteries are ideal for the special demands of personal watercraft, snowmobiles and ATVs and their power boosting design also makes them suitable for accessory-laden touring bikes and modified vehicles. The YuMicron battery features a heavy duty glass mat to resist vibration damage, a special thin separator to pack in extra plates and deliver up to 30% more cranking power than conventional types, through-the-wall intercell connectors to minimise internal resistance and maximise power and sulphate-stop to curb plate sulphation and provide longer life.
Yuasa Maintenance Free VRLA Bike Batteries
Maintenance-free VRLA batteries offer a permanently sealed design that never needs refilling. Ideal for motorcycles, scooters, ATVs, ride-on mowers and personal watercraft, the spill-proof design means there is virtually no possibility of leaks. Advanced lead-calcium technology pumps up starting power while a sulphation retardant dramatically reduces battery-killing plate sulphation.
Yuasa Maintenance Free Bike Batteries
Yuasa High Perfomance Maintenance Free Bike Batteries
Maintenance-free high performance batteries are ideal where high power is a top priority. Offering more power, low maintenance and longer life, Yuasa High Performance Maintenance-Free batteries feature a radial grid design and additional plates to deliver up to 30% more cranking amps and are the ideal choice for motorcycles, utility vehicles, scooters, all terrain vehicles (ATVs), ride-on mowers, personal watercraft and snowmobiles.
Designed to last up to three times longer than conventional batteries, Yuasa high performance maintenance free batteries offer exceptional resistance to vibration making them the most reliable batteries on the market.
---
Yuasa Golf Batteries
Yuasa manufacture quality golf batteries.
The cyclic Yuasa golf batteries are designed to fit leading golf trolleys and caddy carts. Yuasa is a well respected golf battery brand offering performance and reliability.
Yuasa Mobility Batteries
Yuasa manufacture high quality mobility batteries.
The cyclic Yuasa mobility batteries are designed to fit most mobility scooters and electric wheelchairs. Yuasa mobility batteries are held in high regard and offer assured performance.
---