Reviews of
CTEK MXS 10 12V 10A Battery Charger and Conditioner MXS10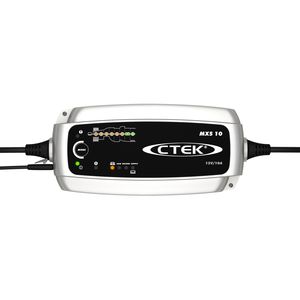 CTEK MXS 10 12V 10A Battery Charger and Conditioner MXS10
Our Price: £128.95 inc VAT

(5.0 / 5.0) Average Rating:
Total Reviews:114
Customer Reviews
1st Class item, very good.
5
JKH - Cumbria, United Kingdom -

Excellent product - does what it says with minimum fuss
5
AB - Woking, United Kingdom -

Excellent
5
JG - Chichester, United Kingdom -

Ordered online, delivered next day, does exactly what it says on the tin, reasonable price, excellent service...
5
CD - WIRRAL, United Kingdom -

Used the charger on a friends car worked perfectly.
5
MDR - London, United Kingdom -

These chargers are widely recommended for proper care of lead acid batteries, although they are not cheap to buy. However, I am well pleased with the performance and I am convinced that I will get my money back in the end by the extended life of my leisure batteries.
5
JD - North Yorkshire, United Kingdom -

great battery charger, ive got diffrent kind of batterys and you can set what kind of battery you want to charger can do both
5
BR - Preston, United Kingdom -

Did exacty waht it says "on the tin". An excellent product
5
AH - Hindhead, United Kingdom -

Only use these. Have them on all my vans.
5
SJ - Essex -

Used once so far. Seems very good. Neat unit with decent size crocs and leads. Good instruction booklet but automatic really.
5
MP - Neston -

It is what it says it is! I find this product very useful and accurate in every aspect and performance. I recommend it without reservations.
5
LP - London -

Seemsto be doing a good job. I have a 4 year old battery in my caravan that I bought from Tanya. AsS it's losing charge quickly, I decided to get this chager and recondition it. Even if it's too late, I'll use this on my next battery to maintain it in good condition.
5
KM - Rainham -

Excellent all round
5
CTF - Northamptonshire -

Decent charger, seems to do the job well enough, however the UK AC plug fitted is really cheap and nasty and the top feels like it will pull off some day. Why is this not fitted with a proper rubberized UK 3 pin plug from the factory. Spoils what is overall a good product.
4
JL - Burntisland -

Only just started using this but it seems incredibly easy to use and great for charging loads of different sizes and types of batteries as I always have about 10+ on the go at any one time. First order from Tayna but they seem a great company to deal with.
5
AP - Wickford, Essex -

EPIC!
5
AK - Slough -

Exactly as described. Super compact but professional. Spedition fast and reliable.
5
RDC - London -

Tried in 2 modes, car battery charge and supply, both work perfectly. Improvement over the 5.0 I have, with the temperature sensor I feel safer leaving it charging overnight in the car in the garage. Like all their chargers, well made and charge batteries at 8V - most don't or worse boil them.
5
PC - Tamworth -

Excellent charger.
5
AR - Romsey -

excellent product and excellent service
5
AW - Gwynedd -