Reviews of
CTEK MXS 25 12V 25A 8 Stage Smart Charger MXS25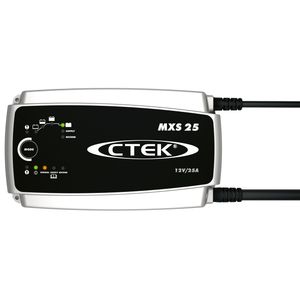 CTEK MXS 25 12V 25A 8 Stage Smart Charger MXS25
Our Price: £236.16 inc VAT

(4.8 / 5.0) Average Rating:
Total Reviews:28
Customer Reviews
Great product at a competitive price!
5
PC - Cheshire, United Kingdom -

Great product definitely worth the money, very fast charger
5
js - West Midlands, United Kingdom -

Awesome bit of kit. Like the supply feature that allows for removal of battery without losing settings and the ability to carry out prolonged vehicle ecu updates.
5
PE - Gloucester, United Kingdom -

Terrific device, does exactly what is required. Would have been nice if it came with a storage bag as some of the other ctek chargers do but not a major complaint. Great price and service from Tayna.
5
KN - Epsom, United Kingdom -

Best Charger money can buy. Slightly more expensive than Noco brand, but CTEK is just on another level. Fast delivery too. Thank you
5
BG - Welling, United Kingdom -

Great service
5
am - Surrey, United Kingdom -

Great to deal with a company that know what they are doing!!
5
JF - Witney, United Kingdom -

Excellent charger so quick & easy to use. My previous smart charger CTEK MXS 10 12V 10A is also excellent but this one is so much quicker. I have also used a Draper 35 amp charger / starter which is around £100 more expensive and to be honest is pathetic compared to the CTEK MXS 25.
5
ND - Teignmouth, United Kingdom -

This is a top-notch device. CTEK are used everywhere SK
5
S - Uttoxeter, United Kingdom -

Nice looking charger..... but it won't charge a dead battery ( i have tried 4 different batteries that were very low) You have to start the charge with a less computerised charger before then attaching this charger to the battery. Fast at charging when it does work though! Great for camper hook up charging due to it's speed of charge.
3
JM - Newport, United Kingdom -

Idiot proof battery charger Lovely piece of kit for garage Larger than expected Three modes Plug in an forget Goes though 8 different stages My batteries were in good condition so it went through most of cycles quickly Only one fault with it Wanted to connect to battery jump terminals under bonnet of BMW E39 M5 (easier than getting in to boot under carpet and battery tray ) The cable with the crocodile clips just wouldn't spread apart long enough to reach each connection ( One on engine other on strutt ) As this is an heavy duty 25Amp version you cannot buy any extension as with the lower amp versions . the cable is quite thick as it has good quality high amp cables fitted and a temp sensor built in . I am really happy with this item highly recommed if you got a lot of batteries to recondition .
5
MBC - Midglamorgan, United Kingdom -

Have not used the charger yet,but I have no doubt being a ctek,it will be ok. Next day delivery,well packaged. Why go anywhere else for anything battery related ?
5
GO - Woking, United Kingdom -

Great Charger
5
SA - Galashiels -

'A' class service from Tayna Batteries
5
DS - Middlesex -

I have been using Ctek for several years and this latest addition lives up to my expectations. I bought it to replace my Ctek 10, which has been excellent. This new addition brings down the charging time in my 220 Ah campervan battery setup. I got six years from my last batteries with the Ctec 10 and my dc to dc setup. Tanya gave me good value and fast trouble free delivery.
5
km - Greater Manchester -

Very happy - it's much bigger and heavier than I expected, but it's now a semi-permanent fixture in my motorhome to quickly and effectively charge a second leisure battery, making the most limited time that I can have the generator running if EHU isn't available. (yes, I do have solar, but my van gets used all year in all weathers). Very expensive for a battery charger, but I believe that it's definitely the best for my requirements.
5
GM - Dorking -

Had one of these units on another vehicle for years now and they are excellent. You really do connect them and forget about it. It keeps the batteries topped up and maintained perfectly. I have 9 year old batteries that still perform really well thanks to being left permanently connected to this unit when not in use. Service from Tanya Batteries was great. Price was competitive and delivery fast.
5
RH - Bedford -

Excellent charger - expensive, but does exactly what it says on the time.
5
MC - Solihull -

Outstanding service, with next day (Saturday) delivery
5
MJ - Y Barri -

We have used this product previously and have not had a problem.
5
LW - Cyffordd Llandudno -