Reviews of
CTEK XS 0.8 12V Battery Charger / Conditioner XS800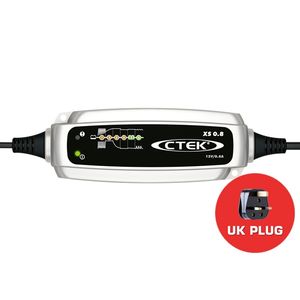 CTEK XS 0.8 12V Battery Charger / Conditioner XS800
Our Price: £37.99 inc VAT

(4.8 / 5.0) Average Rating:
Total Reviews:135
Customer Reviews
Excellent product, I now can keep my motorcycle + car batteries charged + in good working condition when not in regular use, Tayna very efficient to deal with, after informing my brother of my satisfaction he immediately purchased the same product from Tayna. Thank you.
5
VG - Middlesbrough -

Bought this to charge AGM battery if required. Fortunately the battery didnt need it, couldnt get the charger to work!
1
JC - Torrevieja -

CTek are brilliant. I already havew a CTEK M45 for my boat. This will be used to charge my jumpstarter and some other 12v batteries I use.
5
RF - Dorset -

Ideal for keeping my scooter batteries topped up over the winter
5
GC - Crawley -

Brilliant piece of kit. Handy size, tells you what you want to know about it is doing and whereabouts it is in its cycle. Clear instructions.
5
SW - CAMBERLEY -

great quality at a very reasonable price- delivered amazingly quickly- would recommend - 5 stars!
5
MW - west midlands -

I have 3 Ctek chargers and they are all brilliant.
5
AC - Wrexham -

Very good. Worked well and the right one was sent to me.
5
MCC - Salisbury -

Very good service. Strongly recommended.
5
DL - Cheadle -

This is an excellent item. It has revitalised a battery which was almost completely discharged; and will now be used to condition my bike battery over the winter.
5
IA - Falkirk -

Battery is fully charged everytime I return to the aircraft. Starting the 100hp four cylinder aircraft engine is easy utilising the high spoin rate the Tayna battery feed to starter motor produces. Very pleased.
5
MMF - Spalding -

Good product,and good seller will use again in future,thanks.
5
MDS - Ross-Shire -

Should have bought this charger a long time ago! brilliant piece of gear.
5
ch - West Yorkshire -

great fast service using it to keep quad battery in good condition
5
MDVK - Rotherham -

asI ordered works fine
5
br - Surrey -

Still to use this product but was convinced and assured that the Unit will meet my requirements and a 5 years warranty speaks volumes by the manufacturer.
5
MCGW - Carlisle -

Excellent battery charger does what it says in the clear instructions. It is being used to charge and condition a 34AH mobility type 12v battery that needs to be kept in good condition on the shelf. It also conditions and recharges the battery (which is used to power electronic equipment in the field) properly from a deep discharge after use . It comes with a selection of connecting leads (ring and clip-on) making it very versatile, and a useful carry bag. Not powerful, but a slow safe charge, and as it is automatic can be left attached until the battery is needed for use. Plenty of l.e.d. progress indicators, well made and reasonably priced. Good and prompt service from Tayna.
5
AB - Eastleigh -

Delighted! easy to use does what it says on the tin.
5
AB - Isle of Mull -

Lovely piece of kit - wish I had one years ago!
5
Aw - Huntly -

Again super fast with delivery, cannot fault this company. Many thanks
5
jinny - Chesterfield -