Reviews of
NOCO G3500 3.5A Fully Intelligent 8 Step Genius Charger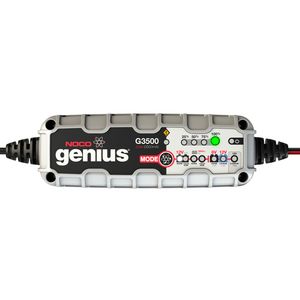 NOCO G3500 3.5A Fully Intelligent 8 Step Genius Charger
Our Price: £41.50 inc VAT

(4.8 / 5.0) Average Rating:
Total Reviews:39
Customer Reviews
Does everything it promises. Clear instructions. Well packaged. Tried on 2 leisure batteries (90ah and 110ah) - worked fine on both.
5
CH - Derby, United Kingdom -

Excellent charger and looks to be well made from quality materials---works on all my different car batteries.
5
DW - Tyne and Wear, United Kingdom -

Does more than it states on the tin - very good.
5
AH - Chessington, United Kingdom -

Good product
5
MB - Lincolnshire, United Kingdom -

So far excellent
5
tp - Hayling Island, United Kingdom -

Excellent charger, it does exactly what it says on the tin.
5
DG - Edinburgh, United Kingdom -

I had seen these marvellous devices advertised in copies of Road & Track. Thought I would give it a go. Not disappointed, rescued my Dad's Volvo battery after a couple of months neglect. 3 year old battery, showing 2 volts. Attached this and charged in its rescue/repair mode took a whole weekend but its saved the battery. Excellent little product.
5
DR - Nottinghamshire, United Kingdom -

Excellent service, efficient delivery - great value The diagnostic function of the charger enlightening - saved me a lot of money.
5
DP - Cheltenham, United Kingdom -

Easy to use and did the job. Also looks well made
5
SRC - Cheshire, United Kingdom -

Versatile and useful, it's attached to a 12v car battery that it charged to 100% and is just keeping it topped up now. Took about 24hrs to charge from absolutely dead to 100%. The only issue I had was that it doesn't recognise a completely flat battery. The battery needs to have some level of power before the charger will detect it and start recharging. However the guys at Tanya were very helpful and knowledgeable and gave me instructions on how to overcome my initial problem.
4
RC - Bury St. Edmunds, United Kingdom -

Excellent product. I love the ease of use. Amazing ability to recover a battery from dead... mine was 1.77V and was restored to 12.4V. I did this more as an experiment to see if it was possible and prudently bought a new battery, will use the above charger to trickle charge the new one and maximise its life. Full marks to Tayna: easy to order, competitive pricing and fast delivery, I will definitely use them again. Nice to have a specialist competitor to Amazon - someone who selects a range of quality products to offer.
5
JC - London, United Kingdom -

Excellent piece of kit
5
AP - Hampshire, United Kingdom -

Great service great price
5
pn - Oldham, United Kingdom -

Advice and service at Tanya was excellent as always. Appears to be a great item but note that the ring terminals that are with the croc clips are far too tiny to be of use and the length of the cable on those is also really mean. I ended up having to buy the XL alternative lead set to connect to my batteries and then also an extension lead in order for me to lconnect these to my leisure batteries and leave in situ for convenient conection o the charger when required.
4
MM - Bristol, United Kingdom -

Have used this constantly since it arrived and it seems to be a really good charger even on batteries that I thought were no longer serviceable .
5
bq - Suffolk, United Kingdom -

Such Great people to deal with and a vast knowledge base to put my mind at ease and great products too, These NOCO Chargers are the best you can buy bar none and Tayna Batteries put me on the right track.
5
MJW - London, United Kingdom -

Great product. I was however expecting croc clips and eyelets in two separate cables. This is no longer the case which is not good if you want to leave one set on the car over winter and have the croc clips for other vehicles. Tayna kindly supplied another lead at cost price with free p and p. So be aware of this, if you want to leave a cable attached for maintenance charging.
5
BW - Wimborne, United Kingdom -

Very pleased with this NOCO charger. It is compact, robust and is easy to use thanks to clear instructions. The service from Tayna was first class. There was a minor glitch with the delivery due to a scanning error on the delivery address. As soon as this was picked up I had two calls with updates on delivery - excellent customer service. My one gripe relates to packaging. The polystyrene used causes mess when unpacking and is very difficult to recycle. I would urge you to review your packaging options and find a recyclable option as soon as possible.
4
JS - Herne Bay, United Kingdom -

This charger seems to be a good quality piece of kit. I bought it as it is capable of charging the various types of batteries that I use.
5
PD - Greater Manchester, United Kingdom -