Reviews of
NOCO G7200 7.2A Fully Intelligent 12 Step Genius Charger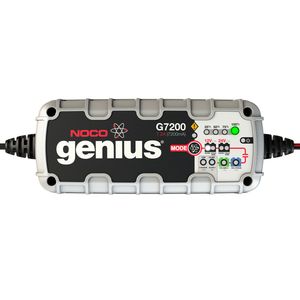 NOCO G7200 7.2A Fully Intelligent 12 Step Genius Charger
Our Price: £74.99 inc VAT

(5.0 / 5.0) Average Rating:
Total Reviews:11
Customer Reviews
I bought this as Michi Waldl, 10 times winner of the Super Karpata off road trophy, has one in his workshop and I needed as smart charger. It is a smart charger and battery repairer. It has worked really well over the years as a charger and has had mixed results as a repairer. This is likely due to the batteries I was trying to recover rather than the product itself. Sadly this model is no longer available but has been superseded by the Genius 5 or Genius 10 (5 or 10A respectively). This model sits in the middle at 7.2A. I can recommend Noco products - well built and reliable. I have bought the Boost as well.
5
MT - Wakefield, United Kingdom -

Exactly what I need ... very easy to use.... and great comes from supplier. Thank you
5
MSF - Reigate, United Kingdom -

After being recommended this product by an AUDI garage and having read it's reviews I could see it was a great product. On receipt it was clear that the charger would not disappoint, the build quality was tip top and was well presented. It's operation was simple particullarly having viewed a few YouTube videos! I purchased the Genius G7.2 as I knew my second car would not be getting the use during the coronavirus episode so I wanted to maintain the charge and battery health.
5
MJT - Hayle, United Kingdom -

As i said to you by email your service and delivery was brilliant many thanks Roger Sandalls
5
rs - United Kingdom, United Kingdom -

Fantastic quality product, simple operation with a robust design. If your looking for a top notch product then look no further.
5
CH - Redditch, United Kingdom -

Service product fantastic.charger very easy to use.Brilliant
5
AF - Morpeth, United Kingdom -

I'm a complete novice when it comes to using things such as the charger. I had an an unfortunate experience with a company that supplied my power wheelchair and required something to charge the batteries out of the chair. After hitting brick walls constantly with the chair supplier who made it virtually impossible to return it I contacted Tanya who were incredibly helpful. In fact, I've never received customer customer service as good. It was recommended that I get the Genius G7200 charger and explained how to use it and what settings to use. As soon as I attached the charger to the batteries and pressed the settings I needed off it went and charged my batteries perfectly. This is a fabulous charger which can be used by even a total novice like me.
5
MRH - North Lanarkshire, United Kingdom -

Great kit but worried there is no UK warranty. Must be mailed to USA if it breaks this is not good.
5
MSR - Didcot, United Kingdom -

Great service as always have not used it yet but have been told they are good
5
M - Newton Abbot, United Kingdom -

Brilliant will charge a flat battery 12 24v and lithium.
5
BD - Ipswich, United Kingdom -

excellent all round
5
PS - Southport, United Kingdom -