Reviews of
12V 10A Powerline 7 Stage Automatic Battery Charger - 10 Amp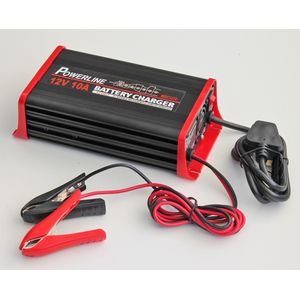 12V 10A Powerline 7 Stage Automatic Battery Charger - 10 Amp
Our Price: £43.99 inc VAT

(4.6 / 5.0) Average Rating:
Total Reviews:24
Customer Reviews
This was a very good product that breathed new life into a few batteries before it was stolen from my garage (along with several bicycles). I had no hesitation in buying a replacement from Tanya as their products and services are usually first class.
5
VF - London, United Kingdom -

Packed up after 6 months occasional use....
1
jb - Abingdon, United Kingdom -

been great for recharging my leisure batteries and reconditioning old car batteries to get a bit longer out of them.
5
CY - Rugby, United Kingdom -

Good product.
5
GW - Chippenham -

Great charger, I use it for my 120ah Leoch adventurer age battery. No danger of overcharging which is very handy and can be permanently connected. Only but is.. Charge time is 7-24h so maybe a tad slow .
4
MNH - Southampton -

Excellent Charger! Well worth the money!
5
MJR - Attleborough -

rubbish product had one replaced for being faulty and second one just as bad got refund because salesman would not sell me cytek mxs 10 charger but got one from another online shop works perfect will not use you again cheers john
1
jp - West Yorkshire -

exellent, regards
5
SC - West Yorkshire -

Nice compact 7 stage intelligent charger at a very competitive price, would recommend.
5
JW - Exeter -

Hard to rate the performance without a lot of measuring kit but it does seem to work well enough for a mid-priced unit. I ordered it on the basis that a specialist battery supplier should be able to source a good quality and good value unit. Time will tell if that was a wise assumption. One grumble: the legend for the "7 stage" indicator LEDs could be masked out by half a postage stamp so you may need to have your reading glasses at the ready.
4
JL - Huntingdon -

First rate
5
DE - Frinton-on-Sea -

Excellent, compact charger and good service from Tayna. Just the job!
5
TB - Wiltshire -

Super little charger. it certainly packs some power into my marine deep cycle battery!
5
AC - London -

Good does exactly as described.
5
MT - Colchester -

I bought this to replace my existing battery charger which still works perfectly well but is a little bit large and heavy for what I now need. This charger is relatively small and very light and I intend to keep it in my caravan as an emergency tool having experienced the failure of the on board charger. Caravanners on a mains hook up will know that you are scuppered without a 12v supply if you intend being out in winter for any longer than 3 nights
5
dh - Peterborough -

Very pleased with charger, fully charges my 85ah leisure battery in less than 8 hours, and nice to have the reassurance that if the battery is left on charge it is just trickle charging and quite safe.
5
MPB - Cheddar -

Does exactly what it says on the box, top charger
5
SW - Brighton -

Arrived promptly and exactly in the hour specified. This charger is small, so doesn't take up much room. It has been in continuous use now since receipt, and it works through the stages very well. I have three 85A/H batteries, two of which haven't been used for a number of years, so I did an extreme test and tried the charger on them, to see if it could recover them. Although not 100% results in charges so far, the older batteries were recycled from badly discharged, and one provided power for over an hour (which is more than I expected) on a 5 Amp load test, which was quite impressive. I suspect that if I keep on with the cycling, they may even improve a bit more. Time will tell. The charger is intended for a new battery in the Spring, but it is a good test for it at the moment, and I'm very pleased with the results. Thank you for a great piece of kit.
5
AJ - Helston -

Excellent service.
5
dm - Merseyside -

great little charger, my trickle charger just wasnt working well for my caravan battery, green light on battery wouldnt even show green after 5 days on charge, just 2 hours using this charger and battery was back to power, left on overnight, disconnected and left for 4 hours... multimeter checked and battery was back to life, only bought this as i borrowed one on caravan site from a neighbour when battery went flat...great price, very happy with tayna delivery and prices..everyone should have one as a back up
5
sa - Lincolnshire -