Reviews of
Bison Battery Box with USB Charger, LED Meter, Breaker & 12V Socket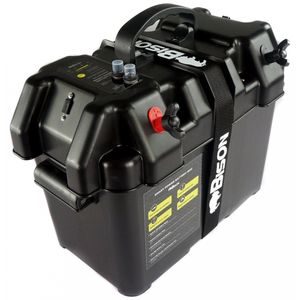 Bison Battery Box with USB Charger, LED Meter, Breaker & 12V Socket
Our Price: £65.99 inc VAT

(4.9 / 5.0) Average Rating:
Total Reviews:7
Customer Reviews
Great product, which makes keeping a battery on a small boat much easier and safer.
5
JD - Stratford-upon-Avon, United Kingdom -

The Bison battery box is everything the description says and more. The construction is robust, the additional features are all not only extremely useful but are positioned in the ideal location for ease of operation. But for me the two stand out features having previously owned a standard battery box that did nothing bar hold and protect the battery are the Bison led charge tester meaning I'm never taking off with a partially charged battery or grinding to a halt because the battery has run flat. The other feature is the wide rigid shaped carrying handle, which may seem a little thing, but not so when your hands are wet and cold which compared to my old box with a narrow flexible handle that felt was cutting your hand in half makes the lifting and moving the box with the battery installed a painless experience. All in all a great piece of kit that I already would not want to be without.
5
AB - Northamptonshire, United Kingdom -

really great box, will keep the rain off my battery when im in the boat, has usb and car charging point, easy to use and setup, good carrying handle so it won't cut into your hands as it would if it was thin. it has webbing going around with quick release buckle to keep both halves together and even has circuit breakers in the top. Haven't used it in anger yet but everything seems well built on it and even has battery meter on the top so at the click of a button you can tell state of the battery. hope this review helps others if they are thinking of purchasing this.
5
SO - Dudley, United Kingdom -

Great battery box. Robust and very simple to use.
5
PC - Mid Glamorgan, United Kingdom -

Good product. No nonsense.
4
MH - Makati City, Philippines -

Awesome bit of kit. Bought for backup power to replace a gas generator while travelling/camping in my truck. Well thought out, well built and affordable.
5
SM - Godalming, United Kingdom -

Great bit of kit. Well thought out and using it to build a backup power situation with solar, for travelling and charging tool batteries. Far better built than I could make it and well laid out.
5
SM - Godalming, United Kingdom -