Reviews of
Optima Red Top Battery RTU 3.7 (8022-255) (BCI 75) RTU3.7 AGM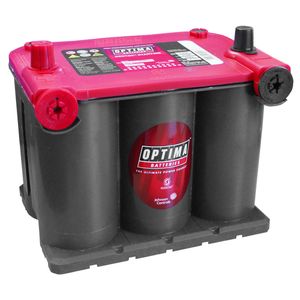 Optima Red Top Battery RTU 3.7 (8022-255) (BCI 75) RTU3.7 AGM
Our Price: £153.99 inc VAT

(4.8 / 5.0) Average Rating:
Total Reviews:32
Customer Reviews
Excellence comes as standard on these !!! Fourth battery …unequalled in all ways !!! Five star TRUE next day delivery. Thanks a million!
5
CS - Lymington, United Kingdom -

Fitted To: Landrover Discovery 4000
Extremely fast and efficient delivery. Would recommend this supplier to friends.
5
CH - Vailly sur Sauldre, France -

Fitted To: Pontiac fiero 2.4L Petrol
Great product
5
Gb - Doncaster, United Kingdom -

Fitted To: Jeep Cherokee 3.7l Petrol 13 GB
Tayna has the best price in EU. and fast shipping. I can very much recommed this product from Tayna
5
ME - Stockholm, Sweden -

Fitted To: Pontiac Firebird 5,7 L Petrol 1995
Very happy with the service and the battery.
5
SF - Colchester, United Kingdom -

Fitted To: Chevrolet Stingray 5.7 Petrol 1985
Car: 1996 Camaro Z28 Engine: 5.7i Lt1 Had some questions, instantly answered via website, instant link via email. Ordered late eve on 26th, dispatched on 27th, arrived on 28th. This is even after a member of staff rang me (a real person) because of stock delays. I went for my second choice I'd been thinking about and glad I did. Got emails on delivery times (an hour slot), delivered within that hour. How can it get any better? ... It fitted beautifully in a very limited space. Fantastic service and communications and a very good price. Wish I'd found these company earlier.
5
TB - Kettering, United Kingdom -

Fitted To: Chevrolet Camaro Z28 5.7i LT1 Petrol 1996
Battery arrived packaged well. Voltage was checked immediately at only 12.43 volts, which concerns me slightly for a brand new battery. Optima website states fully charged should be between 12.6-12.8 volts Battery has not yet been fitted to vehicle.
2
GH - Shropshire, United Kingdom -

Fitted To: Chevrolet Camaro Z28 IROC-Z 5700 Petrol 1987
Great battery. I always buy Optima red tops for any vehicle I plan on keeping for very long. Great for American vehicles as the have both top and side terminals.
5
SD - West Sussex, United Kingdom -

Fitted To: Chevrolet G20 van 4.3 v6 Petrol 1991
Battery deliverd exactly as promised, on time 24 hrs after order and fully charged. No hesitation awarding five stars.
5
SH - Bristol, United Kingdom -

Fitted To: Chevrolet C5 ZO6 5.7 litre Petrol 2004.
Great Delivery, fast service.
5
PW - Great Yarmouth, United Kingdom -

Great little battery, fits perfectly and packs a punch. Has to start a 4.0ltr I6 For it's size it has a lot of power.
5
HCS - Suffolk -

Fitted To: Ford Fairmont 4.0 Petrol 2001
Faulty after 6 months. Great service from Tayna in renewing under warranty
1
PC - Ringwood -

Fitted To: Chevrolet Corvette C5 5.7 Petrol 2001
This is the second Optima RTU 3.7 I have bought. It is a replacement for the first one, which lasted about five years. I had hoped the earlier one would survive a bit longer, and was surprised when it ceased to hold a charge. I am hoping that this new one will have a rather longer lifespan.
4
BS - Moray -

Fitted To: Pontiac Fiero 2.8 litre Petrol 1988
Very prompt very good service helpful not a bad price
5
CS - Petersfield -

Fitted To: Chevy Corvette 5.7 Petrol 1986
Replaced an identical battery after 6 years of great service, including periods of a couple of months idle. Of course, it slotted right in and started the car straight away. Delivered fully charged, very well packed and (pardon the language) bloody quick! Ordered at 2:30 on Monday, arrived in North East Scotland the following day at noon! Both the battery and the supplier get a 5-star rating from me.
5
MB - Derby -

Fitted To: Pontiac Firebird Trans Am 5.0 Petrol 1986
I am very pleased with the battery, but I had just one slight issue, the standard battery hold down bracket was not compatible so I had to fabricate my own.
5
Mike Nichols - Derby -

Excellent battery . And next day delivery . Definately recommend you
5
Mr Jarmin - Stevenage -

This company has an outstanding first class service
5
Mr Dave Parrish - Chelmsford -

Excellent Battery with super fast delivery. Was a simple perfect straight fit to my 1998 Pontiac Trans Am. All my electrical gremlins have now vanished.
5
Paul Marshall - Horsham -

Excellent service! This battery is a scarce and less-popular model. A phone call to a very helpful member of the Tayna staff confirmed that it was in stock, and the order was delivered within 48 hours to the North of Scotland at very reasonable cost. Excellent service from Tayna in all respects - I strongly recommend them!
5
br1anstorm - near Inverness -