Reviews of
055 Enduroline Car Battery 12V 40Ah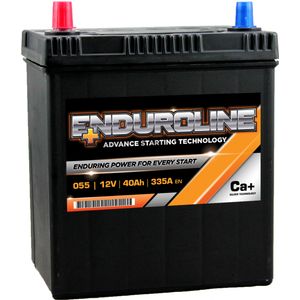 055 Enduroline Car Battery 12V 40Ah
Our Price: £41.95 inc VAT

(4.6 / 5.0) Average Rating:
Total Reviews:53
Customer Reviews
Fast delivery. Excellent product. Works a treat.
5
rc - London, United Kingdom -

Fitted To: Suzuki Vitara 1600 Petrol 1995
Probally my fault buying one without checking what exactly under the bonet ( couldn't check at the time and trusted website suggestion)... completely different with no way to accomodate Toyota Rav4 56 reg 2.0 petrol
1
Pl - FARNHAM, United Kingdom -

Fitted To: Toyota Rav4 2.0 Petrol 2006
Despite being recommended as fitting a Honda Insight it doesn't actually fit. The terminals need to be at the back of the battery rather than the front. The Insight is designed in such a way that the positive lead will only fit if the positive terminal is at the rear of the battery.
3
DS - Lowestoft, United Kingdom -

Super service, very prompt and well packaged. Fits my Skyline a treat. Recommended.
5
BL - Ashford, United Kingdom -

Fitted To: Nissan Skyline Gtr 2.6 Petrol
Great battery, extremely well packaged, fast delivery and a perfect fit for my car. Being an import, the battery on my car is a different size to the UK equivalent, but Tayna had an exact match at a great price. Same Ah as my OEM battery but even more cranking power. A great buy at a great price, with top service!
5
BM - Staffordshire, United Kingdom -

Fitted To: Honda Integra Type R (JDM) 1800 Petrol 1998
Good price, fast delivery a reliable tirm to deal with!
5
MDS - Hexham, United Kingdom -

Fitted To: Honda Crv 2.0 Petrol 12
used in fact on a ride on mower (old and could not find exact same as original) works fine with only a slight mod. did arrive with some acid loss into the packaging which required care opening an a good wash off
4
PC - Norfolk, United Kingdom -

Excellent battery ordered for my daughter's Suzuki alto, fast delivery, well packaged and it was supplied fully charged . Seems to have plenty of power , great price too . Very pleased .
5
BT - Rochester, United Kingdom -

Fitted To: Suzuki Alto 1.0 Petrol 2011
This is my 2nd battery I purchased as I have 2 classic cars of the same model. The first one is now 30 months in and spot on with no problems. Hence the purchase of the 2nd. The batteries are well made and good quality + a neat folding handle which really aids fitting which is tight and the battery needs to be slid down the front panel.
5
PA - Buckinghamshire, United Kingdom -

Fitted To: Fiat 500 499 Petrol 1967
Brilliant Product and service, including delivery. their low prices as usual. This is my third return to Tanya. These two batteries are an upgrade on my mobility scooter, I'm very pleased, I recommend Tanya to everybody I know, I have sent all the people I have contact with, a link to Tanya online and on my phone.,especially as its winter. I wish all companies sites were so easy to search, and research the best price and suitability of their products, and so reliable with next day delivery. No doubt I will be back in the future, as we have 10 cars in our family. Thank you Tanya - Keep it up please.
5
AG - Norfolk, United Kingdom -

Fitted To: Go Go mobility Scooter Elite traveller plus N/A 2016
So far so good, despite the cold conditions. Excellent service from Tayna, arrived next day as promised.
5
NA - South Croydon, United Kingdom -

Fitted To: Honda Civic 1397cc Petrol
envoi rapide , batterie bien protegé , je recommande
5
dc - soual, France -

Fitted To: daewoo matiz 0.8 Petrol
Excellent Battery Small and powerful Used for a battery relocation project
5
SK - Newark, United Kingdom -

Just what I expected, VERY well packed, pleased
4
MRAJH - PORT CARLISLE, United Kingdom -

Superb company. I have dealt with them on several occasions. Batteries are always well priced compared to others.
5
TC - Orpington, United Kingdom -

Fitted To: Suzuki Vitara 1600 Petrol 1994
Great battery. Easy to fit and works fine.
5
JE - Gloucester, United Kingdom -

Fitted To: Toyota Starlet 1300 Petrol P
dommage que les cosses soient placees sur le devant car les cables de branchement ne sont pas assez longs.
2
C - CROZET, France -

Fitted To: hiuday i10 1200 Diesel 2009
i telephoned for advice on which of the many batteries would be best and was advised to purchase this one. The battery arrived the next day, was extremely well packed and having installed in the vehicle after following the comprehensive preparation instructions works perfectly. I would recommend the product and service provided by Tayna to anyone.
5
KH - High Wycombe, United Kingdom -

Fitted To: Perodua Nippa 840 Petrol 1999
Battery arrived ok but terminals in wrong position for Honda Insight and cables wouldn't reach.
1
jA - Sheffield, United Kingdom -

Fitted To: X80 CLA
Arrived next day as promised and was easy to fit even though I had not paid enough attention during ordering and the terminals were the wrong way around. Works well. Now ready for Winter.
5
JS - Newton Stewart, United Kingdom -

Fitted To: Suzuki Grand Vitara 1.6 Litre Petrol 2004