Reviews of
75-60 Enduroline Side Terminal Car Battery 12V 60AH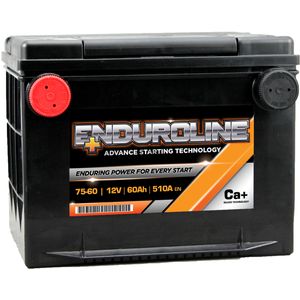 75-60 Enduroline Side Terminal Car Battery 12V 60AH
Our Price: £83.95 inc VAT

(4.9 / 5.0) Average Rating:
Total Reviews:30
Customer Reviews
The battery arrived really well packed, with no chance of damage in transit! And, it arrived in line with the delivery schedule that we had been sent via email. As other batteries I have bought from Tayna it is doing the job perfectly and fitted easily. Unfortunately, due to the appalling shipping costs outside the UK that everyone is now subjected to, we had to have this item sen to friends in the UK, who brought it over. But Tayna did their part well, so not really an issue.
5
SI - Lavenay, France -

Fitted To: Chevrolet Corvette 5700 Petrol 1978
Great product!
5
OM - Gusum, Sweden -

Fitted To: Chrysler Sebring convertible 2.7 liter V6 Petrol 2006
Good product, great price, delivered on time and undamaged, thanks
5
RW - Ashtead, United Kingdom -

Fitted To: Chevrolet Corvette C4 5.7 Petrol 1994
Very,very good product could not asked for better.Exactlly what I wanted.
5
Jm, USA -

Fitted To: Pontiac Trans Am GTA 5.7 liter Petrol 1991
Great battery for 4th Generation 'F' body cars, Firebird and Camaro at less than half price of an original AC Delco battery
5
SY - Lancashire, United Kingdom -

Fitted To: Pontiac Trans Am 5700
This was the first time I have used Tanya for a car battery. I shopped around online and found them to be very competitive. The battery arrived promptly and was extremely well packaged. Upon installing it, the car fired up first time without having to pre-charge the battery.
5
SM - Eastleigh, United Kingdom -

Fitted To: Pontiac Firebird 3.8l V6 Petrol 2002
I bought this to replace the worn out battery in my 2001 Trans Am. it's the factory fit size for the car. Went straight in. Plenty of starting power even on a cold and frosty morning. I didn't drive the car for 2 weeks but it still started with no problems when I went back to it. Highly recommended.
5
IH - Nottingham, United Kingdom -

Fitted To: Pontiac Trans Am WS6 5.7 litre Petrol 2001
The product worked exactly it was intended to work.Rate it (5 star).
5
Jm, USA -

Fitted To: Chevrolet Corvette,2000 LS 5.7 liter Petrol 2000
The battery is fitted to a 2002 WS6 Trans Am and was a perfect direct fitment with the side posts. From the initial phone call through to final purchase and delivery it was very smooth! I can be a very picky individual to deal with too!! The packaging was superb with loads of polystyrene in a big box, the delivery was excellent with text updates of delivery times and i would not hesitate to buy from Tayna in the future!
5
TW - Eastleigh -

Fitted To: Pontiac Trans Am 5.7 litre Petrol 2002
Great service form the Tayna team, spoiled a little by the Inept performance of UK Mail (NOT) delivering. However they remedied this by changing couriers who were excellent and delivered the next day. The people I spoke to at Tayna tried everything to sort the problem and gave great service.
5
GB - Bognor Regis -

Fitted To: Chrysler Sebring Convertible 2,700 Petrol 2006
It fits and it works - not much more to say really. The Tayna service was prompt and successful as ever - thank you.
4
NM - Clackmannan -

Fitted To: Chevrolet Corvette C4 350ci Petrol 1990
I have just purchased a 1997 Chrysler Sebring convertible, unsure of the battery required I called the office number, they were very helpful and within a day the correct battery arrived within 30 mins of the time they said it would arrive. I would defiantly recommend them .. Thank you
5
MNT - Eastbourne -

Excellent service from tayna battery Ltd the battery came very quickly and was extremely well packaged I would have no problem recommending tayna batteries to any American car owners or anyone else
5
SB - Southend-on-Sea -

Fitted To: Chevrolet Caprice classic 5 litre Petrol 1991
Very pleased with the service. Came next day after ordering. Battery working as it should.
5
MJ - Daventry, Northants -

Fitted To: Chevrolet Corvette 5.7 Petrol N
The handle is very convenient for handling the battery and getting it into place. Quick convenient delivery.
5
AH - Fleet -

Fitted To: Chevrolet Corvette 5700cc Petrol 1996
Great battery! Fast delivery.. Cranks over the V8 motor easily.. Well pleased on quality, price and delivery..
5
sm - Maybole -

Fitted To: Chevrolet Corvette 5.7L Petrol 1987
ordered in afternoon arrived next morning fitted exactly starts no problem excellent battery good price and brilliant service highly recommend many thanks
5
kb - tilbury -

Fitted To: chevrolet camaro z28 5666cc Petrol 1999
Excellent battery and service. Price was reasonable too.. Highly reccommended. Will be buying another battery later in the year for my '87 Corvette..
5
sm - Maybole -

Fitted To: Chevrolet S10 2.2 Petrol 1996
A difficult to track down battery but Tayna delivered what other better known brands could not for my US built Chrysler Sebring convertible.
5
FB - Tranent -

Fitted To: Chrysler Sebring convertible 2L Petrol 2003
excellent service,perfect fit ,good value
5
c - Rochford -

Fitted To: pontiac firebirb ,trans am 5700cc Petrol 2002