Reviews of
EM1000 Exide Maxxima AGM Battery MAX900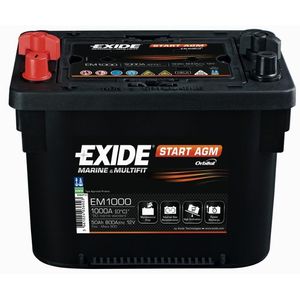 EM1000 Exide Maxxima AGM Battery MAX900
Our Price: £131.99 inc VAT

(4.6 / 5.0) Average Rating:
Total Reviews:38
Customer Reviews
This is an excellent high crank rate battery, ideal for those cold winter starts. It has an additional pair of terminals which I use to connect up the secondary power outlets that my kids use for their devices and we use for the in car wifi and our travel fridge. It's a shame that due to problems with the courier the next day delivery took 4 days ( I live inside the M25 on the edge of London hardly a difficult place to deliver to!)
5
DA - Ruislip -

Fitted To: Land Rover Range Rover 300TDI Diesel 1994
Excellent product, powerful AGM spiral Battery. The vehicle is standing out in the snow for three to for days, this battery will crank it and start it first time. I installed it in a Jeep Patriot 2.0L Diesel with VW PD engine 2008 model, as a replacement for an old Mopar Battery, I would highly recommend it. I USED TAYNA FIRST TIME AND THEIR SERVICE IS SECOND TO NONE, I placed the order Thursday midday and arrived in Harrow Middlesex Friday afternoon, I done know how they do it but they look after the customer well.
5
MPJ - HARROW SOUTH -

Fitted To: JEEP PATRIOT 2.0L Diesel Late 2008
Ich hatte meine Zweifel, was aus England kommt. Altes abgelagertes Material und man kann nichts dagegen machen? Nein, gute Ware, zu 80% geladen und kein Pfand zu entrichten. Find ich gut. Gute Alternative für die gel Batterie beim Raumschiff mit 240tkm. Da braucht man die 1000A.
5
AG - Kempten -

Fitted To: Chrysler Grand Voyager 2.8 Diesel 2006
Let down by the transport company Centrally they were excellent and contracted us twice First to inform delivery date and then to give a time window which allowed us to make arrangements for the onward transport that night. When we arrived in good time for the meeting we discovered note from the driver informing us he had been earlier This necessitated driving to the depot as we couldn't wait for the next day delivery. One person wanting to get home early ruined an otherwise excellent service
5
HC - Worcestershire -

Fitted To: sailing yacht anchor windlass 120 hp Diesel
The least knowledgeable and worst service of any online car battery retailer. The car battery guide for the Lexus RX series is completely WRONG. Performance Batteries get it right, you people get it wrong. I have no idea what battery I need, I trust you people to know that. I bought a completely wrong battery - a MARINE battery - on the basis of the guy I spoke to on the phone. Getting it was nightmare. Their courier UK Mail delivered to completely the wrong address. I ordered another battery from them that did fit but when I called to get the refund from the Marine battery, a woman staffer was incredibly rude and put the phone down three times! They took weeks to send the refund. Avoid these creeps like the plague, buy from elsewhere instead.
1
Owen Hart - London -

DELIVERED ON TIME
5
MRS CAROLE BLYTHE - Scarborough -

Once again excellent service, highly recommended
5
Eric Mason - Maidenhead -

Quick and correct delivery!
5
O. Jensen - Copenhagen, Denmark -

Battery outstanding - elderly Defender TD5. However, UKMail delivery was hugely disappointing - took them three attempts to deliver the battery. UKMail Call centre varied from helpful and useless to couldn't care less and useless. The poor delivery seriously lets down an otherwise excellent service.
1
Gus - Leamington Spa -

Does not fit under the seat securely, of a Chrysler PT Cruiser, owing to the two extra contacts, may be a safety risk in a accident
2
Roger Bradley - London -

cured all my electrical problems overnight
5
USER8574 -

I bought this battery fro a landrover that I use occasionally, so it can stand idle for a few weeks. Battery arrived swiftly, worked first time, and has never failed to start the landrover immediately even after it has been unused for a couple of months.
5
USER7080 -

this purchase was easy and next day it turned up,great thanks
5
USER5021 -

Delivery time very good. Will use again.
5
USER5022 -

Very quick delivery, excellent service. The battery needed a new holding bracket, but this was known before I purchased it. Starts first time every time, heaps of power available. Excellent.
5
USER5041 -

Does exactly what it says on the tin! excellent cranking even in sub-zero temperatures.
5
USER4386 -

1st Battery faulty, did cause me problems but not the fault of Tayna, changed without any problems, reasonable exchange time.
4
USER4339 -

Fast delivery, fully charged and ready to go. Easy install in the under rear seat location of my 98 Cadillac Seville STS and an important feature is this battery doesn't need venting. No problems spinning the 4.6 V8 motor and the Bose stereo system sounds better than it ever has. Hope it lasts as long as the original battery (10 years).
5
USER3598 -