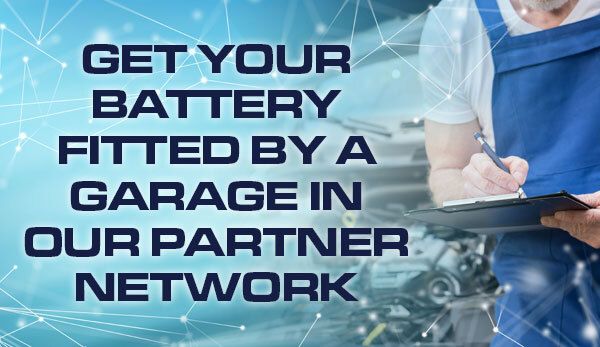 Replacement Car Battery Fitting
So, you're looking for a replacement car battery and you've stumbled across our website. You've seen that our pricing is so much cheaper than other outlets... but you don't have the confidence or skillset to fit your new battery?
No problem - we've joined forces with a huge national network of 5,000+ UK garages who can offer car battery fitting at a time and place convenient for you.
---
How does it work?
It's easy! Simply use our range of tools to find the correct battery for your car or van. We have a vehicle registration number car battery finder which will point you in the right direction. We also have our unique Battery Wizard tool where you enter the specification of your existing battery (such as dimensions and terminal type) to be shown the correct replacement. If you need assistance to find the correct battery we're on hand seven days a week. Simply contact us using our traditional methods or you can even use our live chat facility. This is powered by Facebook Messenger which makes it easy to send us pictures of your vehicle and existing battery so that we can work out the correct battery for you.
Once you have determined which is the correct battery for your vehicle, add the battery to your shopping cart. Our shopping cart system will guide you through adding your delivery and billing addresses and once you have completed payment you will be presented with a link to our partner network where you will be able to provide the details of your vehicle and choose a local fitter.
Please note that the fee will not be added to your order, as you'll pay the garage partner network directly.
We'll deliver your brand new battery to your chosen delivery address ready for you to take to your local fitting appointment.
---
Do you have a Battery Fitter near me?
We certainly do! Our partner garage network is spread evenly across the whole of the UK from Land's End to John O'Groats! Each garage has highly trained professional battery fitters waiting to fit your new battery and able to get you back on the road quickly and efficiently.
A small selection of the towns and places where we can offer battery fitting is below:
Aberdeenshire, Altrincham, Aylesbury, Barking, Beckenham, Bedfordshire, berkshire, Bicester, Birmingham, Bishop Auckland, Blackpool, Blackwood, Bolton, Bootle, Bordon, Bournemouth, Bracknell, Brighton, Bristol, Bucks, Camborne, Cassington Oxon, Cheadle, Cheshire, Clevedon, Crewe, Croydon, Darlington, Devon, Dudley, Dunkinfield, Durham, Exeter, Fareham, Gosport, Greenford, Guildford, Hants, Hartlepool, Haywood, Henley-on-Thames, Heywood, High Wycombe, Horsham, Hyde, Ipswich, Iver, Jarrow, Kent, Kings Lynn, Knutsford, Lancaster, Leeds, Leek, Liphook, Littlehampton, Liverpool, London, Maidenhead, Manchester, Marlow, Medmenham, Melksham, Merthyr Vale, Middlesex, Milton Keynes, Neston, Newbury, Newcastle upon Tyne, North Shields, Northamptonshire, Northwich, Nottingham, Oldham, Oxford, Penryn, Plymouth, Pontypridd, Poole, Preston, Princes Risborough, Radstock, Reading, Redruth, Richmond, Rickmansworth, Rotherham, Rowley Regis, Salford, Salfors, Salisbury, Scunthorpe North Lincolnshire, Shaw, Shepperton, South Shields, South Wales, Southampton, Southsea, Stanmore, Stockport, Stoke-on-Trent, Stourbridge, Surrey, Sutton Coldfield, Swansea, Swindon, Swinton, Torquay, Trowbridge, Wales, Wallasey, Wallington, Warrington, Wednesbury, West Bromwich, West Drayton, Weybridge, Whitley Bay, Widnes, Wigan, Willenhall, Wilmslow, Wiltshire, Wokin, Woking, Wokingham, Yeovil and York.
---
Prefer to fit your new battery yourself?
If you think that you have the skills required to fit your battery yourself, we can assist with that too. We have prepared a short video detailing the correct steps you need to take to fit you battery in our 'How to Fit a Car Battery' video.
---