Reviews of
Optima Yellow Top Battery YTS 2.7J (Japanese Terminals) (8070-176) YTS2.7J AGM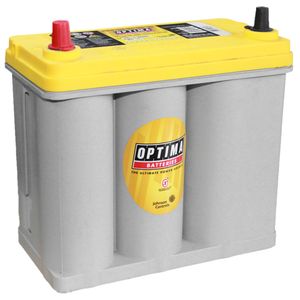 Optima Yellow Top Battery YTS 2.7J (Japanese Terminals) (8070-176) YTS2.7J AGM
Our Price: £124.99 inc VAT

(4.7 / 5.0) Average Rating:
Total Reviews:25
Customer Reviews
Brilliant battery
5
TP - Wrexham, United Kingdom -

Fitted To: Nissan Leaf Electric Oil 4350
Best service i have ever used! Professional work. Will definitely buy again in the future.
5
AJ - Godmanchester, United Kingdom -

Great Product, fits perfectly in my Prius 2. Delivery very fast, excellent experience!
5
SD - Paris, France -

Fitted To: Toyota Prius 2 Petrol
Impeccable service au top !!!!
5
MLE - Vaux/s/Chevremont, Belgium -

Fitted To: Toyota Auris 1.8 l hybride Petrol 2011
Very very fast delivery. You did just great. Thanks again .
5
HN - MOSELLE, France -

Fitted To: Toyota Prius 1.6 Petrol 2008
Previously I've been using Optima batteries for my sailboat: great product! + Excellent packing from Tayna
5
PC - Aquitaine, France -

Fitted To: Toyota Prius Petrol 2014
Service client à l'écoute, livraison très rapide, à priori batterie en parfait état.
5
DT - MIRAMAS, France -

Fitted To: Toyota Prius 3 dynamic Navi Petrol 2010
Battery performing very well, very happy with purchase.
5
EK - Co. Waterford -

Fitted To: Toyota Prius 2nd generation
Our 2011 Prius Spirit had been suffering from intermittent startup problems since we bought it as a used vehicle with 25,000 miles on the clock from the Jemca Toyota dealer in Bracknell 3 years ago. Jemca has had the problem pointed out to them at least 5 times since and seemed unable to diagnose it, even claiming that the 12v (original) battery passed the tests laid down by Toyota. About a year ago I obtained a digital voltmeter designed as a 12V auxiliary socket device and discovered that when the problem occurred the voltage sat at 9.5V or less and only part of the onboard electronics would boot up leaving the main engine management electronics/computer hanging and not allowing the high voltage traction battery relays to switch power to the 12V inverter that normally recharges the 12V battery and runs the 12V lighting, audio, etc. When I fed this information to the dealership, their technicians still claimed the 12V battery tested okay, But I remained suspicious until the cold weather this winter saw the frequency of the starting problem increase dramatically. Checking online I found that Prius owners in the USA have been reporting similar faults and the consensus was that the best solution was replacing the OEM Yuasa 12V battery with a yellow top Optima Battery -- the DS46B24R being perfect for the Prius range of Toyotas. I bought one via Tanya, dithered over fitting it, missed a dental appointment due to the worst starting problems ever, fitted the Optima, and I haven't had a problem since! Whenever I start the car now, my little voltmeter never drops below 11.5V even in the coldest conditions and earliest stages of startup until the inverter powered by the high voltage traction battery cuts in and raises the level to about 14.5V to charge, maintain and run the 12V circuitry
5
AS - Berkshire -

Fitted To: Toyota Prius Spirit 1.8L Hybrid Petrol 2011
Well-built battery. The battery comes with a removable plastic handle that I removed to be able to fit the cables. It is easy to grab the battery and lift it also without the handle. The battery is (~ 20 mm) longer than the original battery that I had in my car but it fits into the battery compartment, anyway.
5
PL - Molndal -

Fitted To: Toyota Prius 1.8 litre Petrol 2010
quick delivery and perfect fit to my toyota prius.
5
GM - Antrim -

Fitted To: toyota prius 1.5 Petrol 2008
Great service. Thanks.
5
T - Pohjankuru -

Perfect replacement for factory fitted 12v battery.
5
CB - Leatherhead -

Fitted To: Toyota Prius II 1500cc Petrol 2007
Well packed and fast delivery to Finland, thank you
5
AW - Kuopio -

Fitted To: Toyota Prius 1.8 Petrol 2010
Shipping incredibly fast from UK to the center of France. DHL delivered the battery to a shop close to my location because I wasn't at home. This batterey fits perfecty to my Prius III, the replacement was fast and easy, and I just have basic knowledge in car mechanic.. I definitely recommend Tayna.
5
M - Clermont-Ferrand -

Fitted To: Toyota Prius 3r gen Petrol 2011
Quick delivery (Northern Greece!!!) , good packaging , excellent product , thank you very much!!
5
KN - Ioannina -

Item as described. Securely packed and, despite a phone warning that it could be delayed, delivered promptly. Installed without difficulty in the car, and performing well.
5
GDH - Twickenham -

Fitted To: Toyota Prius (NHW20) 1498cc Petrol 2006
Fast delivery and well packaged. Perfect fit for my 2009 Generation 3 Prius T4 Hybrid. Easy to install. Previous OEM Yuasa battery would not hold charge.
5
MGP - Manchester -

Fitted To: Toyota Prius T4 1800 Petrol 2009
It is the first time that I buy a car battery via mail order and I must admit that I was a little hesitant to do it. But I made the jump and is very satisfied. Fast and precise delivery in less days than estimated. Thank you!
5
MMM Hw - Hellerup, Denmark -

The battery itself is fine. But i ordered a replacement for my prius which i understood was a dedicated fit, although the battery fits in, the vent pipe doesn't. also the YTS2.7J is different from my order which was DS46B24R. On arrival the outer box was in taters!! no card was left when i was out. On second delivery its was left in a bin cupboard. These points may be minor but also quite annoying.
2
Mark Soan - NORTHAMPTON -