Reviews of
Varta VW 1J0 915 105 AK Battery (1J0915105AK)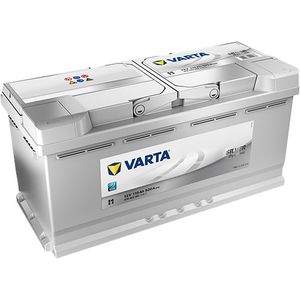 Varta VW 1J0 915 105 AK Battery (1J0915105AK)
Our Price: £120.62 inc VAT

(4.9 / 5.0) Average Rating:
Total Reviews:437
Customer Reviews
Excellent battery at a good price and fast delivery. Thanks
5
HP - West Midlands, United Kingdom -

Fitted To: Audi A6 2.7tdi Diesel 2008
Quick delivery and well packed thank you.
5
SM - Cardiff, United Kingdom -

Perfect replacement for Audi Rs4 b7 Super quick delivery
5
AM - West Yorkshire, United Kingdom -

Fitted To: Audi Rs4 4.2 Petrol 2007
With its OE standard of engineering, the Varta battery does the job admirably while its 5 year warranty provides peace of mind.
5
MB - Whitchurch, United Kingdom -

Fitted To: Audi A6 Avant S Line 3.0 supercharged V6 Petrol 09
Fab deal and Service! Wanted to replace like for like - but then discovered the 'old' Varta I had was no longer made…(well the car (and the battery) are 17 years old now!) What better advert for quality?! So when I was investigated and found these Silver units - it was a no brainier. Add to that the great price AND the very speedy delivery - let's just say I'm a very happy customer - and would recommend these guys. Well done, thank you and keep up the great work ???? (Verified purchase Apr '22)
5
CT - Dorset, United Kingdom -

Fitted To: Audi A8 Sport Quattro 3000 Diesel 06
Absolutely brilliant service from Tayna Batteries. Next day delivery and well packed. Competitive price of battery leave competition far behind. Well impressed by the service provided.
5
MS - Berkshire, United Kingdom -

Fitted To: BMW E61 3000 Diesel 2005
Great service , thank you
5
KC - Chelsworth, United Kingdom -

Fitted To: Citroen Relay 2.2 Diesel 67
Great
5
Mw - Lancashire, United Kingdom -

Fitted To: Vw Crafter 2l Diesel 2015
Excellent battery a like for like replacement for my Audi but at 2/3 the price of Audi
5
Jt - Lymington, United Kingdom -

Fitted To: Audi A4 Avant Quattro 2.0T Petrol 2008
Great
5
JT - Truro, United Kingdom -

Fitted To: Audi Rs6 5.0 Petrol 2008
Best price and quickest delivery as usual.
5
AI - Essex, United Kingdom -

Fitted To: Citroen Relay 2200cc Diesel 2010
Would highly recommend Tanya Batteries, they were so very helpful and nothing was too much trouble. Thank you for great advice and first class service.
5
LF - North Yorkshire, United Kingdom -

Just as described. Great battery
5
cw - Staffordshire, United Kingdom -

Fitted To: Porsche Cayenne 4500 Petrol 2005
Old 10 lasted 10yrs plus, hoping for the same for new one
5
RS - Darlington, United Kingdom -

Fitted To: Fiat Ducato 2.2 Diesel 2012
Very professional company, Super fast delivery.
5
pm - Kent, United Kingdom -

Fitted To: Range rover Vogue 3L Diesel 54
Perfect quick delivery
5
MD - London, United Kingdom -

Good Value for money
5
F - Pembroke Dock, United Kingdom -

Fitted To: Audi A6 3.0 l Diesel 2005
Excellent service. Delivery was next day
5
RB - Hornchurch, United Kingdom -

Fitted To: Audi S5 4.2 Petrol 2008
Very simple process to find exactly what I needed. The item selected was not available but Tayna messaged me and advised an alternative item. The alternative was sent to me but then the courier ruined the whole process. Due to an unforseen circumstance I would not be home for delivery. I managed to plough through the couriers comedy re-delivery thing to arrange Pick-Up from the local depot next day. That was confirmed. Next day the courier messaged me and advised Pick-Up was due next day. And at an unknown Pick-Up location. It is impossible to speak to couriers. (DHL you incompetent fools) so I drove to this weird Pick-Up location. A Safe Storage warehouse on the outskirts of Glasgow. Was advised that they only deal with DHL items that customers specifically select. I breenged over to the DHL depot then and fortunately the chap in there had a look for the order in the warehouse and wheeled out my new battery. Tanya service 100% their choice of courier -100%. (Because DHL cannot be contacted whenever they mess things up.) I'll use Tayna again but not if they still use DHL.
5
GM - Beverley, United Kingdom -

Fitted To: BMW 520D 2000 Diesel 2007
Searched using installed Audi supplied battery details (8K0 915 105 F), which was a "Moll" brand for a 2011 S5 convertible mounted in the boot. For others looking for the same vehicle, battery is in and working but coding was a kludge. It's the same capacity (110Ah) so I left the model the same, changed the type to VAO and put as much of the serial number in that I could ensuring the system knew it was a new battery (I'm assuming a cell failed on the old one as after trying to charge it still only showed 10.3V). I also needed a small packing piece as the clamp didn't quite nip the lip at the bottom. Finally the battery vents through a pipe to the rear of the car, initially worried that the new battery had two vents that might not connect internally but with a bike pump and a feather :-) proved only one needed.
4
AL - Hove, United Kingdom -

Fitted To: Audi S5 Convertible 3.0 Petrol 2011