Reviews of
Optima Red Top Battery RTS 4.2 R (Reversed) (8003-251) (8003-151) (34R) RTS4.2R RTR4.2 AGM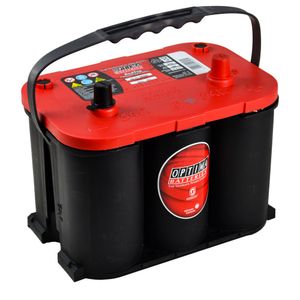 Optima Red Top Battery RTS 4.2 R (Reversed) (8003-251) (8003-151) (34R) RTS4.2R RTR4.2 AGM
Our Price: £158.45 inc VAT

(4.8 / 5.0) Average Rating:
Total Reviews:56
Customer Reviews
Great battery
5
LS - Derbyshire, United Kingdom -

Good delivery (under 24 hours) so far very much better starting.
4
MF - Stevenage, United Kingdom -

Fitted To: Jeep Cherokee 2.7 Diesel 2003
Great Service
5
MW - West WICKHAM, United Kingdom -

Fitted To: Mitsubishi Shogun 3.2 Diesel 2014
I bought this battery for my 2004 Ford F150. The customer service team was extremely helpful with all my questions (including which product is best fit for my car). The battery arrived on time and it works good so far. Definitively I would consider Tayna for future shopping!
5
CIM - Forest Hills, USA -

Fitted To: Ford F150 5.4L Petrol 2004
Excellent battery... and next day delivery
5
SW(FT - Surrey, United Kingdom -

Fitted To: Ferrari 430 Scuderia 4300 Petrol 09
I found this difficult to get due to incorrect descriptions. This was described exactly as Ferrari had specified. Delivered the next day too. Will definitely use again Thanks.
5
SW(FT - Surrey -

Fitted To: Ferrari F430 4300 Petrol
The Optima red top was already very familiar to me as I've used and hired SUVs fitted with these workhorses on a number of occasions ,sometimes over long mixed use periods of irregular use Without any starting or extra equipment usage (winch etc ) problems of any kind so the choice of an OPTIMA whatever colour of top you need is a no brainer and a supply source as efficient as TAYNA BATTERIES completes the package . Excellent!! BCN
5
BN - Leicestershire -

Fitted To: JEEP Grand Cherokee 4.6 Petrol W
Two batteries purchased for use in a boat. They power the bow thruster and anchor windlass either of which can draw up to 600 amps. Batteries delivered on time the next day. Excellent service and good price.
5
LFB - Emsworth -

First time I've had to replace the battery in my Jeep Cherokee since new in 2004. Replaced it with this same battery and hoping it will last as long!
5
bb - Lancashire -

Fitted To: Jeep Cherokee 2.7 Diesel 2004
Great starting improvement.
4
JP - Aberdeen -

Fitted To: Mazda Rx8 1300 Petrol 05
Your staff were a1.battery brilliant with prompt delivery.thanks
5
MKP - Frome -

Fitted To: Jeep Cherokee 2.5 Diesel 52 plate
Top quality battery best money can buy
5
D - Aldershot -

Fitted To: Rover Mini 1380 Petrol
This is my second Optima Red Top and i purchased this on the fact that my original was sold with my old car ,the starting performance is second to none ,and would recommend this battery as peace of mind when the weather is cold ,its smaller than my old sealed lead acid ,but far more powerful,
5
TV - Wiltshire -

Fitted To: Land Rover Freelander 1 2.0 Diesel 06
perfect great value and fits correctly
5
gW - West Midlands -

Fitted To: Chevy C10 StepsSide Truck 1964 small block chevy 400ci Petrol B
Really great battery works great on my car really quick delivery I am well happy with everything thanks.
5
JW - Kent -

Fitted To: mazda RX7 12a rotary Petrol 1982
Very polite and helpful
5
JB - Birmingham -

Fitted To: Mazda RX8 2.5 Petrol 04
Fitted to a '99 Grang Cherokee 4.7V8. Perfect fit for the car and as with previous purchases a professional and timely transaction from Tayna.
5
DP - Shropshire -

Fitted To: Jeep Grand Cherokee 4.7 V8 Petrol 1999
Excellent service. Was purchasing to replace an old optima red top so value and deliver were most important and top marks for both.
5
sc - West Sussex -

Fitted To: toyota hilux 2770cc Diesel 1993
Quality battery and top class service from Tayna.
5
MB - South Yorkshire -

Fitted To: Jeep Cherokee 2.8 Diesel 04
Not brilliant I'm afreaid. Firstly the battery didn't fit - this was not Tayna's fault as we checked all the dimensions and the battery was fine as far as height, width and depth. The problem was that the Nissan X-Trail has an almost rigid connection to the positive battery terminal and there was no way it would reach the terminal on the Optima battery. I had to make an adaptor to reach between the Nissan connector and the battery. Rather more worrying was that the battery was completely flat when it arrived. I was expecting a fully charged battery so thatI could use the car as soon as it was fitted. No such luck, it needed overnight charging on an 8 amp charger before it would start the vehicle. This makes me concerned about possoble damage to the battery being stored in a fully discharged state.
2
HG - Torrington -

Fitted To: Nissan X-Trail 2.2 litre Diesel 2010