Reviews of
Optima Yellow Top Battery YTS 2.7 R (Reversed) (8073-176) (D51R) YTS2.7R YTR2.7 AGM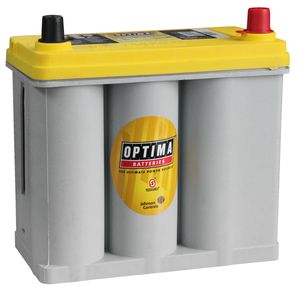 Optima Yellow Top Battery YTS 2.7 R (Reversed) (8073-176) (D51R) YTS2.7R YTR2.7 AGM
Our Price: £124.99 inc VAT

(4.7 / 5.0) Average Rating:
Total Reviews:30
Customer Reviews
The battery in the Honda S2000 is very small & cheaper batteries fail very quickly, this is definitely worth the extra cost.
5
RF - Broadstairs, United Kingdom -

Fitted To: Honda S2000 2000 Petrol 2007
Easy to connect and does what it is supposed to do..
5
PS - Rugeley, United Kingdom -

Fitted To: Talbot-Matra Murena 1600 Petrol 1983
I don't use the car often so the original battery died. Did some searching and this was the best from what everyone said. I'm very happy with it. Keep it trickle charged as Dam older GTR's go flat after about 10 days if not used. Head unit issues apparently but get that sorted in the summer.
5
AM - Shropshire, United Kingdom -

Fitted To: Nissan GTR 3800 Petrol 2010
Excellent service Would definitely recommend
5
Mp - Preston, United Kingdom -

Fitted To: Nissan GTR35
Good quality, Tayna service and delivery excellent.
5
WC - Turriff, United Kingdom -

Fitted To: Ultima GTR 7 ltr V8 Petrol Unregistered
Fitted a treat - works very well
5
S - Bristol, United Kingdom -

Fitted To: Mazda MX5 2 Petrol 2019
Uncommon size fitted perfectly. Operating fine so far, too soon to give 5-stars.
4
MMCJ - Horsham, United Kingdom -

Fitted To: Mazda 5 2.0l Petrol 14
Superb all round battery. Perfect fit with fast delivery.
5
os - durham, United Kingdom -

Fitted To: Nissan GTR 3800 Petrol 2011
Exceptional customer service, and prompt delivery despite current covid situation. Product itself was exactly what I was looking for at a good price. The optima yellow top is a good reliable low cost option if you're looking for a battery to relocate inside a passenger cell.
5
SP - Benfleet, United Kingdom -

Fitted To: Honda Civic 2000 Petrol
Great batteries, and good service by you. Unfortunately let down by the courier you use as they only delivered three out of the four on the day requested, this causing inconvenience to us as we had to sent the forth one overnight to get to the job on time with great expense to ourselves.
3
Pd - Harwich, United Kingdom -

used these for years now. only reason for 4 * and not 5 * is IMO they aren't as good as they used to be 10-15 years ago. Still the best battery for my use though.
4
AT - Uxbridge, United Kingdom -

Fitted To: Ultima GTR 6.2 S/C Petrol 2002
Incredible service from TAYNA - battery ordered at 08:00 battery delivered to the North East of Scotland at 11:27 the next day. If you are hesitant to order from this company , don't be , they are excellent. ( this was my second order and both have been effortless)
5
DP - Ellon -

Fitted To: Honda S2000 2.0 Petrol 1999
Ok
5
MG - BS -

Early dsys for use but seems fit for purpose. Sent wrong battery initially which cause me a lotof problems. I very explicitly when through and clarified before puchase - still got wrong one. Tayna web systems wrong. Still awaiting refund.
4
AM - Windsor -

Fitted To: Ford Zodiac executive 5.0L Petrol 1972
Great product but the delivery is too long, I have not found an express mode. Despite the worries of slow delivery I can not recommend this site, the packaging is neat and fast shipping. Thanks
5
GC - Strasbourg -

Fitted To: Honda Civic Type R FN2 2.0L i-Vtec Petrol 2007
Expensive but a solid replacement for the OEM R35GT-R battery. First class service from Tayna, rapid delivery and good advice.
5
DD - Caldicot -

Fitted To: Nissan R35 GT-R 3.8 Turbo Petrol 2009
Best option to fit to r35 gtr in the available space and highest CCA. Great product and service. Ivor mack Mack Servicing And Prep.
5
IM - Belfast -

Fitted To: Nissan R35 gtr 3.8l Petrol 2010
Not yet fully tested - fortunately - as I purchased this yellow top OPTIMA to avoid (or minimize) loss in capacity after a deep discharge. I own a LEXYS RX400h (Hybrid technology) which is loaded with electronics as eveyone can understand, but isn't fitted with a device worth 10p to prevent the 12V battery from fully discharging if the car is left with the smallest light on... What a disaster ! Unfortunately it happened to me twice, and once the battery was re-charged it had lost too much of its capacity to work properly and I would have got stuck again anyway. The first time the battery was exchanged by LEXUS under warranty, but the second one it was finished, and I wanted to sort out this issue. On (yellow !) top of this I exchanged the interior spotlight bulbs for LEDs in order to save energy ; well, should this happen again, I'll let you know how the OPTIMA behaved...
4
PH - Nord-Pas-de-Calais -

Fitted To: LEXUS RX400h 3.2 l Petrol 2009
Per mia incapacità "non spiccico una parola d'inglese". Questo mio limite invalidante mi farà scrivere sinteticamente che sono soddisfattissimo dell'acquisto fatto, conoscendo la validità del prodotto e così anche della spedizione accurata e rapida. Grazie!
5
ag - Messina -

Fitted To: Honda type r fn2 2007 Petrol
Great battery for a car that is not used everyday - holds its charge and last one lasted 10 years. (Compared to max 3 years for any other battery I've ever had in a Mini - the shaking seems to destroy them!)
5
GG - Fleet -

Fitted To: Rover Mini 1.3i Petrol K