Reviews of
B35 Varta Blue Dynamic Car Battery 12V 42Ah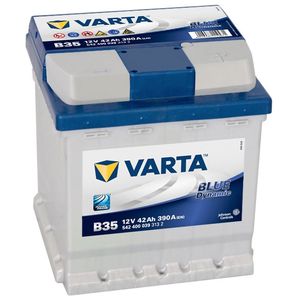 B35 Varta Blue Dynamic Car Battery 12V 42Ah
Our Price: £45.97 inc VAT

(4.9 / 5.0) Average Rating:
Total Reviews:170
Customer Reviews
Excellent product and price, Tanya should however consider the courier service they are using. They could not find my house and would not answer the phone to me, in the end I went to the depot myself and did their job for them.
4
Jacob Lamburne - Southampton -

Fitted To: Mg B gt 1800 Petrol 1970
Did just what it said on the box
5
ric-ric - Kent -

Fitted To: Mgb Petrol
I can hardly believe how great this service was. I ordered the battery at 15.10 on Tuesday afternoon and it arrived at 10.30 on Wednesday morning. And it fits into an MGA battery box very nicely. I will probably not buy a battery from anyone else, ever again! Thanks Tayna.
5
Daryl Mullins - WOKING -

Fitted To: MG MGA Mk1 Roadster Petrol 1958
After seeing the price of renewing the two 6volt batteries on the MG I finally decided to bite the bullet and swap to a 12v battery. Battery arrived by 09:00 next morning and left with my neighbour with card through door letting me know although easy tracked on line. Excellent service all round and battery turns engine much quicker than with the 6v batteries.
5
Mr R Hayward - Newport -

Fitted To: MG BGT 1800 Petrol 1972
Delivery on time brilliant. Battery fitted my 65 MGB Roadster as I hoped getting rid of the two 6volts. No problem fitting just hands to big for small spaces.All together the answer to an MGB owners starting worries. BRILLIANT.
5
RAYGO. - Kidderminster -

Perfect alternative to 2 6v batteries for my MGB. Only one battery required.
5
DKS - Retford -

Fitted To: MGB Roadster Roadster 1800cc Petrol 1963
Excellent service.
5
David Dearden - Hook -

Fitted To: MG MGA 1500cc Petrol 1959
Excellent service and prompt delivery to France.
5
Robert Arber - Meilhards, France -

Fitted To: MG B Roadster 1800 Petrol 1973
Great service - delivered next day!Fits with minimal fuss using one of the existing brackets.
5
Dave Johnson - Luton Beds -

Fitted To: MG MGB Roadster 1800 Petrol 1962
Seem like a good powerful battery but carrying and handling it into position in an MGB is difficult due to the lack of a carrying handle. Come on Varta put a handle on your batteries please!
4
Peter Burton - Lymm -

Fitted To: MG B 1800cc Petrol 1970
Great service and delivery. This battery fits perfectly into one of the 6volt bins on the early MGBs. Very easy conversion from two 6volts - just had to move the earth lead across. The securing bolts and plates from the old batteries also work on this battery by doubling them up and adding a spacer. Perfect job and got the car fired up for the first time in several years!
5
Paul Dunt - Hockley -

Fitted To: MG B 1800 Petrol 1963
hasn't been on car long enough, but turned starter better than previous 2x6v
4
Angus - York -

Fitted To: MG MGA 1622cc Petrol 1962
I received a prompt and helpful telephone response and the battery arrived on time.
5
Mr Graham Carr - Hockley -

Fitted To: mg mgb 1798cc Petrol 1974
Battery fitted perfectly into the battery box of an MGB. Minimum wiring required to convert from 2 x 6V batteries to 2 x 12V
5
David Wilson - Chelmsford -

Fitted To: MG MGB GT 1800 Petrol 1974
Fine fitted to mgb........does it need two....no .....we ll see.....in working and fits in ace.....arrived quick we'll packed..a ok at
5
dave hillsdon - Northampton -

Fitted To: Mgb Gt 1700 Petrol 1968
Battery was ordered online Tuesday night May 14 and arrived 9.20am on the Thursday morning full charged and ready to go. The service was faultless and an example for other to try and beat.
5
John Hughes - Worthing -

Excellent service
5
Mr M Jenkins - Frinton-on-Sea -

Fitted To: MG MGB GT 1800 Diesel 1973
Very good service. Good correspondence, received on time, well packaged, fully charged and ready to go. Used as a replacement for 2x6v batteries. Let's hope it last the distance.
5
Roadster - East Grinstead -

Fitted To: MGB 1798 Petrol 1972
This was delivered in record time, and was very well packed. Customer services spot on. I feel there is no way they could have improved on their customer service and dispatch team. This battery was used to replace the two 6 volt batteries in a classic 1976 MGB 1800 and was a perfect fit into the driver's side battery box without any alteration or adjustment problems at all. I just had to bring the existing negative lead over from the off-side and bolt it just behind the negative side of the new 12 volt battery, taking care that it was a sound earth connection. Started first time and works perfectly. Job done! Thank you. Ted Bentley
5
Edward Bentley (Benrters) - Buntingford, Herts. -

Fitted To: Classic MG 1800 GTB 1800 cc Petrol 1976
I used this battery as a replacement for the two 6 volt batteries in my MGB. I had read good reports and they certainly turned out to be true. It was a very easy conversion, only requiring the repositioning of an earth strap so that it reached the terminal. A brilliant solution at a quarter of the price of the 12v conversion offered by the MG Owners' Club.
5
stephen ennis - Thames Ditton -

Fitted To: MGB GT 1800 Petrol 1968