Reviews of
F17 Varta Blue Dynamic Car Battery 12V 80Ah (580406074) (110)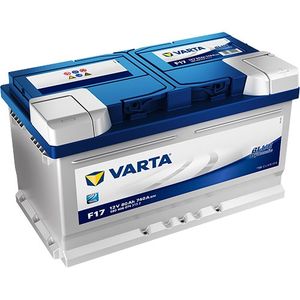 F17 Varta Blue Dynamic Car Battery 12V 80Ah (580406074) (110)
Our Price: £79.94 inc VAT

(4.9 / 5.0) Average Rating:
Total Reviews:292
Customer Reviews
Good price and fast delivery.
5
MD - Carmarthenshire -

Fitted To: Massey Ferguson 35 Diesel
Very quick delivery. No problems.
5
PW - Calne -

Fitted To: Ford Focus 2.0 Diesel
All as described. About 10mm shorter than Volvo equivalent it replaced, but a bit of packing under the clamp bar sorted that out.
5
JS - Surrey -

Fitted To: Volvo C30 2.0 Diesel 08
Envoi recu en 3 jours. Une varta pour meme pas le prix d'une sous marque !!! Moi suis tres satisfait de cet achat
5
sb - Ile-de-France -

Fitted To: bmw 320d 2000cc Diesel 2004
Excellent service delivered first thing next day first class service.
5
CF - West Lothian -

Fitted To: Jaguar X-Type estate 2.0 Diesel 2005
You have Done your Job super ????
5
DSS - Solms Oberbiel -

Fitted To: Audi A6 1,9 tdi Diesel 2004
great product provided with delivery to my door within 24 hours of payment - great service on phone to confirm correct part, great product that fitted within seconds, well packaged and better still great value for money - now you can't say fairer than that!
5
PR - West Midlands -

Fitted To: vauxhall insignia 2,000 Diesel 12 plate
direct replacement for an oem varta. no problems replacing
5
mm - COULSDON -

Fitted To: daimler benz e350d coupe 3l Diesel 2011
Great service, Delivered in a secure leak proof bag.
5
SW - Gloucestershire -

Fitted To: McCormic International B275 Diesel 2.3 Diesel Q
great price quick delivery thank you!
5
DC - Angus -

Fitted To: jaguar x-type 2.0 Diesel 08
Excellent service fited Mercedes w211 thank you
5
EB - London -

Good company, good return policy, no hassle. Unfortunately for me the battery was deader then a Dodo and I had to return it. I got told it was probably my starter motor that was the issue and that the battery had been tested and was in fact fine. I asked for a refund as the battery took no charge and struggled to wind the windows down. A new battery was sourced elsewhere and the car started first time.
1
mq - Buckinghamshire -

Excellent product and service! Cheapest prices and next day delivery! What else you can ask for!!!
5
IV - London -

Fitted To: Volvo S60 2.0 Diesel 2011
Battery was fine. NOT so the delivery from YODEL who seem to think the UP sign's are not important !!
4
PW - Kent -

Battery received was flat Tayna expected me to recharge it my self! I didn't have the facilities to do it so they took it back recharged it and blackmailed me into paying £12 for redelivery or not get anything nobrefund option given even though it was their fault! Not a single sorry for the inconvenience or the fact that I was left without a car for 2 weeks.Nowhere on the website states that you could get a flat battery and its up to you to charge or pay more for them to do it. Poor customer service they argue with you trying to tell you that its not their fault indeed they think sending a flat battery is ok and they even said 50% of their return batteries a flat. Iam a customer and I expect to get what a paid for fully charged new battery and if it was flat to be sorted not at my expence its ONLY RIGHT
1
DR - Nottingham -

As described and really fast delivery!
5
PRD - Prescot -

Great battery,exact replacement for origional
5
DW - Kent -

Fitted To: Ford transit Roller Team Motorhome 2009
Excellent value for a very good product. Also very easy on line order process and timely delivery.
5
SS - Dalkeith -

Fitted To: Ford Focus Sport 1.8 TDI Diesel 06
ok ok
5
pob - Devon -

Fitted To: bmw 320 2000 Diesel 2002
Excellent service.
5
BS - Isle of Wight -

Fitted To: vw passat 1.9 pd Diesel 02