Reviews of
G7 Varta Blue Dynamic Car Battery 12V 95Ah (595404083) (249 335)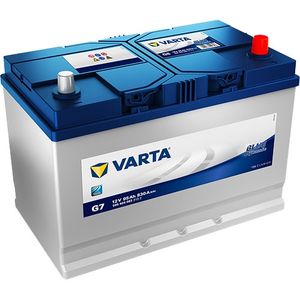 G7 Varta Blue Dynamic Car Battery 12V 95Ah (595404083) (249 335)
Our Price: £90.97 inc VAT

(4.9 / 5.0) Average Rating:
Total Reviews:274
Customer Reviews
Ordered a battery for my wife's RAV4 after it failed to start one frosty morning. Decided on a VARTA (I've always been impressed with this manufacturer), and the battery duly arrived very well packaged. Installed it that day and bingo! Sorted! An excellent service from Tayna and these VARTA batteries are superb. (I have one in my car too)!
5
MH - Berkshire -

Fitted To: Toyota RAV4 2.2 Diesel 2007
great service quality product thanks
5
MRH - Johnstone -

Fitted To: hyundai santa fe 2ltr td Diesel 02
Brilliant efficient service delivered next day good battery did the job thankyou
5
KM - Leicester -

Fitted To: kia seddona 2800 Diesel o4
First rate service, a pleasure to do business with. Thank you.
5
MG - Morpeth -

Fitted To: TOYOTA RAV4 2.2L 148BHP Diesel 2007
Next day delivery although I have ordered just few minutes to 4PM (or maybe few after???), absolutely excellent service to your doorstep.
5
NO - Newcastle upon Tyne -

Fitted To: Mitsubishi Outlander 2.0 Diesel 2007
New battery has far more punch then the old one, not done any real cold starts yet so time will tell. Delivery was very fast and efficient
5
DE - Cheshire -

Fitted To: Kia Sedona 2.9 Diesel 2004
Very good battery car turns over much more quickly
5
DP - Stevenage -

Fitted To: Mazda 6 2.0 Diesel 2006
I was surprised at the speed at which my battery was delivered the service was first class.Iwas a very happy person thank you very much. R.G.DYER.
5
rd - Worcestershire -

Fitted To: HYUNDAI SANTA FE TURBO DIESEL 2.0 LTR Diesel 2001 OU51JSY
Excellent battery at a excellent price with exceptional service
5
JL - Littleborough -

Fitted To: Kia Sorento XM 2.2 Diesel 2010
Great service, very well packaged, delivered on the day, but at the end of the shift!
5
CW - Reading -

Fitted To: mazda bongo 2500cc Diesel N
Delivery exactly as promised and battery works!
5
MVC - Teddington -

Fitted To: Toyota Cabstar Diesel
owning a kia sedona that would not start from cold unless i used easy start had a number of garages look at it told it was fuel pump,head gasket, fuel soleniod,, fuel meter unit,finally i was told by a retired mechanic who worked mainly morris 1000s and british leyland diesel wagons,that my battery was too low at 61 a/h, since i fitted your 95/ah it starts first time every time,thank you
5
rh - Cheshire -

Fitted To: kia sedona 2.9 Diesel LB 05 ROH
Excellent service as always
5
AA - Holsworthy -

Fitted To: Toyota Rav 4 2.2 Diesel 2008
What you actually get is a Varta Blue Dynamic #595 404 083. The Asia Car Battery is 595 104 068 and specifically a Calcium-Silver technology which is good for cars with permanently on electronics. This feature is not mentioned for the Blue. Both codes are given in the Tayna product page. However, this is not a complaint, Varta batteries are very good with higher cranking current available. Had one on a Galaxy 2.3i for 100K miles before I sold it still working fine. I expect the same from this one on my Mazda 6 2.2 MZR-CD engine. The 2 handles help lifting. Next day delivery was spot on to my work address from Tayna, price was unmatched by anybody by quite a margin.
4
MGP - Northampton -

Fitted To: Mazda 6 estate 2.2 Diesel 2011
Good service. Would use again.
5
CR - Grays -

Fitted To: KIa Sedona 3000 Diesel 2005
powerful battery, delivered quickly and was cheaper than even a local Varta battery supplier.
5
RS - Southampton -

Fitted To: kia sedona 2.9 Diesel 04
Delivered next day this battery has performed perfectly - Varta is a great brand and Tayna provided impressive service.
5
Simon Brocklehurst - Norfolk -

Arrived promptly and well packed. The old battery (OEM) was still working but I was concerned it might not cope with starting the car in snowy conditions so I took the plunge and replaced it. I have not tried it under those circumstances yet but it certainly starts the car with contemptible ease in England!
5
Bagheera - Berkshire -

Fitted To: Mazda 6 2000 Diesel 56
Excellent service, quick delivery and fanastic communication.
5
Graham Stewart - Southport -

Fitted To: Fantuzzi FD500G5 12,000cc Diesel 2008
Very good packaging and whole service.
5
alessio - COMO -

Fitted To: Hyundai Santa Fe 2.2 crdi Petrol 2007