Reviews of
YBX7096 Yuasa EFB Start Stop Car Battery 12V 75Ah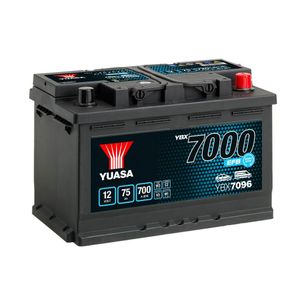 YBX7096 Yuasa EFB Start Stop Car Battery 12V 75Ah
Our Price: £91.99 inc VAT

(4.9 / 5.0) Average Rating:
Total Reviews:21
Customer Reviews
All good. Came a day late due to the courier but good service from Tayna
5
REJF - Hogshaw, United Kingdom -

Fitted To: Honda CRV 2.2 Diesel 2013
Good delivery time and communication from supplier. The battery fitted perfectly and is working well.
5
MC - SELBY, United Kingdom -

Brilliant price, next day delivery, well packaged & fitted fine.
5
PB - St Austell, United Kingdom -

Fitted To: Honds CRV 2.2 Diesel 2013
I checked on the Yuasa web site to find the correct battery for my car. I have used Tayna before for leisure batteries so thought I would try them for my car battery. The battery arrived next day and I used a battery memory saver when fitting. My Honda CR-V came fitted with a Varta battery that was replaced under warranty (30 months old). The replacement Varta battery only lasted 40 months (out of warranty ) I have given up with Varta so thought I would try a Yuasa battery with a 48 month warranty as I fitted one to a Kia Sorrento that lasted over 5 years
5
MSG - Chelmsford, United Kingdom -

Fitted To: Honda CR-V 2.2 Diesel 2014
Great customer service and easy to buy through the site.
5
NL - Stockport, United Kingdom -

So far so good with the battery. Delivery service wasn't good; first time the battery was damaged in transit. Tanya were quick to re-send once I'd raised the delay with them, but I wonder how long it would've taken if I'd just waited. The 2nd battery arrived a week after my purchase, so just as well it wasn't crucial to get asap. Overall though, good price compared to the likes of Halfords so would recommend.
4
JN - UK, United Kingdom -

Fitted To: Honda CRV 1.6 Diesel 2013
Excellent communication and service. Arrived on time at our shipping agent and was collected from them yesterday in Portugal. Very well packaged and fitted on the car perfectly.
5
PD - Hook, Hampshire, United Kingdom -

Fitted To: Renault Clio 1.5 Diesel 2013
This is a fantastic company and their staff go out of their way to help if they can, never mind the great price and product I wouldn't hesitate to recommend this company.
5
TD - Choppington, United Kingdom -

Fitted To: Nissan Juke 1.5 Diesel 2015
Great service,fast delivery. Only had it fitted couple weeks ago but so far so good
5
AN - Newton Abbot , United Kingdom -

Fitted To: nissan Quashqai 1.6 Diesel 2016
Never got to experience the battery's performance as DHL manmaged to mess up on delivery. It would be unfair in the circumstances to award anything less than 5 stars for the battery as other reviews are good. Tayna very helpful in trying to resolve the DHL problem; DHL less so.
5
MPM - Stourport-on-Severn, United Kingdom -

Perfect fit
5
IM - Templecombe, United Kingdom -

Fitted To: Honda Civic 1600 Diesel 63
Fast and efficient delivery and kept well informed at every stage of the purchase. Even delivery by DHL was spot on as knew exactly when it was going to arrive. Battery fitted with no problems and thanks to new battery car now starting like a dream. Stop/start working much better now aswell All round great value product and service
5
PD - Chester Le Street, United Kingdom -

Fitted To: Honda CR-V 2.2 Diesel 14 plate
Fitted this battery to a 1.6 diesel honda civic 2014 as OR battery had failed after a few idle weeks during the corona virus lockdown. This Yuasa battery has been amazing so far, same fitment and 4yr warranty. Tanya batteries delivered very quickly and where helpful when I rang to query before placing the order. Excellent service.
5
RaRL, United Kingdom -

Excellent service
5
SK - Worcestershire, United Kingdom -

After a few days of inactivity my Ateca struggled to start, I ordered a new appropriate battery from Tayna.co.uk which arrived quite quickly given the circumstances & after fitting had given us no issues whatsoever, starting immediately. Recommended.
5
AO - Bridgend , United Kingdom -

Fitted To: Seat Ateca 1.6 Diesel 67
Had t9 purchase new battery as old one was draining rapidly contacted Tayna to get inf9 on particular battery I needed so sent details of and got details sent back placed order and rcv'd a coup,e of days later battery was almost fully charged so made sure it was fully charged and fitted also used a memory loss adaptor for car's memory's etc all went fine and now all working fine Good coms good advice and good delivery all is now fine. Thank you for service received Would recommend Tayna if battery's are required
4
LS - Evenwood, United Kingdom -

Fitted To: Honda Civic Diesel
Excellent Battery with good instructions. Fitted into CRV using a memory saver plugged into a second car that kept power while I fitted the new battery replacing an old original Varta battery. The new Yuasa has superior CCA (Crank amps), plus a pretty green light to tell me all is well with the battery. One small comment. Packing material, necessary as it is, was that polystyrene stuff that flakes off, flies everywhere and the refuse collectors aren't over the moon about taking away. Are there any better packing materials that would decompose?
5
CL - Chalfont St Giles, United Kingdom -

Fitted To: Honda CRV 2.2 Diesel 2013
Excellent value for money, cheapest I could find anywhere and the delivery was very fast.
5
BM - Caldicot, United Kingdom -

Fitted To: Honda CRV 1600cc Diesel 2015
Battery supplier of choice, always accurate and reasonable prices for good quality batteries.
5
PG - Lymington, United Kingdom -

Fitted To: Honda Civic Tourer 1.6 Diesel 2014
I needed an EFB start/stop battery for a 2014 Honda Civic 2.2 Diesel. The 70Ah/650A Yuasa YBX7096 battery bought from Tanya replaced the original Varta 70Ah/620A. After removing the two tiny transit plugs used to seal either end of the battery during transit, fitting of the new battery was a simple 10 minute job with the aid of a temporary memory saver power source plugged into the car's onboard diagnostic socket. The Yuasa battery has been fitted for just over a week now and so far is performing very well. The 4-year guarantee means there's no worry about reliability.
5
PS - Nottingham, United Kingdom -

Fitted To: Honda Civic ES-T 2.2 Diesel 2014