Reviews of
YBX9027 Yuasa AGM Start Stop Car Battery 12V 60Ah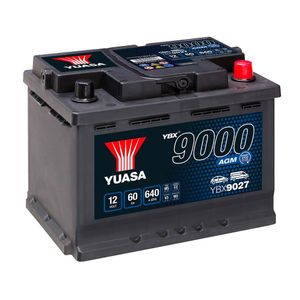 YBX9027 Yuasa AGM Start Stop Car Battery 12V 60Ah
Our Price: £112.34 inc VAT

(4.8 / 5.0) Average Rating:
Total Reviews:20
Customer Reviews
The battery was purchased to replace the original battery which had totally failed, it arrived on time and fitted to the car perfectly. The previous stop/start problems have also been eliminated. Another great product and delivery service from Tayna!
5
MS - Birmingham, United Kingdom -

Fitted To: Fiat 500 Mirror Edition 1200 Petrol
Bought this as I do lots of short journeys, although the car isn't stop start, I wanted a battery that would cope better than the standard battery, which was struggling a little in the cold. So far it's been perfect, exact fit as the oem battery, and a better price than Halfords, even using my trade card, including next day delivery. Very pleased, but then Yausa are a premium brand so to be expected.
5
tm - BEDFORDSHIRE, United Kingdom -

Fitted To: Alfa Romeo Giulietta 1750 tbi Veloce 1750 Petrol 17
Filled in my cars details on the website and found me lots of matches so I went for the Yuasa as original Didnt fit my car properly
2
DO - Hull, United Kingdom -

Fitted To: Mazda Mazda6 2000cc Petrol 2013
Was unsure about fitting an AGM battery as the vehicle had been fitted with an EFB battery but after contacting Tanya I was assured that it would be OK . The new battery has given the car a new lease of life with the stop/start working far more than it had ever had .
5
TP - Wokingham, United Kingdom -

Fitted To: Honda Civic 1.6 Diesel 2013
Top quality battery . Always fit Yuasa to my vehicles when available.
5
MB - West Yorkshire, United Kingdom -

Fitted To: Smart Four two 2009
Very good quality battery better than others available in the 027 size.
5
RB - Lincolnshire, United Kingdom -

Fitted To: Jaguar
They did what they said on the tin! Fast efficient service at a competitive price!
5
CM - Cornwall, United Kingdom -

Very pleased with service - battery was fully charged and safely delivered.
5
TN - Shepperton, United Kingdom -

Fitted To: Audi A1 1.2 Petrol 2013
Quick delivery and well packaged. Direct replacement for my Alfa Romeo Mito 0.9cc twin air.
5
DT - Wirral, United Kingdom -

Fitted To: Alfa Romeo Mito 0.9cc Twin Air Petrol 2013
Ordered a Yuasa AGM Start Stop Car Battery YBX9027 on 10/07/20, 24 hours later the battery was delivered by Yodel who are very good round here giving a 2 hour delivery window and live tracking of delivery vehicle on a map. Checking the battery it was well packed but was only showing 12.2V on a multimeter so needed to be charged before fitting. Be very careful to check required battery spec as when I entered car registration number the car was identified correctly type 096 batteries were recommended incorrectly. The correct type was the 027 range of batteries so be sure your existing battery dimensions and terminal arrangement.
4
KB - Blackburn, United Kingdom -

Fitted To: Volkswagen Polo Bluemotion SE 1.2 TSI 1.2 TSI Petrol November 64
Good prices and top flight batteries.Next day delivery.I wanted a Yuasa battery as they have a five star reputation for longevity, so chose that instead of the recommended one which was slightly dearer.Including delivery the Yuasa came in 18 pounds more than a standard one from a competitor! Had the same one from Tayna on my previous ASX with no problems.This battery does something like 300,000 starts against 20,000 for a standard one and is unspillable.
5
DD - Driffield, United Kingdom -

Fitted To: Mitsubishi ASX 1600 Petrol 2016
One of the best AGM batteries for small cars with stop/start engines.
5
TM - Wiltshire, United Kingdom -

Fitted To: VW Polo 1198 Petrol 67
fitted this to my sons car 2 years ago never had a problem with starting the car since first class battery
5
km - wilts, United Kingdom -

Fitted To: Hyundai i30 1600 Diesel 2010
So far this battery seems excellent, stop/start works seamlessly and it has so much power the car starts the instant you turn the key, cannot fault it. Very impressed with Tayna's ordering/delivery service and the price was the lowest I could find so top marks.
5
ab - bristol, United Kingdom -

Fitted To: Alfa Romeo Mito QV 1.4T Petrol 2012
Very powerful battery, starting speed was increased.
5
ND - Sofia, Bulgaria -

Fitted To: Mitsubishi Colt VI 5D 2012 1300 Petrol 2013
It's battery and made power what more can I ask.
5
gP - Hornchurch, United Kingdom -

Fitted To: Honda Civic 1800 Petrol 2013
Very helpful people I spoke with - 4 stars only because problems with delivery agent - delayed 2 days - first because of van breakdown and second because I added delivery detail on day of delivery and they returned to depot - apparently standard practice but seems crazy especially as they make no mention of this on details sent etc!
4
MSM - Cromer, United Kingdom -

A quality battery at a competitive price, delivered. What's not to like?
5
AB - Surrey, United Kingdom -

Fitted To: Honda Jazz 1.4 Petrol 2008
Great product Great price
5
pmt - Barnsley, United Kingdom -

Fitted To: Smart Mhd 1000 Petrol 2010
Arrived next day delivery. Customer service were very good whilst dealing with them in regard to which battery would be best. would recommend.
5
DD - Driffield -

Fitted To: Mitsubishi ASX 1.6 Petrol 2011