Reviews of
31XHS Trojan Battery Deep Cycle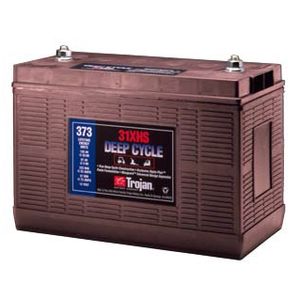 31XHS Trojan Battery Deep Cycle
Our Price: £259.99 inc VAT

(4.3 / 5.0) Average Rating:
Total Reviews:15
Customer Reviews
Having purchased from Tayna previously, when everything went very smoothly, we decided to do so again. The batteries were ordered online on a Friday and we needed them by the following Thursday, which we thought gave a margin for error on the next business day delivery claim. However, despite the website claiming that the batteries were in stock, on the Monday we received an email to say that in fact only 2 were in stock and not the 4 we had ordered. It gradually became apparent over the next few days that the batteries were not going to be supplied in time to the address we were staying at and as Tayna will only supply to a building and we are on a boat, we had to have the batteries taken all the way up to our home in Scotland and arrange for someone to bring them straight back down to England to us. And naturally the Bank Holiday weekend delayed things further. So it was almost 2 weeks from ordering to us actually receiving the batteries. The moral of the story? Don't just order online, phone first to make sure they actually do have the number you want in stock. As far as the batteries are concerned, it is too soon to see if they really are as good as claimed but so far so good. The only issue was they were supplied with wing nuts and the boat electrician who fitted them for us told us that wing nuts are now no longer acceptable when a Boat Safety Inspection is carried out. So we had to pay extra to have the connection of the batteries adapted. So all in all, rather a frustrating experience.
3
JT - Strathaven, United Kingdom -

Battery was well charged and arrived the next day. Site quick and easy to use. Would recommend Tayna without hesitation.
5
LS - Rugby, United Kingdom -

Perfect, bought to replace 10 year old trojans. So much better than other batteries that are similar.
5
DW - Hayes, United Kingdom -

Great batteries, have fitted two on our motorhome, no problems. Always stick with Trojan, but have dropped one star because I do think these batteries are overpriced when compared to other makes.
4
PT - Wincanton, United Kingdom -

To early to tell the performance of these batteries yet but they have a good name... fitted 3 as leisure batteries on my narrowboat
4
KM - Southampton, United Kingdom -

firstly communication with marie travis exceeded 1st class, i ordered 3 of these for my rv to be delivered to spain they arrived exactly when said and received email regarding tracking. these batteries look and feel top class and and so far pleased with the choice my only fault was the locking nuts were the wrong size but no big deal
5
DN - Leigh-on-Sea, United Kingdom -

I'm using these batteries on my narrowboat for domestic use. Second set of these I've had and can highly recommend them, despite being more expensive than most, I believe they are worth the money. Beware! They are heavy and don't have handles just shallow recesses to pick them up.
5
IW - Burnham on Sea, United Kingdom -

Batteries seem really solid (and at 30Kg weighty) and have worked well on the first few charge cycles although are likely not yet up to full capacity so review is somewhat premature. Delivery for a heavy item like this was excellent, on a pallet really well strapped down but done in such a way not to harm the batteries.
4
AM - East Sussex, United Kingdom -

Ordered Trojen batteries Sunday night on line , arrived Tuesday
5
as - NA, United Kingdom -

Excellent service and very helpfull. Have not installed the batteries in my camper yet so can't comment on them apart from saying they seem well made and much heavier than my old ones.
5
DJ - Chelmsford, United Kingdom -

Only had one week, so cannot review them, they were 'flat' when they arrived and left manufacturers two years ago. Hopefully this will not have any effect on their durability. Minor detail, I hope, although casing and connections are as illustration the casing is black and not red. Note: one star is only because I cannot give a review at this time.
1
K - Gloucester -

Good helpful service followed by quick delivery. No problems very happy
5
AJ - Newport Pagnell -

Great service and advice. Batteries delivered promptly. One criticism...I was not informed that the batteries do not have the standard posts for normal clamp-on connectors which meant that I had an amount of conversion to do. Also there was only one connection point per terminal which means that it is difficult to fit both parallel cables and all other connectors onto the battery. In addition, Tayna supplied nuts to fit the terminals but supplied M8 nuts rather than the required M10 nuts. I would suggest that Tayna advise customers of the terminal configurations and supply conversion kits where appropriate. Otherwise...super service
4
MPWJ - Liss -

Good quality product. Fast delivery. Great price. Pleasant and helpful customer service. Same tray size to replace a Crown Deep Cycle 130aH Highly recommended
5
SJE - Norfolk -

Tayna didn't have this battery in stock so sourced one from another retailer for me - what an excellent service.
5
USER2226 -