Reviews of
T-125 Trojan Battery Deep Cycle (T125)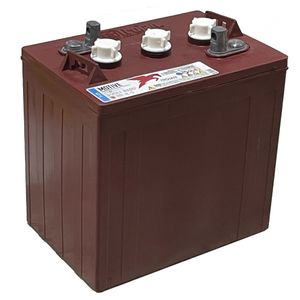 T-125 Trojan Battery Deep Cycle (T125)
Our Price: £169.95 inc VAT

(4.9 / 5.0) Average Rating:
Total Reviews:49
Customer Reviews
Trojan T-125. I bought 2 of these to replace 3 aging 110s in a narrowboat. They've only been in for a week so it's impossible to say how they'll last, but when they arrived I was verry impressed with the build quality. When i came to fit them I was pleasantly surprised at how much less cable it takes to connect two batteries in series compared to three in parallel. Also, instead of eighteen fiddly filler holes to check each month I now have six nice big ones. We have very low power use compared to many boats; leds throughout, 12v fridge, no tv, no washing machine etc. We have 2 x 80 watt solar panels which in winter are supplemented by a 30 amp 3 stage mains charger. At the time of writing this review, (end of October) it was taking about two hours to charge the new Trojans from absorption to float.
5
DB - Camberley -

I'm giving these batteries 5 stars in the hope that they behave as well as the T-105s they're replacing for our off-grid system. Definitely 5 stars for Tayna's packing of 16 of these batteries, which arrived in good order. On checking, there was just 3 hundredths of a volt difference among 16 batteries, just the start for a new battery bank, knowing they are identical.
5
SL - Lairg -

Vey Happy with service and products
5
SB - Blackpool -

Delivered as promised
5
MAC - London -

Good service, well priced, excellent delivery, will use again.
5
WM - Chesterfield -

Excellent :-) 8 Batteries for my G-Wiz came very fast (next day) complete with new nuts, carrying handle and the straps tying the batteries to the pallet were just right to replace the ones inside the car that hold the pack together :-) Very Happy Thank You :-)
5
CR - Rugby -

Excellent service, perfect product
5
CV - Ardrossan -

A.1. Service .
5
MM - Stafford -

thank you Tayna your service was excellent with a next day delivery no problem there as to the batteries my first purchase of 4 xT125's was 7 years ago i had hoped for 8 years but being a live aboard they got totally abused even to the point of using them to jump start my st/batt when it was showing signs of wear these batteries are far superior to any other type of standard type leisure batt on the market as i was killing 4 of those every 12 months consequently i saved over £1500 over time so until i find anything superior i will stay with trojan T125's and having experienced Tayna's service i will be staying with them also
5
de - Redditch -

excellent service and product
5
kt - Suffolk -

We well made as far as you can see with a battery. All 12 batteries had same fill and voltage. Only time will tell on ultimate quality.
4
AW - Leicester -

Prompt and as described. Very pleased with service and product. Would recommend to others and will use again
5
SB - Blackpool -

Perfect :-)
5
ms - Mansfield -

Competing price.
5
NEP - Bristol -

Picked up four of these batteries from Abergele hq. Very helpful in loading batteries in car, no problems. My only concern is that the manufacturers date stamp was approx 12 months old on all four, and batteries were in approx 50% state of charge (ie 6.05v each), and a sg test confirmed this. So remains to be seen how they hold up over time.
3
PD - Holywell -

Great service. Well packed and good instructions.
5
B - Huddersfield -

Polite and helpful service.
5
MJH - Accrington -

1st class service quick delivery and good phone support that's why I dealt with Tayna again and if I need more batteries I will purchase them from tayna.
5
gm - Essex -

Quick and efficient
5
MAF - Burntwood -

Excellent products and excellent service. The batteries I ordered were out of stock so they sent a more expensive higher capacity battery for the same price. THAT'S WHAT I CALL LOOKING AFTER THE CUSTOMER.
5
RLH - Great Yarmouth -