Reviews of
T-1275 Trojan Battery Deep Cycle (T1275)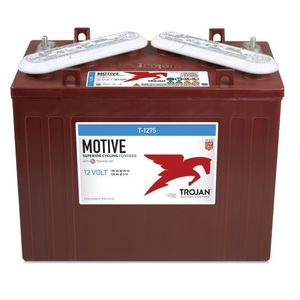 T-1275 Trojan Battery Deep Cycle (T1275)
Our Price: £239.99 inc VAT

(4.8 / 5.0) Average Rating:
Total Reviews:28
Customer Reviews
Good batteries
5
SZ - FALEYRAS, France -

Excellent item and service
5
AD - Chesterfield, United Kingdom -

great product.
5
SR - Aberdeen, United Kingdom -

4x batteries for boat domestic power, very reliable and fast delivery from Tayna
5
NS - Redhill, United Kingdom -

Conforme à la commande ras
5
gj - OSNY, France -

Very fast delivery. Excellent battery. 2nd time ive used Tanya batteries.. will defonatly use them again..
5
ag - Derby, United Kingdom -

Excellent for the job, and first class service and delivery
5
DLO - Troon, United Kingdom -

Excellent service, very slick & very professional. Certainly recommend. Rod
5
MRWT - King's Lynn, United Kingdom -

Thank you tayna. Fast delivery. An excellent battery to replace the bad one on my golf buggy. Very pleased. I will defonatly use you 1st choice for my next battery.. Thank you
5
ag - Derby, United Kingdom -

Very good product, use these on a narrow boat, vast improvement over different brand, good quick delivery
5
DD - Bromley, United Kingdom -

Nice
4
PD - Conwy, United Kingdom -

Bon produit. Transport nettement trop cher.
3
L - Villers Agron, France -

Hi I was very happy with the service I received and the speed they were delivered
5
gS - Bolton -

All items were fine.Well packaged.delivered quickly.satisfied customer
5
JW - Penrith -

Best price I could find. Even taking belivery to France into account it still saved me over £200 on the best price I could find here. First class service and would recommend this company Brian Holgate SW France
5
BH - Razac d'Eymet -

This is to replace and increase the available amps in the habitation side of a motorhome (from 110 amp leisure battery). Came with fixed bolt top fittings - but no nuts. Good tie down points. Footprint was the same as existing but it's about 3cm taller. Delivery extortionate at nearly £40 but I needed it ASAP. Hope battery lives up to performance and cycle expectations!
4
MRS - Stroud -

It is now 2 years since I purchased our 3 new Trojan batteries from Tayna,we collected them from there base in North Wales . They were ready for us when we arrived and were loaded onto our transport for us ,from arrival to our departure took about 10 minutes ( very efficient indeed ) so quick in fact that we were able to spend a few hours at the seaside before our journey back to the Midlands.The next day I had them installed in our narrowboat ,(which we live on ) 3x150 amp Trojans have taken the place of 5x115 amp wet cell batteries and have performed brilliantly up to now. Some will say, I suppose that it is early days yet, but I reckon that these are the best batteries that we have had so far and as live aboards we do put them under pressure a lot . In summer they are charged by a 250 watt solar panel backed up by a wind generator , whilst we are on our mooring, when out cruising they are charged by our engine's alternator and the engine is used in winter .The purchase was made on the expert advice of the Tayna staff after I had given them my requirements backed up by my own auto electrician .Thanks for your help , Jeff McNicol nb " AMOR " on the Shroppie.
5
MJM - Stoke-on-Trent -

Great batteries and great service :)
5
MRS - Avon -

I was a bit worried about installing them to begin with as they are heavy and fit into a tight space in my Clubcar precedent. Then I realised that I could easily remove the lifting ropes and handles from my old Ranger batteries and fit them to the Trojans. After that an easy job. I was somewhat surprised when I first used my buggy with these new batteries and found that they were nearly flat after only about 2 miles. Then I read my owner's manual which stated that deep cycle batteries can take up to 50! recharges before the reach full charge. I have now recharged them twice and each time they have lasted longer; currently upto 4 miles and the indicator only shows about 3/4 still left. Hopefully the manual is correct. Maybe a good idea if suppliers tell buyers that the may need numerous recharges before they reach their full potential. I have given them 5 stars and I hope they will go on the give long and happy service.
5
PM - Cambridgeshire -

Product arrived slightly late but in good condition and as requested. Well done, thanks. Would recommend to others.
4
MM - Brora -