Reviews of
NOCO GB40 Boost+ 1000A UltraSafe Lithium Jump Starter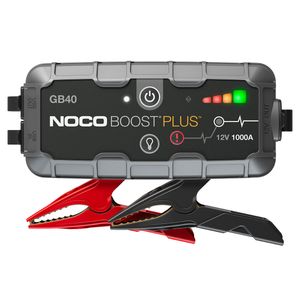 NOCO GB40 Boost+ 1000A UltraSafe Lithium Jump Starter
Our Price: £94.24 inc VAT

(4.6 / 5.0) Average Rating:
Total Reviews:20
Customer Reviews
I already have one of these. Recharge it one a year, leave it somewhere accessible in the car and forget about it. Bought this one for my son, for his "student car". New driver in an old car he is bound to encounter the flat battery in the next few months. Confident this product will get him out of jail.
5
IW - Frodsham, United Kingdom -

Seems fine well engineered Time will tell if I have to use it in anger
4
MS - Keswick, United Kingdom -

Unfortunately this doesn't do what it claims, or at least not for me. Couldn't start a 1.6 diesel engine (Citroen Cactus 1.6 BlueHDi). Attempted multiple times just to make sure, which included recharging the unit between batches of attempts as the charger quickly discharges. Had to get a jump start from another car in the end. On the upside the unit looks and feels quality, and perhaps for smaller/petrol engines it might work, but either way my 1.6 is well below the 3L diesel that it claims to be able to start.
2
AT - Greater Manchester, United Kingdom -

Very good product starts car no problem
5
gl - West Lothian, United Kingdom -

Disappointed do far. First car I tried it on had a flat but not dead battery and with noco attached it barely turned over. Old fashioned car to car jump and it started immediately. I then read the manual properly and wondered if I maybe needed the boost feature. As a test I disconnected my minis battery and attached the noco. With boost it did start though not with the cranking ghusto I'd expected. Early days but so far I'm concerned about the performance.
3
GS - Argyll And Bute, United Kingdom -

Product is excellent quality, and has already been used once .. it performed exactly as expected and started the car.
5
MC - Amersham, United Kingdom -

This booster is compact verging on the small. On opening I thought I'd made a mistake ordering it, as I assumed something so small wouldn't satesfy the start up current demands of a big BMW (especially as the car's own battery as virtually dead). How wrong I was.. time after time it started the engine without hesitation (even in sub-zero temperatures). Really quick to hook up as well. An excellent purchase from Tayna. This excellent purchase was only beaten by the outstanding customer service from Tayna. Very informative online info, unbiased advice and telephone enquiry helpline. They provide outstanding customer service. If all that's not good enough, they beat everyone else on price! Second to none.
5
GC - Rotherham, United Kingdom -

Looks like a quality product, but yet to use, bought as a just in case with the current work from home policy, as I know the car will be unused on the drive for long periods of time.
5
MK - SUFFOLK, United Kingdom -

Not yet needed but appears exactly as described. Service first class
5
MB - Manningtree, United Kingdom -

Good quality. Simple to use. Does the job!
5
CJ - N/A, United Kingdom -

Used to start a Mondeo TDI 2.0 - worked first time after fully charging the power pack. Have an intermittent discharge problem with the car so now keep this in the car. Expensive but saves waiting around in the rate occasion it happens.
5
kJ - Hereford, United Kingdom -

Had to use this twice on my T6 VW Transporter. I works perfectly every time
5
LvZ - Maidenhead, United Kingdom -

Not used in anger yet but is just as described and will stop us having to use our cars to jump the mowers, fast delivery no fuss
4
MJL - Hull, United Kingdom -

Was a little dubious about this product, it's so small and very light but others recommended so gave it try. Website easy to use, delivery slower than normal because of Covoid 19 but delivered as promise. Used it once on my Fiat Ducato motor home after 10 week lay up. 2.3 litre diesel. Started on the button. Only criticism the leads are a little short, fine if connecting direct to battery but don't reach under bonnet jump start terminals. Overcame this problem fairly easily but slightly longer would be good. Unit charges up very quickly and one jump start left enough for more without recharging.
5
SB - Leicestershire, United Kingdom -

Excellent product, instructions concise and easily followed . holds charge well and works every time. Only negative is that the leads are designed for battery and not for cars with remote access points. Manufacturer should look at supplying longer leads as an option.
5
JS - Reigate, United Kingdom -

Great product, great price and next day delivery. Can't ask for more
5
CL - Frome, United Kingdom -

Does what it says on the tin. Has worked well as a jump starter so far and proved useful as an emergency charger for my phones. Only criticism so far is the jump leads length which are proving too short for use on my van
4
JF - Workington, United Kingdom -

Given I just bought new batteries, I haven't used it in anger yet. However, it is definately a quality item, and the torch and power bank facility are great. I feel a lot more sure about starting my old diesel van now, in any circumstances...
5
PIK - Westbury-on-Severn, United Kingdom -

A first rate bit of kit and a first rate service.
5
TW - Staffs., United Kingdom -

?
5
CSW - Tonbridge, United Kingdom -