Reviews of
TY25221 John Deere Equivalent Lawnmower Battery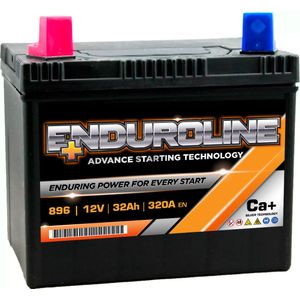 TY25221 John Deere Equivalent Lawnmower Battery
Our Price: £38.99 inc VAT

(4.9 / 5.0) Average Rating:
Total Reviews:827
Customer Reviews
Great battery and outstanding service.
5
DW - Norfolk, United Kingdom -

Fitted To: Lawn king 125R
I chose the Enduroline as recommended by the Tayna website. It arrived within 24 hours and was well packaged from any potential damage. The instructions were very clear and straightforward. The original Toro battery had a 15ah whereas this one is 32ah and the difference is very clear - I had previously been having a start up problem and running the 'old' (2 years) battery down when attempting to start. Now the difference is the ignition / engine fires up immediately - problem solved.
5
PH - TyneandWear, United Kingdom -

Fitted To: Toro Timecutter HD XS5450
Packaging, transport and delivery --- impeccable Battery worked fine and fired up my Countax lawn tractor straight away. Ask me in a year if it's a good battery.
5
JC - NORTHUMBERLAND, United Kingdom -

Fitted To: Countax C300H Honda twin engine
Impressed by the high AH capacity ( twice that of the initial struggling standard battery.) Hoping the calcium technology will result in a longer life as ride on mowers do have long periods of inactivity Time will tell!
5
AC - East Sussex, United Kingdom -

Fitted To: Lawn King 76RDE
Excellent battery. Chipper starts with a woof now.
5
I - Cambs., United Kingdom -

Top quality battery with excellent service
5
DW - Wotton-under-Edge, United Kingdom -

Fitted to my Stiga park, operates the starter well..... slightly taller than original battery, making the retaining bracket difficult to attach.
4
CJ - NORFOLK, United Kingdom -

Fitted to a MTD lawn tractor to replace the (original equipment) MTD battery (3 years old) which came new with the machine. Old battery was rated only 10Ah and always struggled to fire up the 420cc engine, often failing to start and requiring frequent re-charging. This new battery has much more clout and the engine fires after just a few turns, even after having been standing for a couple of weeks. Hopefully, it will retain that performance for a few years.
5
JC - Ely, United Kingdom -

Fitted To: MTD DL92T
arrived on time ,fitted perfectly, will buy from you again
5
rh, United Kingdom -

Fitted To: john deere lt170
Very prompt service and delivery. Would definitely recommend
5
JH - Hereford, United Kingdom -

Fitted To: Honda 2417
Bought for a mower. These engines seem to need a good cranking speed for the magneto ignition to work, and a good battery like this is a must. Battery was fine, but two downsides which wasted 30 minutes of my time: 1.) The outside of the casing had acid spills which had to be cleaned off and had soaked into and attacked the paper label. To be fair, this may have been the carriers fault for ignoring the keep upright label. 2.) The packaging uses pieces of expanded polystyrene with raw edges which spread bits everywhere and only a vacuum cleaner can deal with.
4
JC - Romsey, United Kingdom -

Fitted To: Lawnflite MTD 604
Very quick delivery.Fitted my mower which now starts like new again despite being 12 years old.
5
mmjs - Moffat, United Kingdom -

So far so good. It does what it's meant to do. Plenty of CCA for the machine. Great battery for a sensible price. Service from Tayna Batteries was excellent. The battery was securely/safely packed and delivered to me very quickly (less than 24hrs).
5
JR - Gwynedd, United Kingdom -

Fitted To: Westwood S1300
Delivery came quicker than quoted. Product looks to be of good quality and was well packaged. Cannot say on the duration of the product as only had it for a month.
5
DB - Surrey, United Kingdom -

Fitted To: countax A20/50
Good price, quick delivery, good product, helpful staff on the telephone
5
K - Wick, United Kingdom -

Fitted To: Lawnflite 700
good long lasting quality
5
wdw - Coventry, United Kingdom -

Excellent product and service
5
DH - Ruthin, United Kingdom -

Fitted To: Mtd
Very fast delivery. Battery meets all specifications and expectations
5
EH - SKELMERSDALE, United Kingdom -

Fitted To: Countax C300H
First class. Highly recommended 100%.
5
GH - Newark, United Kingdom -

Very good , prompt delivery, packed well . Works well.
5
DD - Taunton, United Kingdom -

Fitted To: Yardman