Reviews of
Banner Energy Bull Leisure Battery 95901 12V 115Ah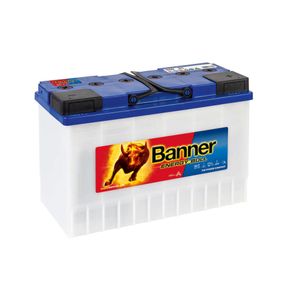 Banner Energy Bull Leisure Battery 95901 12V 115Ah
Our Price: £124.99 inc VAT

(4.8 / 5.0) Average Rating:
Total Reviews:81
Customer Reviews
Battery was as described, was received in excellent time (almost within 24 hours) and is doing an excellent job.
5
BN - Perth, United Kingdom -

This new battery replaces an identical Banner battery which was already in campervan when purchased over three years ago (battery age unknown) and which has handled all the routine demands of a leisure battery very well. I'm confident this new battery will be fine. The team at Tayna were professional and helpful, and delivery was quick. Highly recommend.
5
DR - Tarbert, United Kingdom -

Great batteries I use in my camper.
5
JP - Bedfordshire, United Kingdom -

Great battery, great price. Second time I've used Tanya. Will not bother looking around as their prices are the best.
5
DH - Axminster, United Kingdom -

Have already fitted a Banner starter battery to my motorhome, which has been excellent. Now having fitted a Banner Energy Bull as a leisure battery, I am confident of a good few years of service. The battery was delivered next day, well packaged and fairly easy to fit. Excellent service
5
RL - Brentwood, United Kingdom -

Excellent
5
PC - Woodbridge, United Kingdom -

Excellent service from Tanya. Ordered a new battery for our MoHo at 12 and it arrived next morning. Well packaged and easily fitted. It's doing a great job already .
5
RB - Hampshire, United Kingdom -

Excelent battery - will not be fully in use in my caravan until taking this years four week holiday. Very happy with the very quick delivery time from Tayna. Thank you
5
wc - Liverpool, United Kingdom -

Great advice fast delivery and great product Why use anyone else
5
SJ - Bury St Edmunds, United Kingdom -

Good battery - had one previously. Did a good job for six years.
5
MPF - West Midlands, United Kingdom -

Excellent service, well packaged and prompt delivery
5
SW - Norfolk, United Kingdom -

This is a straight replacement for the five year old battery that has failed during the prolonged storage brought about by Covid-19. I have no reason to doubt this 95901 will not give satisfactory performance.
5
BP - Beccles, United Kingdom -

Obviously a superbly run business, as Tayna provides excellence in every department to their customers.. They have gained my loyalty and trust for the future.
5
LR - Frampton On Severn, United Kingdom -

Battery arrived on the day as expected. Everything good. Communications was good as well. I would of given 5 star but for the below comment. Only comment I would make is the breather / vent pipe sticks out further than the overall dimensions given on web page, making it quite difficult to fit into battery compartment without modifying this fixing. This is the only issue so far as battery only fitted a week ago.
4
RC - SAUNDERSFOOT, United Kingdom -

Battery seems great! Packing was very good but unfortunately there was battery acid inside the inertial plastic rapping causing irritation to my skin before I realised, I got my hand under water straight away so ok. Bill
4
AH - Turriff, United Kingdom -

Good service good prices Quick delivery even during lockdown
5
MJ - Norwich , United Kingdom -

Excellent quality battery, replacing the same model I have used for over six years,with Super fast delivery. Excellent service.
5
MAS - Devon, United Kingdom -

Perfect and goog
5
CDV - Liskeard, United Kingdom -

Sorry but have not yet fitted it to my caravan so cannot review. However my previous battery was an identical banner which I had fitted to my van for a number of years and it performed well.
5
JD - SOUTH YORKSHIRE, United Kingdom -

I bought 5 of these to work in a bank, whilst it's early days for the product the buying experience was second to none. The batteries arrived on a pallet well packed at 8:00am (24hrs from order). Whilst it's too early to rate the product I can thoroughly recommend Tanya Batteries as a supplier.
5
DH - Cheshire, United Kingdom -