Reviews of
ET650 Exide Equipment Leisure Battery 12V 100Ah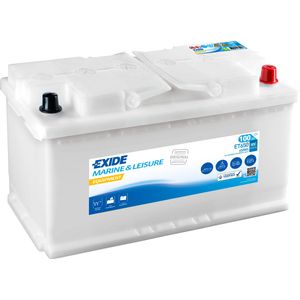 ET650 Exide Equipment Leisure Battery 12V 100Ah
Our Price: £119.99 inc VAT

(4.4 / 5.0) Average Rating:
Total Reviews:7
Customer Reviews
The batteries arrived promptly and in good condition. The courier (TPN) could be more communicative, they give me no idea when the batteries were likely to arrive (somebody was in at the time, so that's fine). The courier not contactable, but Tayna's help line were very helpful. My only reservation is how do I only that these are genuine Exide batteries? They are white plastic boxes with sticky-on labels. As Tayna are a big outfit I have faith that they wouldn't put a sticky label on something cheaper, and in any case the batteries I removed to replace with these new ones were just the same; sticky labels, and they came from somewhere else. I'll give 5 stars for now, I have only just started using the batteries and they work, but am not able to comment on how they stand up as deep cycle batteries, claiming something like standing 700 cycles to 50% discharge.
5
NB - Kidlington, United Kingdom -

Reasonably good price for a low height battery. Just fits battery box on caravan. Went down to 12.2v first night but recovered during the day to 13v. It appears to be a good battery but I have only used it once. It came on a huge pallet which accounts for the high transport costs. Ordered after 6.00 pm but delivery was next day.
4
RJR - King's Lynn, United Kingdom -

Excellent print service
5
gns, United Kingdom -

Have purchase from Taynor before, happy with their service and products so when I needed replacements they were my first port of call. Good prices and excellent delivery time, batteries properly packed on a pallet so they could not be upended in transit. As expected needed a top-up charge once fitted but no problems and hope they last as well as those they replaced.
4
TL - Newcastle upon Tyne, United Kingdom -

Really quick delivery.
5
MJF - Shoreham-by-Sea, United Kingdom -

When arrived I noticed the delivery driver carrying the battery upside down despite the clear markings on the box indicating the correct way up!!! It was packed very well with all the plugs tapped up. It was a pity that the the drain wasn't tapped as well as there was some leakage into the inner wrapping. It was however well packed. I had to top up one of the cells with distilled water as it was low. Put on charge (took about 16 hours on slow charger) and already now for use. Service from Tanya has been good and quick delivery. Thought that the battery would have come with a drain pipe. I would have purchased one if I had known it did not come with one.
4
GW - Tadley, United Kingdom -

Bought a pair of these a couple of weeks ago to replace some Banner ones. One of the Banner ones had failed seriously after two years and as a result of dragging down the voltage had probably damaged the other one. This may have been due to my leaving them on charge all the time and the fact that they had not been topped up. I didn't realise that the motorhome manufacturer's annual service didn't include checking the battery electrolyte level. I bought the Exides because they are NCC Class A rather than the Banners Class B. I've now installed a permanently on voltmeter and I've left off the mains charger, relying on just the solar panel. I'll also check the electrolyte level regularly. I obviously can't comment on lifetime performance, but I've knocked off one star because they arrived rather damp inside all the packaging, the end cells' electrolyte was slightly lower than the others and I suspect that they had leaked in transit. I hosed them down with plenty of water before handling them again. They charged OK and appear to be working fine.
4
JB - Marlow, United Kingdom -