Reviews of
Numax XV31MF Sealed Leisure Battery 12V 105Ah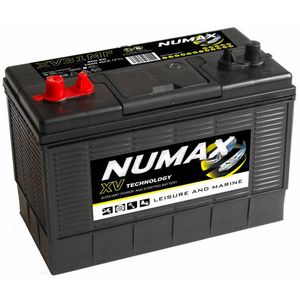 Numax XV31MF Sealed Leisure Battery 12V 105Ah
Our Price: £84.99 inc VAT

(4.8 / 5.0) Average Rating:
Total Reviews:1025
Customer Reviews
Une livraison rapide. Le reste est une série de déceptions. Commande de quatre batteries identiques. Les batteries sont arrivées baignant littéralement dans l'acide qui avait déjà attaqué deux cartons sur quatre. Une fois mises en place, il s'est avéré que les quatre batteries livrées, toutes désignées comme XV31MF, sont en fait pour trois d'entre elles des batteries de 110 Ah et pour une la batterie de 105Ah qui faisait l'objet de la commande. Pas idéal pour des batteries destinées à être mises en parallèle... Le SAV répond, mais pour dire en substance "gardez tout en l'état et quand ça craque vous êtes sous garantie (pendant la durée de la garantie seulement)". Manque total de professionalisme.
1
A - CARROS, France -

Works great!
5
k - Pesnica pri Mariboru, Slovenia -

Arrived next day. Great packaging
5
DH - Notprovided, United Kingdom -

Good serves very pleased with product
5
JKJ - Ripley, United Kingdom -

Great service- ordered caravan leisure battery at weekend online and it arrived on the Tuesday! Battery doing the job.
5
ij - Falkirk, United Kingdom -

I chose the Numax to replace 5x Powerline 679 for my narrowboat. Ordering and delivery was easy and prompt at usual. Once again though, I was left with a pallet to dispose of, which can be a bit inconvenient. It is obvious, having fitted the batteries, that they are far superior to the Powerline of similar size and rating. Also the dual terminals allow for easy fitting of 5 batteries inline. The acid test (no pun intended) will be whether I get the advertised longer life through more charging cycles, but so far, very pleased with my purchase.
4
DM - Germany, Germany -

Received the battery in good condition, the battery had leaked a little, I can't tell you if it's working ok as it's for my uncle's caravan and he's not with me until May
5
MG - Girona, Spain -

Excellent product, service and price !
5
DB - Kings Langley, United Kingdom -

Five stars for promptness of delivery. I suppose I should give even more stars for the protective packaging as it took me ages to get to the battery. Filled up a skip with the cardboard, paper, sticky tape and polystyrene. Marina staff not impressed!!!!!!! But it did it's job as the battery is in one piece. Don't know if the battety is any good as I was too tired to install it after that long battle.
5
RS - Fleet, United Kingdom -

This is my second purchase from Tayna Batteries. I find dealing with them so easy and the product and delivery service first class. Thanks for your excellent service.
5
KR - Wiltshire, United Kingdom -

Excellent batteries. Have been using them for longer than can remember. The last one was ten years old and would be still going well if it had not been ruined by a faulty charger.
5
W - Welshpool, United Kingdom -

DOES THE JOB, ARRIVED WELL PACKED & ON TIME.
5
RL - Cheshire, United Kingdom -

Competitive price, quick delivery
5
DG - Fife, United Kingdom -

Bought as replacement for my original xv31 which was fitted to my caravan about 5 years ago. Original is still in good condition and being used as a backup when offgrid. Would recommend this battery.
5
G - SOUTHAMPTON, United Kingdom -

The battery was delivered as promised well within 24 hours of ordering, and within the time slot, excellent service. The battery was packed securly, unpacking instructions clearly marked on the outside of the container. The price was competitive, infact it was cheaper than other suppliers. I would recommend Tayna to anyone looking for a battery, and also I would recommend Numax for caravan leisure batteries as this is only my second battery purchase in 8 plus years of use, in my opinion a first class product. So a 5 star rating for both Tayna and Numax.
5
CH - Cheshire, United Kingdom -

I'm really pleased with my batteries & the after sales service from Steve & Kai
5
GB - DERBYSHIRE, United Kingdom -

Very well packed, arrived in good time, absolutely bang on the sizes stated, thank you, will be happy to deal with again in future.
5
SD - Angus, United Kingdom -

Excellent batteries. Just the job for powering Promatic Clay traps. Respond well to solar panel charging making them maintenance free.
5
GAG - Buckie, United Kingdom -

Superb service from Tayna and carrier
5
MC - Rayleigh, United Kingdom -

I needed to return a faulty battery. The quick service and very speedy refund was excellent. Everyone was so helpful. I would highly recommend the company.
5
MCT - WIRRAL, United Kingdom -