Reviews of
XV190MF Powerline Leisure Battery 12V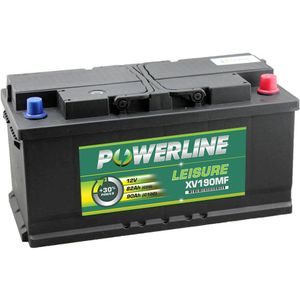 XV190MF Powerline Leisure Battery 12V
Our Price: £55.99 inc VAT

(4.9 / 5.0) Average Rating:
Total Reviews:610
Customer Reviews
Good price and on-time delivery. The battery was professionally packed for transit with clearly worded unpacking and preparation instructions. Used to power the 50m electric fence around our chickens' enclosure, the battery did just over two weeks duty on the charge that it arrived with. Now fully recharged we are entering week three of second period and still going strong. I would recommend Tayna.
5
IP - Cornwall, United Kingdom -

Prompt delivery with updated emails to track journey
5
Pa - King's Lynn, United Kingdom -

Excellent response, delivery and communications. Sadly one of the plastic flaps was broken on arrival - not enough to bother me too much but a bit annoying! Now fixed with duct tape!
4
RG - Abergavenny, United Kingdom -

First class.
5
MJC - Preston, United Kingdom -

But to early to say really. How long will it remain servicable?
5
IB - Devon, United Kingdom -

The key to a leisure battery, its doesnt have cranking power to turn over an engine. thats it in basic terms. ive purchased from you before, so this is a second time battery for my ever increasing small holding. needed a proper leisure battery for the electric fence as its charged by a solar panel on the top of a roof, ive not had to recharge it yet and its been a while, but thats what i wanted. previously someone contacted me on my first order to check i was ordering the right battery, which was useful, as im sure many dont order the correct one or dont understand that vehicle ones require turn over power onto of basic power. had a discount on this (very gratefully received) and the name of the company means no matter how many years later you can recall it when it comes to getting another battery. will be the tractor battery next but we have to rewire the tractor first.
5
Ac(ME - Okehampton, United Kingdom -

This battery has been in use for a couple of weeks now and is performing well so far so good It is connected to a solar panel via a control box in order to run a light and a small pump at our allotment and we are very pleased with the results Good service good product Thanks
5
TH - Hampshire, United Kingdom -

Use this for electric outboard for fishing, had a few weeks now and not gone flat on me! Runs all weekend and keeps everything charged too. Arrived in 2 days ?
5
IF - Suffolk, United Kingdom -

It's a leisure battery that fits under the seat of a t5.1 perfectly, The service, price and speedy delivery are excellent,
5
sm - Devon, United Kingdom -

Having had many batteries from Tayna l continue to be impressed with the good value and prompt delivery.
5
JJ - Neston, United Kingdom -

Received OK on the time stated. Needed charging on receipt. Has only standard car battery terminal posts, not those normally fitted to a leisure battery. Not yet used in earnest for leisure purposes, so cannot comment on capacity. Build quality seems fine.
4
DE - Somerset, United Kingdom -

GOOD
5
JNC - ISLE OF MAN, United Kingdom -

Great service. Working well. But warning about its size!! Having been advised to check and I did but used the the compartment tray!! There were one or two lumps and bumps that intrude into the compartment which I didn't check!! But I got away with it with 5mm either side to spare. A snug fit you might say but OK. Phew and thanks Tayna for the warning.
5
BW - East Sussex, United Kingdom -

the right size the right power delivered well on time could not ask for more.
5
sf - Staffordshire, United Kingdom -

Excellent product and delivery
5
ksM - WEYMOUTH, United Kingdom -

Excellent product and excellent service. Fast & reliable delivery every time.
5
PH - Swansea, United Kingdom -

Excellent fast delivery and well packaged to avoid damage. Reasonable size for the capacity. Well made. No issues.
5
CP - Ely, United Kingdom -

Great service and fast delivery. Bought as a leisure battery for a campervan I'm building. Not sure how the battery performs yet, but seems reluctant to hold full charge. Only time will tell if this is a problem.
5
IL - Worcestershire, United Kingdom -

Excellent service. Had no idea it was so easy to order such things on line! Ordered one day, there the next day. Used for powering an electric fence energiser to keep my equine friends in check. 10/10 Thank you.
5
SAF - Alresford, United Kingdom -

Excellent product and service. It does the job perfectly and I will certainly be recommending Tayna to friend relatives etc.
5
RG - Peterhead, United Kingdom -