Reviews of
LFD90 Varta Professional DC Leisure Battery 90Ah (930090080)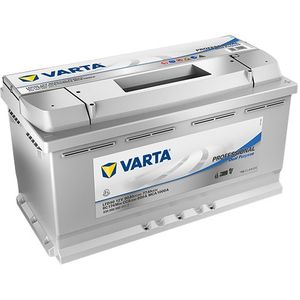 LFD90 Varta Professional DC Leisure Battery 90Ah (930090080)
Our Price: £83.75 inc VAT

(4.9 / 5.0) Average Rating:
Total Reviews:277
Customer Reviews
Battery ok so far but far too much Styrofoam packaging. Need a better more environmental solution to this otherwise would not buy again.
3
SdG - Petersfield, United Kingdom -

Excellent product. Great service as usual from Tayna
5
AJ - Rushden, United Kingdom -

excellent
5
GH - Gravesend, United Kingdom -

This review is about the Tayna company. Brilliant, could not possibly have wanted a better service. Every company is good when things go well, it's when things go wrong the wheat is sorted from the chaff!! In my case when things were not quite to my expectations (the battery manufacturers problem in think) Tayna stepped up to the plate and provided a service which could not be faulted. Very easy to see why they have the excellent reputation they have.
5
pr - West Yorkshire, United Kingdom -

Fab
5
MT - Somerset, United Kingdom -

Ordered. Tayna checked I was ordering correct type. Then their courier delivered in 24 hours. Best price too. Leisure Battery fine. Amazing service!!!
5
rb - Dorset, United Kingdom -

Very good batteries which i use to power clay pigeon traps. Delivery was prompt but unfortunately they were delivered to the wrong address in my road so I had to tract them down which wasted time.
4
ME - Oxford, United Kingdom -

As these batteries have only just been purchased I can't make any comments on them,but if they will last and perform as good as the last Varta batteries I had Iwill be more than happy they lasted over 10 years on my motor home And we do go off grid very often.As for the service we are more than happy with Tanya batteries took less than 24 hours from ordering to delivery so my star rating must be for the service.
5
bd - Llanelli, United Kingdom -

An excellent leisure battery with a very low self-discharge rate. Highly recommended.
5
AS - Keighley, United Kingdom -

The correct battery was delivered the next day charged and ready to go. very satisfied with the service.
5
PH - Hereford, United Kingdom -

Great general purpose battery
5
TW - Sheffield, United Kingdom -

A perfect battery I had the same type fall out of the locker at 40mph it survived being dragged along the road and I used it for 10 further years
5
EK - Gloucestershire, United Kingdom -

Have used Varta car and motorcycle batteries in the past and have found them to be the best mid range priced batteries on the market and would definitely recommend.
5
CP - Essex, United Kingdom -

This is a leisure battery, good quality, competitive price, very prompt delivery, i will recommend This company to all my family and friends, very highly recommended Howard Dickinson
4
HD - York, United Kingdom -

Battery was well-packed and delivered within 24 hours. Checked fully charged with a meter (Yes). Cleaned terminals with a specialist wire brush tool. Connected up in parallel with identical to form domestic (but dual purpose) bank on my boat. Fired up my Yanmar diesel engine first go. All good. Separate cranking battery is for emergency use, which happens to be a car battery also from Tayna!
5
AD - Eastbourne, United Kingdom -

Very fast and efficient service, would definitely use again
5
Mdp - Bromley, United Kingdom -

Super quick delivery.Great service.
5
GU - Perthshire, United Kingdom -

I have just bought this type of battery, from Tayna. Highly recommended a very prompt service and kept up-to-date with all tracking from ordering to final delivery. Thank you
5
JF - Bradford , United Kingdom -

Fantastic service, delivered in 24hrs. Will use again.
5
CT - York, United Kingdom -

Ordered at 3.30pm on a Thursday and arrive noon next day at no extra cost - great service! Very well packaged too. I chose Varta as being a known good make and that exact version was same as the original leisure battery anyway. Also fitted same battery type as a starter battery in the motorhome as it is a dual purpose battery, the standing voltages will be the same and was recommended by a reputable company that fixes chargers and alternators etc in motorhomes. The cost was quite a bit less than any of the suggested starter battery replacements. Hopefully will last at least 7 years as did the originals.
5
JS - Markinch, United Kingdom -