Reviews of
M135 Numax Marine Battery 12V 135Ah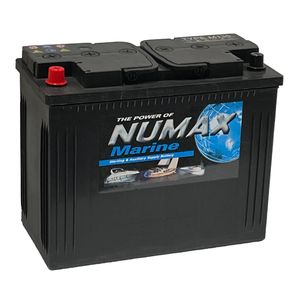 M135 Numax Marine Battery 12V 135Ah
Our Price: £182.33 inc VAT

(4.6 / 5.0) Average Rating:
Total Reviews:48
Customer Reviews
It's a battery We use three banks of two of these and change a bank every two years so they give service for 6 years it seems.
5
jE - Swansea, United Kingdom -

big batteries, long lasting power delivery. highly recommended.
5
MJR - Woking, United Kingdom -

Very quick delivery in fact had to get them to slow it down by a day as no one would be in. Which Tanya took in there stride and sorted without a hitch top class service as always. Battery excellent very heavy but the bow thruster has burst back into life a treat.
5
GL - Huntingdon, United Kingdom -

P & D great! Regarding batteries time will tell.
5
MR - Leigh-on-Sea, United Kingdom -

I must admit I thought I had researched this product but somehow did not know it wasn't a sealed battery, I thought they were all sealed now. To early to evaluate the battery as yet, but Tayna did a good job of getting it in the post the same day as I ordered it
3
kj - Lowestoft, United Kingdom -

Very good service very good
5
aw - Northampton, United Kingdom -

Old technology. Vent and smell during float making unsuitable for confined enclosed space.
1
MAW - Stowmarket, United Kingdom -

Excellent service.
5
JMT - Staplehurst, United Kingdom -

Installed in a boat, as part of a larger bank, 6 years ago. After an ocean voyage, years of living aboard, an atlantic circuit and some recent neglect they're still going strong.
5
ED - Aberdeen, United Kingdom -

Turned up much quicker than anticipated which was a bonus, and they seem like an ideal replacement for my original batteries.
5
AW - Weymouth, United Kingdom -

1 of the 4 batteies was faulty and failed on installation.This was promptlly replaced by Tayna and all 4 now fuctioning as expected. Early days to comment on there long term performance as only been installed for a month. Our previous set of Numax M135s lasted 61/2 years. These are used as domestic supply via an inverter on a narrow boat.
3
MSM - Tamworth, United Kingdom -

This purchase was received within 24 hours of order to BA2 so that was extremely good. The state of charge was a bit low and firstly, I thought there was a fault but of course it was my incompetence with smart charger battery leads. Once I had renewed my defective leads, the battery charged perfectly although it did take about 8 hours to reach 12.8 volts. This is a big battery and quite heavy
4
NB - Bath, United Kingdom -

Very pleased with the product and the service from ordering to delivery excellent thank you
5
MRH - Somerset , United Kingdom -

Now have replaced old batteries with the original one's that was fitted to the boat when we had it made for us. Good service.
5
BB - Reading, United Kingdom -

Good product and fantastic delivery service
5
MAP - Ramsgate, United Kingdom -

Perfect delivery, performs well after a week but as I had a problem with the last Numax battery failing within 18 months, ( from a different supplier), the jury is out on long term usage.
5
EM - Bedford, United Kingdom -

Absolutely brilliant. Super fast delivery, great prices
5
SO - Wantage, United Kingdom -

all done delivered and fitted prompt and secure service
5
jE - Swansea, United Kingdom -

Fantastic service!
5
RA - Merseyside, United Kingdom -

As always... Ultra-prompt, zero-hassle. thankyou.
5
KD - Lyme Regis, United Kingdom -