Reviews of
M135 Numax Marine Battery 12V 135Ah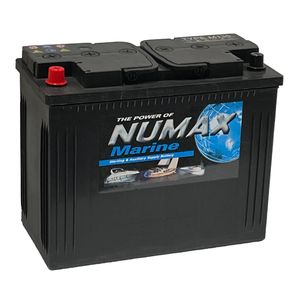 M135 Numax Marine Battery 12V 135Ah
Our Price: £143.41 inc VAT

(4.6 / 5.0) Average Rating:
Total Reviews:45
Customer Reviews
P & D great! Regarding batteries time will tell.
5
MR - Leigh-on-Sea, United Kingdom -

I must admit I thought I had researched this product but somehow did not know it wasn't a sealed battery, I thought they were all sealed now. To early to evaluate the battery as yet, but Tayna did a good job of getting it in the post the same day as I ordered it
3
kj - Lowestoft, United Kingdom -

Very good service very good
5
aw - Northampton, United Kingdom -

Old technology. Vent and smell during float making unsuitable for confined enclosed space.
1
MAW - Stowmarket, United Kingdom -

Excellent service.
5
JMT - Staplehurst, United Kingdom -

Installed in a boat, as part of a larger bank, 6 years ago. After an ocean voyage, years of living aboard, an atlantic circuit and some recent neglect they're still going strong.
5
ED - Aberdeen, United Kingdom -

Turned up much quicker than anticipated which was a bonus, and they seem like an ideal replacement for my original batteries.
5
AW - Weymouth, United Kingdom -

1 of the 4 batteies was faulty and failed on installation.This was promptlly replaced by Tayna and all 4 now fuctioning as expected. Early days to comment on there long term performance as only been installed for a month. Our previous set of Numax M135s lasted 61/2 years. These are used as domestic supply via an inverter on a narrow boat.
3
MSM - Tamworth, United Kingdom -

This purchase was received within 24 hours of order to BA2 so that was extremely good. The state of charge was a bit low and firstly, I thought there was a fault but of course it was my incompetence with smart charger battery leads. Once I had renewed my defective leads, the battery charged perfectly although it did take about 8 hours to reach 12.8 volts. This is a big battery and quite heavy
4
NB - Bath, United Kingdom -

Very pleased with the product and the service from ordering to delivery excellent thank you
5
MRH - Somerset , United Kingdom -

Now have replaced old batteries with the original one's that was fitted to the boat when we had it made for us. Good service.
5
BB - Reading, United Kingdom -

Good product and fantastic delivery service
5
MAP - Ramsgate, United Kingdom -

Perfect delivery, performs well after a week but as I had a problem with the last Numax battery failing within 18 months, ( from a different supplier), the jury is out on long term usage.
5
EM - Bedford, United Kingdom -

Absolutely brilliant. Super fast delivery, great prices
5
SO - Wantage, United Kingdom -

all done delivered and fitted prompt and secure service
5
jE - Swansea, United Kingdom -

Fantastic service!
5
RA - Merseyside, United Kingdom -

As always... Ultra-prompt, zero-hassle. thankyou.
5
KD - Lyme Regis, United Kingdom -

Of course we've only had the batteries a very short while so it's impossible to say how good they are at their job. So I will do this review based on delivery etc. Which was very good. Came the next day, wrapped in plastic on a pallet. Only problem with that was the lorry couldn't get in the drive off the road and the machine they had for carrying the pallet couldn't negotiate the grave on the drive so they had to drop the batteries off on the drive. As we'd had them delivered to our daughter in law who has a small baby she couldn't stand guard over them until we got there so we had to drop everything and rush round. So be warned, they don't come as single batteries weighing 36kg but as one big lump on a pallet weighing 144kg! But so far so good. We have never had numax batteries before and are hoping they'll last us as long (on our canal boat) as the last ones did which was five plus years.
5
fr - Newbury, United Kingdom -

All excellent.
5
PB - SOUTHAM -

1st class batteries with a 1st class service - delivered without problem and fitted same day to boat - excellent value and would always recommend Tayna
5
SH - Whitley Bay -