Reviews of
12V22 Westco Motorcycle Battery 12V 22Ah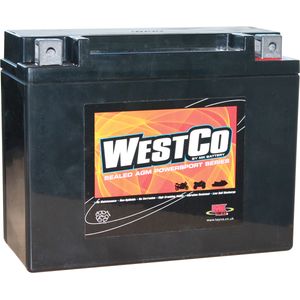 12V22 Westco Motorcycle Battery 12V 22Ah
Our Price: £82.95 inc VAT

(4.8 / 5.0) Average Rating:
Total Reviews:44
Customer Reviews
Absolutely fantastic service. Lovely lady advised over phone exactly what I needed. Battery is a perfect fit and my dead mower sprung back to life. Would highly recommend and have given contact to my mower service shop.
5
USER9056 -

excellent product arrived quickly started a big V-Twin first press off the button well chuffed
5
USER7579 -

Great service
5
USER7337 -

This is the second battery I have purchased from Tayna - it arrived very swiftly, worked first time, and my Goldwing is now firing on all cylinders again. Very happy with the service and battery
5
USER7079 -

I looked online and found what I wanted at a reasonal price. On the phone, they couldn't find my battery on their system, so the guy went online and found my battery, realised they had it in stock and checked it was correct! Very good service! The battery arrived in 24 hours nicely packaged. Exellent, old fashioned customer service. Not often seen these days...Recomended!
5
USER5932 -

After removing a varta battery I found the Westco battery much better, it has much more power and starts my engine at the first try.
5
USER5617 -

Excellent starting & maintenance free. I found this 'by accident' after clicking on the XV1000 instead of the XV1100. It is not listed for the XV1100 but is ideal for the job. Only 4 stars as I haven't had it long - it may well become 5 later.
4
USER5512 -

very prompt service at a resonable price thank you
5
USER4923 -

Excellent service very fast and excellent battery. Many thanks
5
USER4388 -

A powerful battery at a decent price. Delivered very quickly. (Smaller than the original too, so I can now carry a tool pouch in the space vacated).
5
USER4255 -

WOW what an excellent battery when it arrived unbadged and from china i thought "oh dear" but when i fitted it and tried it It cranks the bike like the original one did way way better than the Varta replacements i have been suffering with thanks
5
USER4243 -

Despite the first battery being dead on arrival the follow up service to supply its replacement was excellent. A good product at a great price with next day delivery as standard.I dont know why anyone would buy anywhere else. Alex Williams,Perth,Scotland
5
USER3953 -

Better crank and easy starting than standard - fitted to a modified battery holder replacing original battery compartment / airbox arrangement. Dyna colis and exciters moved to front of frame to enable fitment. Not an easy fit but worth it.
4
USER3840 -

Very fast supply but battery faulty with very high internal resistance. Second battery from same batch had similar problem. Tanya customer service exemplary in finding solution
1
USER3772 -

Excellent service - Tayna came out A1. The batteries are just great especially for the V90 and Goldwing which needs all the power to run the system. The Glass Mat batteries are exceptional in reliability and starting power. Thanks
5
USER3662 -

Good battery, arrived promptly, excellent service. This is the second battery from Tanya and would recommend.
5
USER3198 -

Good fastservice. fitted straight to the bike and started first time.
5
USER2853 -

Excellent Quality Battery. Well Worth Paying The Extra Over A Standard Acid Battery.
5
USER2626 -

Good, i needed more cranking amps than the varta but didn't want to spend the extra on a Odyssey.
5
USER2280 -

very good service
5
USER1890 -