Reviews of
APC Back-UPS Pro 900 Replacement Battery BR900GI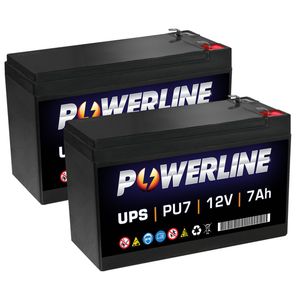 APC Back-UPS Pro 900 Replacement Battery BR900GI
Our Price: £17.53 inc VAT

(4.8 / 5.0) Average Rating:
Total Reviews:46
Customer Reviews
Restored operation again
5
PR - Bristol, United Kingdom -

Excellent value. Very quick delivery. For assembly into battery pack for 700W APC UPS, some good strength double-sided tape is needed.
5
PM - Bridgwater, United Kingdom -

Got my defunct UPS up and running for a fraction of the cost of a new UPS. Works well and easy to fit. All dimensions etc. we're accurate.
5
ME - Tonbridge, United Kingdom -

Excellent service received from Tanya. This item was far cheaper then from other places and is working very well. Would recommend Tanya to others.
5
AH - London, United Kingdom -

Battery I needed was in stock at a great price and delivery was fast.
5
DG - West Sussex, United Kingdom -

Only 7Ah and not the 9Ah they replaced in the UPS, but at that price haw can you complain! They have been in for a few weeks now with no issues so looking very good!
5
MC - Wincanton, United Kingdom -

Great product at a great price. Unfortunately, Tayna were let down by the delivery company. Claimed they'd Attemted delivery, but nothing on the CCTV, no card, and the parcel scan showed up as on the other side of the village.
5
MC - Bolsover, United Kingdom -

The battery pack came in very good working condition
5
VN - Buckinghamshire, United Kingdom -

Great a product, a cheaper but great quality alternative to the UPS batteries at 3 times the price! I have these in my studio UPS', they last about the same time as genuine APC so it's no-brainer when you consider how inexpensive they are in comparison.
5
DC - Leicestershire, United Kingdom -

So far so good and much cheaper than the 'official' batteries.
5
CP - St. Neots, United Kingdom -

Outstanding service and the product works perfectly.
5
PE - Essex, United Kingdom -

Bought as replacements for an APC RB5 battery packs for APC BackUPS 1400 UPS boxes, sadly the supplied batteries have 4.7mm terminals where the originals have 6.3mm. While I was able to work around the problem by sourcing adapters locally, it's less than ideal. It's also worth noting I had the exact reverse issue when sourcing batteries for my father's stairlift from yourself & had to crimp on replacement connectors so I could use the 6.3mm terminal size batteries supplied. It would be helpful if your listings for 7AH AGM batteries actually showed the terminal dimensions in the listing, however they do not, either for mobility, industrial, or whatever classification you have them listed under, & it appears to be a lottery what you get. Hence the lost stars. I had checked in both cases what I required by way of terminal dimensions, but had to trust you in both cases since this important dimension isn't listed.
3
MDE - Northampton, United Kingdom -

Livraison dans les délais et colis bien protégé, batteries en bon état, un grand merci. Maintenant il faut attendre pour juger la qualité des batteries dans le temps. JPV
5
jpv - Miserey, France -

Tout est correct. Bon fournisseur
5
CL - PLAISANCE DU TOUCH, France -

Livraison rapide. Le produit fait le job. A voir s'il dure plus que les batteries d'origine.
5
PM - Lyon, France -

Fraction of the price of official APC batteries, with just as good a runtime. Well worth it.
5
RF - NORTH YORKSHIRE, United Kingdom -

I bought this pair of batteries to refurbish an APC RBC123 battery pack which was swollen and held no charge. To install them, I had to peel the large red and green stickers off each side of the original battery pack, revealing the plastic centre part, unhook the connections to remove the original batteries, then reassemble the pack with the new batteries in place. After installing the refurbished pack into the UPS, I left it to charge to 100%, then tested it with my server. It now performs perfectly, giving over an hour of estimated runtime while powering my server, PoE switch and three CCTV cameras. The best part is that refurbishing the original battery pack like this has cost less than half the price of a replacement APC-branded battery pack.
5
AT - Nottinghamshire, United Kingdom -

Product very reasonably priced and does exactly what it should. Unfortuantely a minor issue for me was it has Faston F1/T1 terminal spade connectors (3/16? - 4.75mm wide) and my UPS (Belkin 1200VA) required Faston F2/T2 terminal spade connectors that are wider. I got around the issue by separately purchasing an F1 to F2 adapter as I didn't want to change any of the cabling or crimp any existing connectors..
5
PK - Dorset, United Kingdom -

Fully charged and ready to go. Worked out great for a Smart UPS from APC.
5
CT - Kent, United Kingdom -

As advertised arrived on time
5
MW - Hailsham, United Kingdom -