Reviews of
APC Back UPS ES 700 Battery - RBC17 - BE700G-UK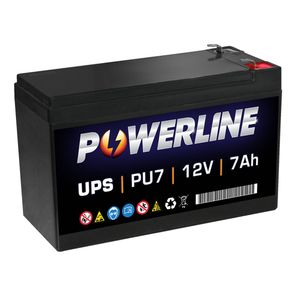 APC Back UPS ES 700 Battery - RBC17 - BE700G-UK
Our Price: £10.06 inc VAT

(4.9 / 5.0) Average Rating:
Total Reviews:68
Customer Reviews
Installed and working, not issues so far
5
JH - Reading, United Kingdom -

Quick delivery, easy to fit, works well, good price! So far, so very good!
5
DS - York, United Kingdom -

Bought this to replace an original battery in an APC Back-UPS ES 700. Terminal tabs are slightly smaller but connectors grip the new one fine. A very good replacement at a fraction of the cost for an APC original.
5
GB - Stafford, United Kingdom -

Excellent service price and delivery. Only time will tell on the battery itself
5
RD - Colchester, United Kingdom -

Perfect for APC UPS devices. Yes spades are smaller but fit fine. Does the job
5
KI - Lydney, United Kingdom -

Works fine
5
PA - Omagh, United Kingdom -

Half the price of other non APC battery's. If it lasts 3 years I'm happy. Tayna dont charge an arm and leg for delivery to Scottish Isles either. The battery terminals are smaller than originals but still made a snug fit. Happy so far
5
MP - Stromness, United Kingdom -

This is my second purchase from Tayna. The previous battery (same make) lasted 8 years! This is a UPS battery and the unit runs 24/7 and I do get quite a few power cuts in my area. Very good product and a very good seller.
5
GT - Hampshire, United Kingdom -

I bought this battery for an old Trust UPS 1000VA. I knew the spades of this battery was smaller (4.8mm) of the original (6.3mm) but I already knew the difference is not a problem. In fact arrived well packaged and I fit it in the UPS in 1 minute. All went well and the UPS is back on the road! I'll surely buy it again when needed. Delivery is very fast so I can suggest this company to anyone that needs a battery as soon as possible.
5
RB - Lancashire, United Kingdom -

This item was ordered to replace the original APC RBC17 battery in an APC Back-UPS ES 700. Delivery was prompt and the battery carefully packaged. The terminals are slightly narrower than the APC originals but made secure contact with the battery leads on the device. Performance seems equal to APC replacement batteries but at a fraction of the cost.
5
P - Builth Wells, United Kingdom -

Really good price for 2 replacement batteries in my APC UPS
5
RMG - Sherborne, United Kingdom -

Good battery
5
RB - Hove, United Kingdom -

Best price I could find and fast delivery.
5
RS - Leicester, United Kingdom -

Never heard of the brand - but the performance and quality are good. Price is amazing. Used these to replace batteries on 2 Riello UPS units for my home that were never used but had their batteries connected and sitting on a shelf for 4 years.
5
LM - Basingstoke, United Kingdom -

I operate a physically small 16Tb NAS server at home, this uses RAID5 data protection implemented at the software level. I protect my setup with a desktop UPS which also supplies my broadband router, cordless handsets and desktop PC (a modestly specified i3) Recent power outages from winter storms revealed that the previous battery in my UPS was no longer performing adequately and when several power outages were experienced in one evening, the infrastructure was unable to shut down in a controlled way. I needed a replacement battery quickly - and TANYA delivered the goods fast, and without fuss (under 48 hours) using their usual courier. To manage expectations, I have my UPS feeding my NAS, desktop PC (a low power i3) and internet router - which also provides my landline via VoIP - this gives me approximately 30 minutes discharge time which is more than enough to allow the NAS to power down in a managed way. To put this in context - you won't be able to boil a kettle off this, nor will it power a full "enterprise class" 42U rack of servers, but for (your average) Small Office or Home (SOHO) setup should be well served by this. I have to admit, I've been guilty of ignoring the rule of disaster recovery, by not testing my UPS regularly, fortunately I didn't experience a data loss, but the "take home" lesson is that your DR strategy is only as good as your latest test results! My advice is don't (like I did) wait until your battery fails before choosing to replace it!
5
gd - Edinburgh, United Kingdom -

Very well packed, super fast delivery. The battery is of great quality.
5
LW - Wrexham, United Kingdom -

Very competitively priced batteries (bought two), arrived fully charged and well packaged. Exellent Customer service.
5
MP - London, United Kingdom -

Bought as a replacement for my APC Pro550 UPS. Great value compared to other providers, plus the service and quick delivery were excellent.
5
SB - Other, United Kingdom -

Good value, very fast delivery indeed and the battery is identical to the one that failed (it was 9 years 10 months old though :-) ). 4th time I've used Tayna and excellent as usual!
5
IR - Norfolk, United Kingdom -

Brilliant little battery. Used to power ham radio. Arrived promptly and well packaged.
5
JH - Bristol, United Kingdom -