Reviews of
PU27 Powerline UPS Battery Pack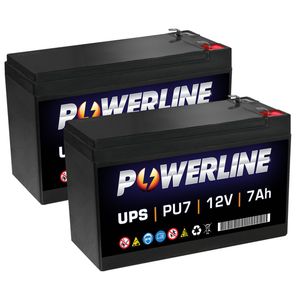 PU27 Powerline UPS Battery Pack
Our Price: £16.98 inc VAT

(4.8 / 5.0) Average Rating:
Total Reviews:25
Customer Reviews
Description produit adaptée pour un choix correct Satisfait du produit Fait le job Livraison ultra-rapide Merci pour le service
5
CL - Plélo, France -

These are a great replacement for the batteries in my MPE Ellipse 1000 UPS at much better price. The terminal blades are slightly narrower than the Yuasa originals but the cable clips still fit firmly. Tanya delivered the batteries promptly and well packaged. Recommended.
5
NG - York, United Kingdom -

I'm very pleased. Delivery was the next working day and it was very well packed. The two batteries are separate and so need to be stuck together either with some double sided tape or some parcel tape wrapped around them both. The spade connectors are slightly smaller than on the APC original but that was not a problem. I was a bit worried that at 99mm the Tayna battery was a bit higher than the 95mm quoted for the APC original. In fact the APC battery is also 99mm if you include the connectors so no problem. UPS run-time seems to be longer than it was with the APC battery it replaced which is good news. Will the battery last as long? Who knows at this stage, but at this price you can buy 3-4 for the price of an APC original so I'm happy.
5
KL - Bromsgrove, United Kingdom -

quick delivery, good performance
5
VN - Buckinghamshire, United Kingdom -

The terminals are smaller than the batteries from APC - but they still work ok on an APC Smart UPS 900. For how to replace the batteries see https://www.youtube.com/watch?v=yN2vdeCBcuY
5
SC - Potters Bar, United Kingdom -

Easy process, doing the job.
5
MGA - Largs, United Kingdom -

Excellent product, plenty of power, I always buy my batteries from Tayna.
5
LE - Milton Keynes, United Kingdom -

Excellent product, plenty of power, I always buy my batteries from Tayna.
5
LE - Milton Keynes, United Kingdom -

fitted my Belkin UPS just fine. Last set lasted about 2 years, then one leaked. However, that could have been due to the recent heat and where I'd put it.
5
IF - Harrow, United Kingdom -

Used these on my own and clients UPS devices no problems and a very good price.
5
RM - Leeds, United Kingdom -

Batteries were well packed, delivery complied with my request should I be out (which I was!), they were a perfect fit in my UPS unit but there was no information about disposal of old batteries that I put through our local waste collection system. I wasn't sure how to dispose of the copious polystyrene packaging. Good value for money and an efficient service.
5
RGN - Northwich, United Kingdom -

Once the issue with the courier was resolved the batteries were received fast.
5
MP - Cardiff, United Kingdom -

terminals to small for original wiring in ups - unusable
2
SK - Tring, United Kingdom -

Great replacement battery for my UPS at a sensible price.
5
DP - Bristol -

Excellent. Replaced my batteries in my APC UPS for a fraction of the cost of APC batteries.
5
MRW - Hampshire -

Excellent service delivered in 24hrs.Batteries fit perfectly and no hassle
5
sh - NOTTINGHAMSHIRE -

Can't comment on the quality of the batteries but we received them promptly and they fit my UPS perfectly.
5
GO - Bristol -

I bought a pair of these 7Ah 12V for an APC UPS. On test they work exactly as specified. There is a good 7Ah in these batteries. They were so good I bought a second pair for a second APC UPS
5
GF - Wiltshire -

Very easy to fit. Needs one discharge and recharge to activate full, stated capacity. So far as I am concerned I highly recommend this seller. I am using this pack as a replacement battery pack for an APC SUA750I 750VA UPS. Absolutely no problem and excellent life.
5
GF - Wiltshire -

Fitted and working fine, however the battery tags were a little smaller than the APC 750 connectors but do not seem to have caused a problem. A lot cheaper than APC originals.
4
RM - Leeds -