Reviews of
CTEK CT5 Time To Go 12V 5A Battery Charger - 40-162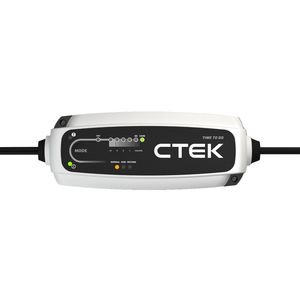 CTEK CT5 Time To Go 12V 5A Battery Charger - 40-162
Our Price: £72.99 inc VAT

(4.9 / 5.0) Average Rating:
Total Reviews:40
Customer Reviews
Fantastic product. Easy to use. So good I bought a 2nd one.
5
MJ - Reading, United Kingdom -

Worked really well, very easy to set up and a pleasure to charge the battery without having to remove it from the car.
5
MRM - Attleborough, United Kingdom -

The CTEK CT5 is looking after my Yeti and garden tractor during the lock down and the winter, ensuring that come the spring and normality they will both be servicable.
5
CI - Bedford, United Kingdom -

Seems like a great device. Only issue would be that while it indicates that your battery is fully charged and 'time to go', if the battery itself is on the verge of giving up the ghost, this can creat a bit of an illusion.
3
PD - London, United Kingdom -

Very useful for keeping battery topped up now that car is rarely used. Impressed with value and next day delivery. Just wish I had known there was a discount for AROC members! Peter Lloyd
5
PL - Stockbridge, United Kingdom -

A superb charger at a fair price. It can be found for lower prices elsewhere but it is worth paying a little extra for the Tayna service.
5
MRH - Yeovil, United Kingdom -

Excellent - the stop/start on my Discovery Sport has never worked so well. The permanent (ring) connection to the battery is also extra convenient.
5
MPB - Surrey, United Kingdom -

I maintain 3 cars' batteries and 2 "spares", and I never knew exactly when the 5 standard ones were charged. Without this charger the start/stop battery would maybe never get charged due to low mileage. Now all batteries are fully charged as indicated by the charger and I've got the peace of mind I never had before!
5
MW - Lightwater, United Kingdom -

High quality and easy to use charger. Bought to recondition battery on my 6yo Focus stop/start diesel. A change to commute means I drive 16 miles return so car unable to provide sufficient charge Excellent result from this charger and excellent service from Tanya.
5
PL - WEST YORKSHIRE, United Kingdom -

Excellent battery charger, charged a completely flat batteryin the stated time period. Very well made compact and very easy to use. I also purchased the extended cable which allowed me to use it through a window in the house.
5
AB - East Lothian, United Kingdom -

Fantastic service and very quick delivery.
5
AN - Watchet, United Kingdom -

As described delivered promptly with good communication.
5
CD - Hampshire, United Kingdom -

Very good and compact charger , but I did find the instructions lacking
4
JW - Exeter, United Kingdom -

Exellent
5
SB - Harrogate, United Kingdom -

CTEK CT5 Time To Go A first class company to do business with. Highly recommended. I purchased a CTEK CT5 at a very competitive price which arrived in a few days. Despite Covid 19 problems. Thank you Tayna.
5
SY - Bakewell, United Kingdom -

Superb quality, & functionality, all at an unbeatable price from Tanya. This charger is small, light and comes with a choice of connections in case the battery is buried in the boot ! C -Tek produce some of the best chargers on the market and supply premium brands such as Maserati. 5 star product
5
CJP - Denbighshire, United Kingdom -

Quick delivery of this excellent charger. It is simple to use, works quickly and can then be left attached to keep the battery in top condition. I should have bought one years ago!
5
JT - N/A, United Kingdom -

Very simple to use, display says when the battery will be fully charged, a lot smaller that previous chargers I've owned.
5
ME - East Sussex, United Kingdom -

Easily connected and had battery charged and conditioned quickly.
5
MW - Stoke-on-Trent, United Kingdom -

Saw this reviewed as "Best buy" in a car mag. It is very simple to use - just choose the appropriate function: "normal" battery, "AGM" for stop/start type battery or "recond" if the battery is dead as a dodo. Then the charger is fully automatic, the display showing what stage the charger has reached. You can leave it on all day/night 24/7 as when the battery is fully charged, the charger just moves into "care" or trickle charge type mode, so you cannot overcharge the battery. Perfect for keeping your battery in peak condition if you don't or can't use the car for some time.
5
MC - SUTTON COLDFIELD, United Kingdom -