Reviews of
CTEK MXS 3.8 12V Charger and Conditioner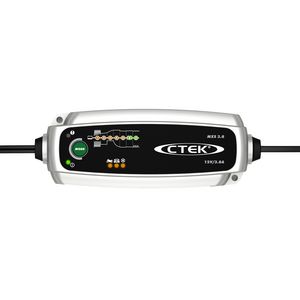 CTEK MXS 3.8 12V Charger and Conditioner
Our Price: £64.99 inc VAT

(4.9 / 5.0) Average Rating:
Total Reviews:65
Customer Reviews
Excellent charger
5
AP - AUCKLAND, New Zealand -

The CTEK MXS 3.8 12V charger and conditioner does an excellent job of keeping my battery fully charged and in good condition, My car spends a fair number of days/weeks in my garage without being started, so the Ctek is an essential. It is well made, and easy to fit and use, I would recommend,
5
AK - St. Albans, United Kingdom -

Great product very happy
5
ML - Southport , United Kingdom -

Works well and simple to use. Ordering and delivery excellent.
5
MP - Tonbridge, United Kingdom -

Great product, value and prompt delivery!
5
sm - Maybole, United Kingdom -

I leave this charger semi-permanently connected to my motor caravan via the accessory (cigarette lighter) socket.. The battery is always at peak performance. (Of course, it helps that, being a motor caravan, it has a mains input socket fitted!)
5
MP - Grays, United Kingdom -

Purchased this for my daughter as I already have one. I know that the CTEK chargers are very good and being sealed I do not have to worry about leaving it under the bonnet of the car that is having its battery charged. I would recommend the CTEK charger and Tayna in future.
5
KS - Leicestershire, United Kingdom -

Looks good, sturdy, works well, excellent service as usual.
5
DB - Matlock, United Kingdom -

Excellent thankyou
5
ce - Bournemouth, United Kingdom -

I've been using budget chargers for years, to leave for lengthy periods connected to cars and motorcycles which are used infrequently. They do the job but don't last indefinitely, so you discover that the battery is flat even though it's been hooked up. I was buying a big battery for the daily driver and have had problems with the AGM battery in a trackday car, so decided to just bite the bullet and get this charger, as recommended by Tayna for the Odyssey battery, even though it's four times the price of the budget ones. The MXS 3.8 charger is also the one sold by Porsche Club GB, so it must be good, and it's marginally cheaper here. So far it's doing a great job - time will tell whether it was worth the big bucks. The 5 year guarantee gives me reassurance that it will outlast the budget ones.
5
RT - Much Wenlock, United Kingdom -

Customer services were quick to respond to my queries and delivery was within a couple of days so very pleased with customer experience. The charger was easy to use and gives me confidence that my car will start despite not being used often during lockdown. I have only been using the charger for a couple of weeks but everything seems ok
5
DP - Leicester, United Kingdom -

Brilliant service from Tayna and a great, quality product. Easy to use and keeping my TVR in tip top condition.
5
RB - Lytham St. Annes, United Kingdom -

Now have 3 of these for different cars, always perform and never any issues, very satisfied.
5
MM - Berkhamsted, United Kingdom -

Great product and price
5
MR - Broadstone, United Kingdom -

Excellent piece of kit and First Class service from Tayna. Speedy delivery under these trying conditions. Highly recommended.
5
TT - Wokingham, United Kingdom -

Clearly a quality unit, needed after lockdown to restore my battery.
5
MGD - Cheshire, United Kingdom -

Great delivery time great product
5
AQ - Hertfordshire, United Kingdom -

Very pleased with CTek 3.8 charger/conditioner. I have a diesel stop/start automatic, and the original AGM battery (after very light mileage) started to fail. Replaced with new AGM battery, and keeping car on charge all the time now to get the most life out of battery. The CTek is great. It shows the charging/pulse state, and I know CTek units are good, as I used one previously to keep a camper van charged up ready for seasonal use. Tayna were great. On line order was despatched and delivered really fast. Couldn't recommend any more highly.
5
ML - Sittingbourne, United Kingdom -

Replaced a 12yr old+ CTEK charger that gave up the ghost when I asked it to bring an old battery from the dead. This new version gives good feedback on the state of charge and so far so good.
5
JB - Harrogate, United Kingdom -

An excellent product. Simple to use, and does a brilliant job.
5
IH - Lancashire, United Kingdom -