Reviews of
CTEK MXS 3.8 12V Charger and Conditioner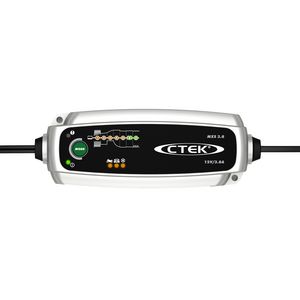 CTEK MXS 3.8 12V Charger and Conditioner
Our Price: £58.99 inc VAT

(4.9 / 5.0) Average Rating:
Total Reviews:54
Customer Reviews
The charger does exactly what it is supposed to do
5
TI - London -

Does exactly what it says on the box. I particularly like the flying lead option, although I did have to file the eyelets slightly, in order to connect it to the battery. This provides for a very quick and easy plug connection to the CTEK once your back from a run and eliminates the need for the croc clip connections.
5
JB - Haywards Heath -

Does exactly as it should.
5
MTJS - ST. IVES -

Need this item as a Corvette has a small battery drain when its not used, so this keeps it all healthy and connected to the car as well so no need for external croc clips, although they were supplied as well. Well pleased with the quality, price and fast delivery.. Cheers, Steve
5
sm - Maybole -

Excellent product, easy to use! Highly recommended.
5
MU - Shepperton -

Good charger. Clear and intelligible status display, unlike some smart chargers. Small and light for the output.
5
MPH - Hereford -

Excellent bit of kit
5
AN - Worcester -

Sorted out the battery on the quad quickly. Neat unit
5
ML - Livingston -

Excellent product. Delivered extremely promptly! Thank you
5
BM - Staffordshire -

Good
5
ME - Warminster -

Excellent piece of kit.
5
SR - Hockley -

I purchased this at the same time of purchasing a new battery for my R1200GS. I have had one of these before, but for some unknown reason it stopped working one day and was out of warranty, so couldn't be swapped for a new one. In addition to this charger, I bought and fitted a 'comfort' plug that sits permanently on the bike and allows a quick and easy connection to be made between charger and battery. The connector I purchased has three led lights that indicate how well charged the battery is. I had to contact CTEK as the unit makes a clicking/ crackling noise when charging, but the person at CTEK assure me that this perfectly normal and does not effect the unit at all. So if yours makes a crackling noise, it is quite normal apparently.
5
CJ - Bristol -

Whilst I bought this mainly for maintenance charging on a car not used very often, I have so far used it a couple of times to charge up another fairly elderly battery. It did this in quite a short time
4
SK - St. Neots -

excellent, feels like quality
5
km - South Yorkshire -