Reviews of
Ctek MXS 5.0 Test and Charge - Tests and Charges 12V Batteries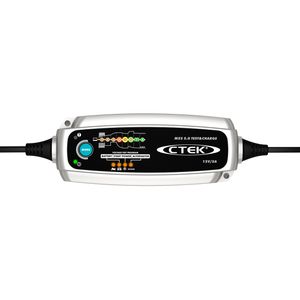 Ctek MXS 5.0 Test and Charge - Tests and Charges 12V Batteries
Our Price: £86.95 inc VAT

(4.9 / 5.0) Average Rating:
Total Reviews:35
Customer Reviews
This is a replacement of my previous ctek MXS 5.0 test charger. Decided to change it as old unit started to get very hot. (Still workes) Hope the new one sill be as good.
5
Dj - Caernarfon, United Kingdom -

Excellent in every way
5
MD - Henley-on-Thames, United Kingdom -

Many thanks for the excellent service and next day delivery!
5
NS - Belbroughton, United Kingdom -

Can't go wrong with. Ctek charger. Ordering from Tanya was very easy and service was fabulous.
5
JW - Welwyn, United Kingdom -

Recommend Tayna. Good service and price thanks. The Ctek is a great product and works well
5
RE - KIDDERMINSTER, United Kingdom -

Works as intended. Power supply mode would be a useful addition for when swapping batteries.
4
CO - Chinnor, United Kingdom -

I have had a CTex before and this is an upgrade. Seems what i need
4
TSM - Tadley, United Kingdom -

good quality product c-tek mxs5.0 fully recovered my old 110ahr leisure battery which would only hold 3/4 charge using my old charger wired my car battery in permanantly using the ring terminal lead provided so easy!!
5
rs - Mansfield, United Kingdom -

Great bit of kit and delivered really quickly - very impressed
5
TS - Swindon, United Kingdom -

Bang on. Excellent test & charger :-)
5
CT - Southport, United Kingdom -

Excellent new style charger. Outdoes the old models of varicose makes. I have no reasons not to recommend Tayna to any potential new customers Excellent prompt service...
5
CNL - Barrow-upon-Humber, United Kingdom -

Awesome battery tester and charger.
5
CB - Lancashire, United Kingdom -

I researched the product I needed and it performs as expected. Extension lead helps greatly so consider this as well. Fast delivery from Tanya and good price as well.
5
MMP - Northampton, United Kingdom -

A pleasure to deal with, as ever.
5
MNSS - Plymouth, United Kingdom -

At first use, it appears to meet the claims made. Instructions are a bit weak, especially in description of the amps supplied in the float phase 7. amps for up to 10 days, and permanently connected at 2-5 amps in the pulse maitnenancecontinually can be expected to reduce the acid level in the battery as the water is converted to hydrogen and oxygen which, susprise surprise disappears ! By connecting a digital ammeter between one lead of the charger and the battery terminal, first at a safe 10 amp rating, then 1, then to milli -ampsindicates an almost non existing current. This may or not have been potentially harmful to the charger or ammeter, and even a false indication of the charging since the interference was picked up by the charger, but it was done anyway. If accurate the instructions should more clearly describe the amps decline in each phase in order to reassure those with enough understanding of chemistry and batteries, but necessarily enough understanding of the charger reality. I well remember my first car, a 1838 Morris 8 where the light swtich had 4 positions in sequence .... low charge, high charge, side lights, head lights. Thus going to lights automatically engaged first the high charge mode for the dynamo to keep the battery charged. In daylight, the low charge selection did the necessary for battery charge, minimising the water dissociation and loss as gas - but it was surely less than 5 amps and still the battery fluid level needed checking and refilling each month. I am well aware that life today with alternators and soolid state circuits is a lot more intelligent and battery water loss is no longer an issue. But 5 amps is 5 amps which can dry out battery cells quite quickly. Always willing to learn, I invite your (Tayna or CTEC) comments
4
PA - Sturminster Newton, United Kingdom -

Great charger
5
BB - Weston super mare, United Kingdom -

Excellent product, easy to use, works perfectly, many thanks ?
5
AK - Malvern, United Kingdom -

Brilliant product - bought to replace a CTEK 3600 that was 15 years old. Advice was excellent and delivered very promptly.
5
GP - Peterborough, United Kingdom -

Original purchase was faulty, Tanya have great customer service, battery charger was collected by courier and replaced within 5 days. Thanks
5
AR - South Yorkshire, United Kingdom -

Great charger as usual from CTEK. Also can test battery/charging system as described. Maybe the only bad point is that it doesn't actually show you voltage/amps when it's testing only good/ok/bad result but that is fine. Overall I'm very happy with this charger.
5
AG - Bicester, United Kingdom -