Reviews of
Ctek MXS 5.0 Test and Charge - Tests and Charges 12V Batteries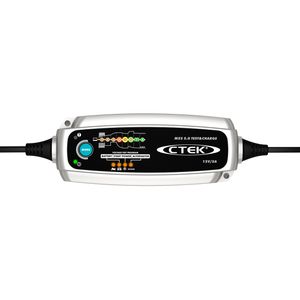 Ctek MXS 5.0 Test and Charge - Tests and Charges 12V Batteries
Our Price: £86.95 inc VAT

(4.9 / 5.0) Average Rating:
Total Reviews:33
Customer Reviews
Sehr zufrieden
5
SMSZ - West Byfleet, United Kingdom -

It did exactly what i needed it to, rescued my battery and now its trickle charging over winter, if you need a 5 star charger this is it
5
RA - NEATH PORT TALBOT, United Kingdom -

Not used it yet but I bought it to replace a worn out /broken old one. No reason to believe this won't be good... I know these models, knew exactly what I was after ( blue button, but non arctic model )... been watching and waiting for a good deal.. got a cracking deal via Tanya with an extra 20% off via eBay deal... so made it irresistible ?
5
MG - Conwy, United Kingdom -

I was looking for a new battery charger to replace the one I bought from Halfords in 1965. This time I wanted one that would do everything I need to maintain and test the battery and circuits on my 26 year old Renault Clio, MG TD and Honda scooter. The only one I could find to do all that wsa the Ctek MXS 5.0 Test and Charge and Tanya Batteries seemed to give the best deal for this product. I have now used the charger for a couple of weeks and found it to work perfectly so far. It is very clever and easy to use and seems to be as fail safe as you could get. I deem it is good value for money as well in terms of the default costs it will save i.e. by now avoiding any expenses of recovering from battery/alternator failure, etc.
5
RH - Newton Abbot, United Kingdom -

Good piece of kit but no digital readout
4
IB - Newcastle upon Tyne, United Kingdom -

When Plugged in on Battery (Without Mains) Ctek MXS5.0 went into Test mode and when the Battery mode Button was pressed It showed how much power in the Battery. Not Tried the Altenator Test. On Mains it charges the battery without fault. The LED's show up until it reaches full Charge. Good Charger especially with the Test mode built in.
5
MPH - Dorset, United Kingdom -

Neat Compact and easy to use, not really used it much but I have tested a couple of bike batteries and the device confirms that they have had it. I expect the other functions to perform just as well, only time will tell if it lives up to all expectations but I see no reason why not, I am at this point very happy with this product.
5
JN - COALVILLE, United Kingdom -

Revived a couple of dead motorbike batteries with the ctek mxs 5.0. Great piece of kit!
5
DW - Bristol, United Kingdom -

The charger arrived the day after ordering. The charger is well made and feels good quality. It has a test facility which is very useful for testing battery condition, battery condition during starting and alternator condition. I bought it to keep the battery topped up on a car that is stored for most of the year and it is perfect for the job.
5
GC - Clitheroe, United Kingdom -

Decided to go for the Test and charge version of the MXS 5.0 for the additional on board charging tests to ensure alternator and charging system are all ok. Delivered quickly and works well would recommend Tanya to others as the prices are highly competitive and the delivery service is quick even for the basic delivery charge. Well done Tanya
5
AB - Oxford, United Kingdom -

Excellent service. And excellent communication, very quick to replay to my query Thanks David Wareing
5
MDW - Southport -

Excellent product, used it on three different batteries of varying age/condition, did exactly what I wanted. Delivered within 24 hours.
5
JT - Bradford-on-Avon -

Arrived very quickly, just trying to work it all out!!!
5
AP - Brighton -