Reviews of
Numax Car Battery Charger 12V 10A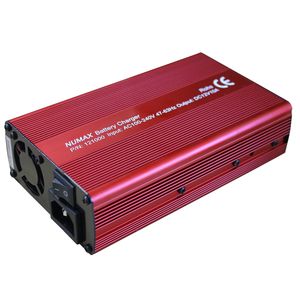 Numax Car Battery Charger 12V 10A
Our Price: £59.99 inc VAT

(4.7 / 5.0) Average Rating:
Total Reviews:52
Customer Reviews
Great product and delivered very quickly
5
PW - Worcestershire, United Kingdom -

We are window cleaners and use two leisure batteries on board our van. One for our pumps, pump controllers, and led lights in the back of the van. And one for our electric hose reels. This Numax charger is a game changer. It charges our leisure batteries so quickly.
5
SCS - Hailsham, United Kingdom -

Purchased to fit into my leisure system to charge my Numax Battery when hooked up. Very easy to install as it come with all the right fittings. The display is easy to read and understand, it seems to work well and it is good value for money. Perfect.
5
DC - Surrey, United Kingdom -

Battery charger had rattle inside so was returned for a replacement without being used.
3
MRG - Kent, United Kingdom -

Appears to be good quality - happy to fit this to my campervan conversion. Everything I needed - quickly shipped by Tanya. Thanks.
5
JP - Stranraer, United Kingdom -

The charger seems to work well, I have used it twice to charge a Numax 110AH battery. My only gripes is that the charger is supplied with two charging connecter options (ring or crocodile), but the ring ends are too small to fit over the stud battery terminal posts, so I am forced to use the crocodile clamps instead, this is surprising as the battery and charger are both Numax; I would have expected them to be compatible with each other. I wanted to leave the crimp connectors permanently installed on to the battery within the battery box to simplify charging but cannot do that now.
4
MMW - Reading, United Kingdom -

Very good
5
KH - Dorchester, United Kingdom -

Professional and very well made charger. Charge cycles provide deep charging with lcd and led status . Should have purchased one years ago to replace my old charger.
5
PS - West Sussex, United Kingdom -

Easy to use. Good value
5
MB - Reading, United Kingdom -

Looks pretty good but I haven't had a chance to use it properly yet.
3
WS - Eastleigh, United Kingdom -

A very nicely built product.
5
JS - Marlow, United Kingdom -

Ordered this battery charger received the wrong one spent then spent 30 minutes of my morning taking pictures sending emails and on the phone very poilte service and was sorted out to send a me the right one i had to repackage though and needed by the Tuesday morning ideally came the Tuesday evening so was a little disappointed but works well when right one turned up x
2
ZB - Lincoln, United Kingdom -

Great product easy to use.
5
SH - Mansfield, United Kingdom -

Prompt delivery
5
Dgme - Greater Manchester, United Kingdom -

Does exactly what it should.
5
MCT - Swanley, United Kingdom -

arrived very quickly and does what it's meant too... no problems...great service.
5
SN - Borders, United Kingdom -

Really simple, really easy. Highly recommended.
5
CM - Aylesbury, United Kingdom -

Only used once so far but fired up the tractor battery a treat!
5
LS - Taunton, United Kingdom -

Reliable maintenance
5
JK - Sevenoaks, United Kingdom -

Great charger, I purchased this after going through two other chargers over 8 years at a cost of £90, this one was recommended to me by someone who has had this charger for 12 years. It comes with crocodile clips and ring connectors dependant on your requirements and uses, the display shows battery state in increments of 25% and charges quite quickly compared to cheaper alternatives.
5
MOD - Ferryhill, United Kingdom -