Reviews of
Numax Leisure Battery Charger 12V 10A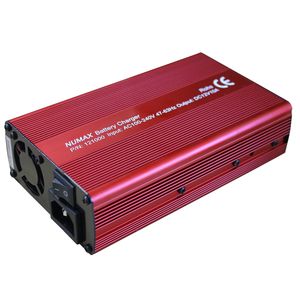 Numax Leisure Battery Charger 12V 10A
Our Price: £59.99 inc VAT

(4.8 / 5.0) Average Rating:
Total Reviews:285
Customer Reviews
very pleased with service and advice i received
5
Mr Milton - Neston -

Looks like s high quality item. Charged up well and maintaining float charge. Let's hope it lasts as many years as it looks like it will. Prompt delivery and well packaged. Cheapest place I could find on the web by the way.
5
Alan White - Rotherham -

Small, simple and easy to operate
5
Mark Treverton - Bromsgrove -

great charger would recommend it
5
brian - malaga spain -

Excellent service arrived the next day, no problems
5
Tony - Stafford -

As with previous purchase of a battery, excellent service, good price and item delivered the next day at standard delivery cost.
5
Mr M Gazeley - Swindon -

Perfect service. Excellent recommendation. Spot on delivery.
5
Paul Hurtado - Surbiton -

Despatched promptly and helpful staff. One small quibble , it would be helpful if descriptions of chargers detailed more clearly if they can be used for dual use , car and leisure batteries. That said , great service and reasonably priced. Internet shopping when the site does it well is a god send to rural shoppers and Tanya do it well.
5
Darren Selby - Llandysul -

Seems to do the job needed and working well so far
4
Richard Garland - Nottingham -

Poor service. Despite matters being explained I was charged twice for delivery after an incompetent courier failed to find my address. I feel it grossly unfair that I had to pay for the shortcomings of the courier service and wont be using the company again.
1
Phil Williams - Bridgnorth -

Good product and very compact but too soon to confirm long-term reliability
4
Wayfarer sailor - Nottingham -

Good charger worth the money
5
S G Stephenson - Orpington -

Poor service. The courier failed to deliver/find address on ordering and I was un-fairly charged for re-delivery, despite me explaining to a representative by phone. I consider it inappropriate that I should pay for the inadequate service provided by a lazy driver and wont be using the company again.
1
Phil Williams - Bridgnorth -

Dead simple to operate - Which is just as well as the instructions are pretty rudimentary. Connected it to my spare leisure battery (87Ah) and 3 days later the charger finally switched to trickle charge. All this time the cooling fan runs, but the unit remains cool. It has now been running for a couple of weeks - I keep it in the garage - And it seems to be doing it's job fine. I am about to swap the battery with my main which is on the caravan (110 Ah), so we shall see how the charger copes with that one. All in all a great buy and highly recommended.
5
Kenneth Houghton - Chorley -

Excellent advice given and very swift delivery. Ordered at around 3pm and received 7.40am the next day.
5
Mr Dodd - Wirral -

i am very pleased with the numax leisure battery charger thank you
5
Mr Burton - Telford -

Very pleased with it so far.
5
James DW Campbell - Orkney -

Very disappointed with the total lack of user operating instructions with this product given the cost. The charger may well be operating satisfactorily but I really don't know as there is no documentation to explain what the various lights and display messages on the charger mean.
2
Trevor Riley - Melton Mowbray -

This product works perfectly and is exactly what we needed. Speedy delivery. Would recommend your company. Thanks very much.
5
john garnett - France -

The look and design of this charger are not bad, and it seems to function very well in actual use. Biggest short-coming is that the cooling fan gets EXTREMELY noisy after three to four weeks of use. Appears to be cheap bearings, but could also be something else. Noisy to the extent that one can hear it from more than three meters away, even when it is outside and you are indoors.
2
Sir Peter G Just - Glenscorrodale -