Reviews of
Numax Mobility Battery Charger 24V 4A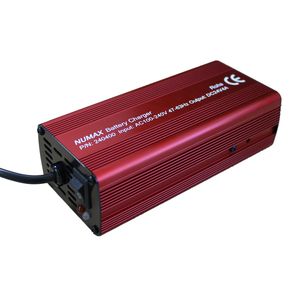 Numax Mobility Battery Charger 24V 4A
Our Price: £31.99 inc VAT

(4.8 / 5.0) Average Rating:
Total Reviews:56
Customer Reviews
Nice and neat needed to change connector as different one needed for golf buggy which is an Anderson one but works and charges fine.
5
KH - N/A, United Kingdom -

Quick postage. No problems just what I wanted
5
JL - Staffs, United Kingdom -

Fast delivery, product as described.
5
TP - Cardiff, United Kingdom -

As usual excellent service and price plenty of good advice
5
as - Angus, United Kingdom -

Can't fault the product, does exactly what it says on the box. Thank you.
5
DM - Mexborough, United Kingdom -

Great price on the product. Prompt delivery even during lock down. I love these chargers. I lost my old one (left it in a hotel ?). Good product sheet showing you the charging regime if you're interested!
5
JH - Longstanton, United Kingdom -

I had this battery before and it was really good and lasted ages. Didn't want to risk getting a different one so searched this model online. I can't believe how cheap it is on this website compared to everywhere else.. It's literally half the price!! it was also really reasonable delivery charges and delivered really fast. If I ever need a battery again I won't look anywhere else. Thank you!!
5
SP - Nottingham, United Kingdom -

An excellent item with a good price and an excellent service yet again !
5
AM - West Yorkshire, United Kingdom -

I am using the device to charge and keep topped up an electric wheelchair batteries. The charger supplied with the chair (2Amp) didn't seem up to the job and couldn't be left connected for more than 12 hours. The Numax is connect and leave a big advantage for me.
5
MMS - Worcester, United Kingdom -

Much smaller and lighter than the original scooter charger despite having an extra 1amp output. Bought it to safeguard the new batteries! Too early to tell yet!
4
KB - Kettering, United Kingdom -

Bought this because it's "Numax". I can't help myself. If I need a battery charger, I look at cheap plastic ones, then end up buying "Numax". It's an addiction. I probably need help. I bought one for my ex...... I loved that charger. It was reliable, dependable, and very pretty. If only I was s good at selecting partners as I am at selecting workshop tools.....
5
TP - Hampshire, United Kingdom -

Tayna went the extra mile in these difficult times and my father is now mobile in his mobility scooter. The level of service was exceptional with Chris phoning with pierces and also to say we could pick up the battery and the collection service worked like awell oiled machine Thanks again Byron
5
KW - Abergele, United Kingdom -

Fast delivery, item as described and worked well.
5
MGAC - Hampshire, United Kingdom -

Good quality charger quite running easy to store when not used
5
MEE - Malton, United Kingdom -

It replaced the old one which got wet in a garage flood and so far is doing a great job keeping my mother's mobility scooter charged Great service, it came when expected
5
MDLG - Tarporley, United Kingdom -

fully satisfied with item received
5
gs - Pontefract, United Kingdom -

Brilliant replacement for previous powerchair charger. Easy to use and do like the fact it has a switch on the device box too and all for a really amazing price and speedy delivery. Thank you for saving the day. Now we know where to purchase from in the future.
5
SY - Mansfield, United Kingdom -

Ticked all the boxes, needed a quick replacement for my Fathers mobility scooter. Charger arrived quickly, has a smaller footprint ( but appears to be just as powerful as the failed one) and is quieter. Very pleased with my purchase.
5
PL - North Somerset, United Kingdom -

Great service, quick delivery, and great communication. Would highly recommend.
5
RB - Ramsgate, United Kingdom -

This charger has a fan, which can be a little noisy if you are in the same room. It is louder than my PC Desktop. However, this should keep the internals cool and ensure an excellent working life. I have used it about three times now on two 12v 18Ah batteries (in series) and it is very fast. Once charged, one of the leds shows green and you are good to go. I had a small problem with the first unit, but I have to say that I was very impressed by the Tayna after sales service, who responded and resolved the problem very quickly. They really could not have done any more and so I would thoroughly recommend all round - the charger and the company.
5
AT - Bracknell, United Kingdom -