Reviews of
Numax Mobility Battery Charger 24V 7A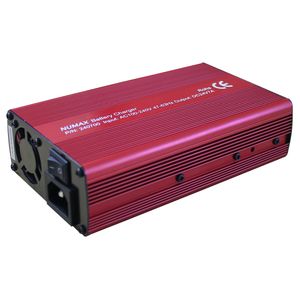 Numax Mobility Battery Charger 24V 7A
Our Price: £61.99 inc VAT

(4.6 / 5.0) Average Rating:
Total Reviews:26
Customer Reviews
Works very well, we'll built with a easy to see display and colour coded lights tell you the stage of charging.
5
MGP - Uxbridge, United Kingdom -

Excellent Service , first item faulty hence loss of 1star but it was replaced quickly. I will use this site again
4
SA - Norfolk, United Kingdom -

The Numax mobility battery charger is a great charger. I have gave 4 out of 5 stars as it takes quite a bit of time to charge my batteries which are 2 x 12 v 85ah Lucas AGM. The Numax charger says it's optimal up to 75ah batteries, but the Lucas 85ah batteries are supposed to still run like 75ah? The charger truly is connect and forget though, and you can leave it plugged in all the time if you wish as it only charges until they are full, then it goes on a trickle charge which is superb.
4
MDW - Nottingham, United Kingdom -

Excellent service, efficient polite helpful staff , speedy delivery . Cannot fault Tayna Batteries Thank you
5
MMB - Skegness, United Kingdom -

Excellent. Great fast service and the Numax charger works fine. I keep my scooter batteries on permanent charge with this so it is ready at a minutes notice.
5
AW - Barnsley, United Kingdom -

Excellent
5
LB - -, United Kingdom -

Very good service
5
GM - London, United Kingdom -

I bought this charger for use with my 3 wheel Patterson golf buggy.I like the display on the charger showing each stage of charging.The charger is well made and compact. I had to make an adaptor to connect the charger to the socket on the buggy. This was the only drawback. I am very pleased with the charger and can recommend it.
5
MIM - Liverpool, United Kingdom -

Does exactly as required and keeps the batteries fully charged. A good purchase.
5
DW - Southampton, United Kingdom -

Lacked a choice of connectors. The Minimal detail on the leaflet enclosed would mean little to anyone other than a qualified electrician.
3
SC - Aldeburgh, United Kingdom -

Did not use returned to tayna. Excellent service
5
MB - Leicester -

excellent
5
RR - Looe -

Once again, I am very happy with your company's service delivery, the charger works very well and does not get very hot like my old charger.
5
MST - London -

Very fast service works well
5
Flick - Wickford -

very pleased with the charger service exellent
5
Jack Bailey - Belper -

delivery was exalent charger great thanks
5
james bakewell - Bilston -

great service, charger works very well
5
Phillip Whitwell - Cardiff -

Great service!
5
Mr L W Bartram - Blackpool -

Good price and excellent service.
5
Ellie - Aviemore -

The two batteries I replaced were performimg better after more than six years service than the new ones. I hope this problem is charger related because I was told by the sales person that this was a perfectly adequate charger for these batteries, somewhat contradicted by the techical support person today - 20th June. I was told I needed a charger rated at least 10% of the amp-hour figure and therefore the 7 amp charger was inadequate; Although the tehnology has changed somewhat the charger I had that was permanently charging when the vehicle was not in use was rated at only 5 amps and gave sterling service. If the problem continues I would ask that the bateries/and or charger be replaced. I should add that the batteries operate a specialist disabled buggy used for golf and at the moment I doubt if it would manage 18 holes, let alone the 36 I could get from the original batteries.
2
R Lee - Winchelsea -