Reviews of
Type 421 Classic Car Hard Rubber Battery 6V 57Ah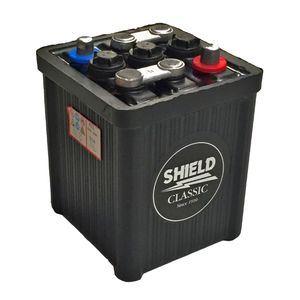 Type 421 Classic Car Hard Rubber Battery 6V 57Ah
Our Price: £68.95 inc VAT

(4.9 / 5.0) Average Rating:
Total Reviews:95
Customer Reviews
Great service fast, well packed up great thanks Dave
5
DB - Hook -

Fitted To: Austin 10/4 10hp Petrol 1933
Great service delivered as promised on a Saturday and all as expected
5
MP - Tunbridge Wells -

Fitted To: MGB GT 1800 1969
Very good,nice product.
5
PF - Hampshire -

Fitted To: austin seven 748 Petrol 1934
Excellent and prompt service; fair prices. Only comment was that as battery supplied dry with electrolyte in bottles, a sheet of instructions on preparing it for use would have been helpful. However, when asked by email I received prompt and clear comments. Regards Michael Eggers
5
ME - Haywards Heath -

Fitted To: Austin Seven 747cc Petrol 1931
Excellent product..Good prices, Super company to deal with. Fast delivery, Will definitely use again
5
CP - Caerphilly -

Fitted To: MG B 1798 Petrol 1970
Just as described very fast and efficient service and delivery.
5
SD - Southam -

Fitted To: Siddeley Autocar 6hp Petrol 1904
Excellent friendly helpful service on the phone. Battery packed very well and sufficient acid was included. We had a problem with the courier company (Y....) who I wouldn't choose to use again - driver made little or no effort to see if we were in - we were in the next room waiting for him but he didn't even knock on the door before putting a card through the letter slot and he quickly disappeared down the road. This delayed delivery by 24 hours.. As for Tayna,my next battery definitely comes from them.
5
TL - Lincolnshire -

Fitted To: Austin Seven (Ruby) Petrol 1938
Ordered replacement battery for my Austin 7. It was delivered very promptly and fits the car and does the job.
5
MB - Marlow -

Fitted To: Austin 7 747 cc Petrol 1929
Enquired at Euro Car Parts said they would call back, still waiting (3 weeks now) ordered from Tayna and had the battery the following day. Easy to follow instructions in the box, battery was a perfect fit.
5
CS - Malton -

Fitted To: Austin Ruby 750cc Petrol 1937
next day delivery as promised
5
gr - Plymouth -

Fitted To: austin seven 749 Petrol 1932
Exactly right for A7. Excellent next day delivery. Delighted. The height exactly right to enable the battery box lid to close.
5
E - Bristol -

Fitted To: Austin Ruby 7h Petrol 1935
Great service and a good quality product.Instruction sheet on procedure for adding acid and initial charging would be helpful.
5
RH - Sandbach -

Fitted To: MG TA 1292cc Petrol 1938
Excellent product, excellent service! Could do with some simple instructions on how to use the acid, charging etc, all of which is extremely simple!
5
CP - Bicester -

Fitted To: Austin Seven Box Saloon 750cc Petrol 1934
Battery fine but courier that delivered it was terrible.
5
PA - Marlborough -

Fitted To: Austin Ruby 795 Petrol
Great service. fast and efficient
5
dougal cawley - Bawtry -

Fitted To: Austin 7 749cc Petrol
good item fast delivery
5
Robin Shafe - Hythe -

Fitted To: farmall cub 2.4 Petrol 1955
First Class service but instructions could have been a bit more specific to the type of battery supplied to me. The bit about red plugs having to be removed (can't remember the exact words)before the battery could be used could be a bit of a worry to a non-technical person as presumably this only applies to leisure batteries.
5
Austin 7 owner - Caldicot -

Fitted To: Austin 7 RP saloon 750 c.c. Petrol 1933
Great service. Fast and good price. Clear Instructions re adding acid would be useful..but sorted with a quick call. .
5
XK man - County Mayo -

Fitted To: Jaguar Xk120 3500 Petrol 1953
Very quick deliver and well packed. One comment - the instructions on the bottles of acid regarding opening and attaching the filling nozzle do not conform with what actually has to be done, and there is no guide for disposal of used or partially empty acid bottles. Also, no instructions on charging the battery after acid is added - assuming that is what should be done?
4
Barry - Battle -

Fitted To: Austin Seven 750cc Petrol 1935
I was impressed with the next day delivery, but I did not realise that the acid came separately but on reflection very sensible to prevent accidental spillage. I presume that I pour the acid in until it covers the plates but do I then leave it to charge or should I place it on a charger? Let me know, many thanks Peter Gossage
5
Peter Gossage - Heathfield -