Reviews of
Optima Red Top Battery RTC 4.2 (8001-287) (BCI 34) RTC4.2 AGM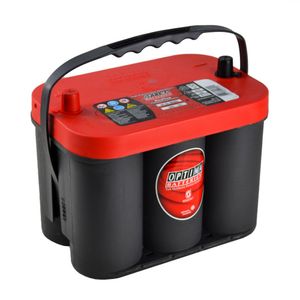 Optima Red Top Battery RTC 4.2 (8001-287) (BCI 34) RTC4.2 AGM
Our Price: £149.99 inc VAT

(4.9 / 5.0) Average Rating:
Total Reviews:304
Customer Reviews
Well packed for sure !!! Fitted perfect under passenger seat of my 2007 Diesel Pt Cruiser. Expensive, but needed it. Not started the car since the snow and freezing cold hit, so will be interesting to see if it starts first time !
5
BG - Taunton, United Kingdom -

Fitted To: Chrysler PT Cruiser 2.2 Diesel 2007
Excellent battery, recommended
5
hs - coatbridge, United Kingdom -

Fitted To: chrysler sebring 1998 Diesel 09
After being told by large battery companies this was dealer available only one motor discount shop quoted me £365. Jeep uk informed owners of your site and you supplied me inc delivery £173. Thank you
5
Ap - Selby, United Kingdom -

Fitted To: Jeep Patriot 2.0 Diesel 2007
1st. Class battery, 1st. Class servic, ordered on the Monday received Tuesday morning, Becky Spinner
5
BS - Hassocks, United Kingdom -

Fitted To: 2011 Jeep Compass 2.2 Diesel Gy11suv
Like a sledge hammer, no prob starting. Delivery 15 mins early, txt sent prior. Left a note on my door and they left it on the doorstep as requested, perfect.
5
SK - nayland, United Kingdom -

Battery arrived next day as advised and expected. Good price. As not a common battery type, not available from many sources.
5
KSR - Gravesend, United Kingdom -

Fitted To: Chrysler Grand Voyager 2.8CRD 2.8 Diesel
On the expensive side but then I suppose you get what you pay for. Works great on my Deffender. Will see in winter when temperature go to the minus side. Like the 0 maintenance. Great service at Tayna and fast delivery with an absolutely phenomenal packing.
5
HM - Ugijar, Spain -

Fitted To: Land Rover Defender 110 (2007) Ford engine 2.4 TDI Diesel 2007
I needed this specialty battery to be delivered to France. Tanya was around £100 cheaper than most other suppliers in France or UK - and delivery was only £8.50. Delivery was fast & easily tracked. Overall great value & service.
5
MLP - Sleaford, United Kingdom -

Fitted To: Chrysler PT Cruiser 2.2 2007
Just perfect for the job of starting my classic Ferrari
5
LW - Clitheroe, United Kingdom -

Fitted To: Ferrari 308GTB 2926cc Petrol 1980
This battery was to replace what appeared to be the original Mopar battery in my 2003 PT Cruiser CRD which had unsurprisingly expired. The Optima fitted perfectly and the way the car now starts is a revelation! Thanks also for the quick delivery.
5
RG - Callander -

Fitted To: Chrysler PT Cruiser 2.2 Diesel 03
The battery has performed flawlessly since it arrived 3days late. It was undamaged and was fully charged. The problem was delivery. I know it arrived in Oban on the Tuesday(ordered and paid for on the Sunday) I waited all day Tuesday ,no delivery,Wednesday had to go for MOT at 4o'clock.Was told a delivery attempt was made at 10 past 4,but no card through letterbox.Phoned Menzies distribution late on Thursday but they said they had no knowledge of parcel for me! After phoning Tayna on Friday morning my battery arrived at 20 past Midday delivered by...Menzies Distribution...Still missed my hospital appointment in Glasgow that afternoon though! Your delivery company ,Yodel,I believe should seriously reappraise their relationship with Menzies Distribution,first 363.4 miles,overnight,last 14.1 miles ,3 DAYS!
4
AM - Oban -

Fitted To: Land Rover 109" pickup 2995cc Diesel 1972
A good product. A little pricey but this was the cheapest I found
4
SH - The Vale of Glamorgan -

Fitted To: Jeep Cherokee 2.8 Diesel 2003
service was very good, battery arrived next day.
4
gdm - Stirling -

Fitted To: chrysler grand voyager 2.8 Diesel 2007
Great price and service.
5
RC - Newcastle upon Tyne -

Direct replacement for existing battery in my Jeep. Same manufacturer and dimensions (very important as it's a very tight fit) with a higher cranking current. Only 4 stars as I don't know how long it will last yet (>6 years for original battery).
4
WG - Ayrshire -

I am very satisfied delivery was fast I highly recommend this product.
5
ML - East Riding of Yorkshire -

Fitted To: Dodge Caliber 2.0 Diesel 2006
Very good service. Battery delivered promptly and fitted my Dodge Journey perfectly.
5
PB - Chessington -

Fitted To: Dodge Journey RT 2000 cc Diesel 2010
Brilliant service brilliant battery I would buy again thank u
5
Ss - Belfast -

Fitted To: Chrysler Pt cruiser 2.2 Diesel 2006
It's the only one that fits my Jeep. Service from Tanya was very good but disappointed with previous product battery life of just 4 years.
2
IJ - Port Isaac -

Fitted To: Jeep Cherekee 2.5 Diesel 04
Excellent service both from customer service prior to purchase and delivery within 24 hours!
5
MB - Camberley -