Reviews of
Optima Red Top Battery RTC 4.2 (8001-287) (BCI 34) RTC4.2 AGM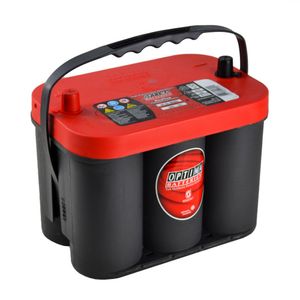 Optima Red Top Battery RTC 4.2 (8001-287) (BCI 34) RTC4.2 AGM
Our Price: £149.99 inc VAT

(4.9 / 5.0) Average Rating:
Total Reviews:305
Customer Reviews
Used these on a few occasions as its the only thing that fits my voyager, not impressed.
2
MHM - Rotherham -

Fitted To: chrysler grand voyager 2.5 Diesel 2006
Bought this battery to replace an identical one that had failed. Excellent service from Tayna and at a very good price!
5
RL - Bedfordshire -

Fitted To: Mercedes-Benz SL 230 Petrol 1966
Recently purchased this battery for my Jeep Cherokee, Battery arrived next day at 11:50 am. The price was a massive £104.00 cheaper than my local battery dealer in Stoke on Trent. Hats of to these guys at Tayna, their customer service is second to none ! Buy with complete confidence from a genuine team.
5
KD - Stoke-on-Trent -

Fitted To: Jeep Cherokee 2.8 ltr Diesel 2005
Rated at 50Ah, tested upon arrival and result showed just under 90Ah, plus it's starts my grand voyager like never before.
5
DL - Harwich -

Fitted To: Chrysler Grand voyager 2.8 Diesel 2005
Quickly delivered. Full progress reported of schedule etc. Nearly half the price of jeep part
5
RT - Cumbria -

Fitted To: jeep patriot 2.0 Diesel 2008
Thank you very much Tayna team, the battery I purchased for my Dodge Journey arrived next day, the main dealer wanted almost twice the price so I am very happy and will use you again.
5
kg - Derby -

Fitted To: dodge journey 2.0 Diesel 2009
Excellent price and fantastically quick delivery, very pleased.
5
MB - Guernsey -

Fitted To: Chrysler
Often, you come across a business that the internet was invented for - and Tanya is one. The price was right but the technical advice and customer service was exceptional. For my Cruiser the battery was special and technical knowledge invaluable. You are wasted selling batteries. You should be running the country. And if you did I would probably move to Wales! Many thanks for all your help.
5
MSW - Dudley -

Fitted To: Chrysler PT Cruiser 2.2 CRD Diesel 2006
2.8CRD. Starts much quicker! The last one of these (mopar branded) lasted nearly 8 years! No more boost pack woe's!
5
AG - Daventry -

Installed it a week ago. So far all is going well.
5
MB - Northwich -

Fitted To: Chrysler Cruiser PT 2.2 Diesel 2007
absolutely brilliant service
5
FW - Wallasey -

Fitted To: Chrysler voyager 2.8 Diesel 2004
Fantastic service .Ordered 3.30pm arrived 8.30 am the next morning
5
mgjt - st albans -

Fitted To: Chrysler voager 2.9 Diesel k 9 gjt
Used this on my wife,s Chrysler grand voyager 2.8crd to replace same battery 4 years ago.Did well to last so long (TJ Vickers Chrysler specialist wanted twice the price). many thanks Geoff Horton
5
MGH - Telford -

Fitted To: Chrysler grand voyager 2.8crd Chrysler grand voyager 2.8crd Chrysler grand voyager 2.8crd Diesel 2005
Battery works fine, better price than local distributors. UK Mail are not the best couriers but all good.
5
JU - Aylesford -

Fitted To: Jeep Patriot 2.0 Diesel 2008
Excellent service and quality battery and wrapped and delivered in very good condition
5
MPB - Morpeth -

Excellent.
5
SM - Dublin -

Fitted To: Landrover Series 2.5 Diesel Zv
It is the Battery that was so hard to find for my PT Cruiser well thanks to Tanya i now have one
5
IL - Bourne End -

Fitted To: Chrysler PT Cruiser 2.2 CRD LTD 2.2 Diesel 30/11/05
Brilliant - shaved about £70 off the locally quoted price, and with delivery included. Same battery and working a treat. If you have the 2003 Cruiser diesel, this is the one due to the terminal location. Anyway, if you're not sure, just ask these guys, because they are sure!
5
MDR - Liverpool -

Fitted To: Chrysler PT Cruiser 2.2 Diesel 2003
Ordering made really easy by excellent chap on phone (Steve?) Sent a photo of the old battery and he came straight back with the one I needed. Ordered it over the phone with no hassle and it arrived, at the garage who were fitting it, the next day, on time. Also it was much less than half the cost of the one my garage had found! Superb service. Many companies could benefit from dealing with customers in this way. Would/Will use them again, without a doubt.
5
MM - Oakham -

Fitted To: Chrysler PT Cruiser 2.2ltr Diesel 57
Excellent service - saved over 40% on local garage estimate and battery top notch.
5
PH - Northamptonshire -

Fitted To: Chrysler Voyager 2.5 Diesel KR54 GUO